News > Voices
'He's never quit holding my hand'
Wed., Dec. 16, 2015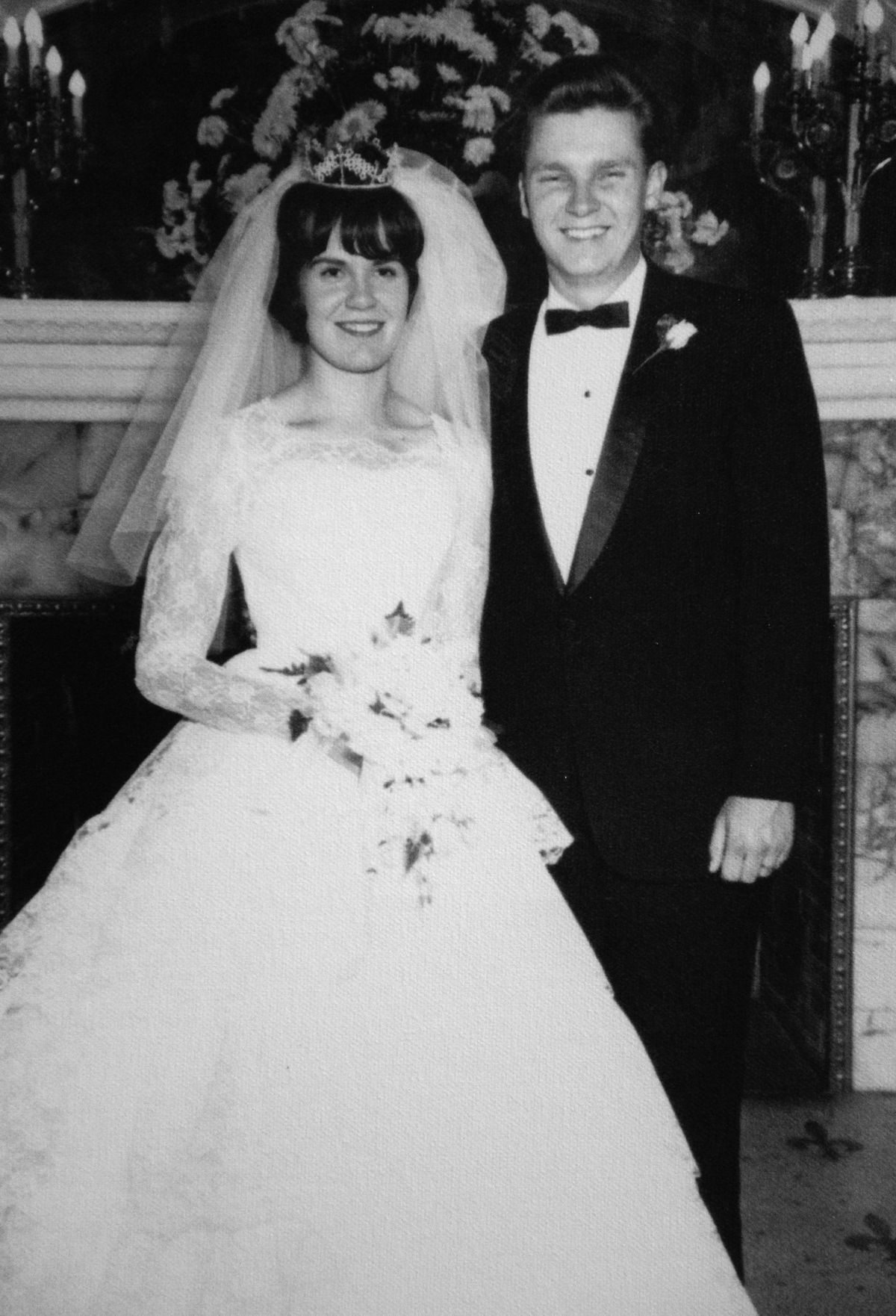 Randy and Sally Olson, shown in their wedding photo in 1965, have been married 50 years. (Jesse Tinsley / The Spokesman-Review)
When Sally Olson bit into her first slice of pizza at Geno's Restaurant on February 14, 1963, she was hooked – both on pizza and the guy who'd bought it for her.
"I'd never had pizza before," she recalled. "I loved it!"
The Lewis and Clark High School senior had also never been on a blind date, but her friend talked into to a double date with a couple of airmen from Larson Air Force Base in Moses Lake.
"I said absolutely not. I don't do blind dates. But she kept talking and talking …" Sally said.
Her date was Randy Olson. The 20-year-old Utah native drove to Spokane with his buddies most weekends, as he was one of the few fellows on base with a car. And it was the car that really captivated Sally.
"It was a yellow and white '55 Chevy Bel Air hardtop," she said. "It was the most beautiful car I'd ever seen."
The tall, handsome blond standing next to it was a bonus.
Randy vividly remembers his first sight of Sally.
"She had her red hair up in a French roll and was wearing a black skirt and heels and I thought, 'Oh boy! Wow! She's out of my league,' " he recalled.
He'd recently received a "Dear John," letter from his girl back home. That is, he got a letter – he's still not sure who it was from.
Like a ransom note, the anonymous missive was composed of letters cut out from a magazine.
When asked if he called the girl in question, Randy grinned. "Nope," he said.
He was already smitten with Sally and asked her for another date. This time he took her to the Panda Drive-In where she ate her first cheeseburger.
"Back then we didn't go out – we ate dinner at home," Sally said. "He was a man of the world. He was in the military, had a car and introduced me to two new foods!"
Speaking of eating, Sally's mother approved of her new beau.
"She invited him to dinner and he ate like a horse!" Sally said. "She loved him!"
For his part, Randy found his new sweetheart to be a good influence.
"I actually learned to save money," he said. "Before I met her, I'd spend all my paycheck, but now I had to save to take her out."
Sally's father wasn't in the picture, so Randy asked her grandfather for her hand in marriage.
He smiled at the memory. "He said, 'Take her!' "
As his four-year tenure in the Air Force came to a close, he told Sally he'd be discharged on Nov. 12, 1965.
"I thought he'd go back to Utah, so we got married on Nov. 19," she said.
The wedding took place at another Spokane landmark – the Francis Lester Inn, which later became Patsy Clark's Restaurant.
"For many years we celebrated our anniversary at Patsy Clark's," Sally said.
They settled easily into married life. Though not blessed with children, they surrounded themselves with a network of friends and "adopted" family.
For many years they were part of local volksmarch group.
"We walked all over Spokane and Coeur d'Alene," said Sally.
Walks included going up and down Steptoe Butte and being part of the first group to walk across the Bennett Bay Bridge in Idaho. They even tried volksbiking and volkskiing.
Randy worked for Pepsi for 34 years. "I was the brewmaster," he said. "I retired in 2003 and they shut the production side down in 2005."
He laughed. "They couldn't do it without me!"
Sally worked for Safeco Insurance for 25 years, and quickly followed Randy into retirement.
"Randy retired before me. I'd planned to work longer, but he was having too much fun that summer. I retired by September," she said.
Then they plunged into what they'd always wanted to do – giving back to the community.
For many years they volunteered at the Habitat Store, and for the past 10 years they've volunteered at the Christmas Bureau.
"I hand out the food vouchers," Sally said.
But it's what she receives that makes her time so enjoyable.
"I get so many hugs. One gentleman even kissed my hand."
Her husband, known as "Santa Randy" at the bureau, is in charge of the toy room inventory.
"We get to experience the true meaning of Christmas," Sally said. "It's really special."
They've also traveled extensively, but their favorite place in all the world is the Oregon Coast.
"We go there twice a year and have ever since we married," said Sally.
To celebrate their 50th anniversary, they took a memory tour along the coast – dining at favorite restaurants and visiting special sites.
And after 50 year of marriage, their affection for each other is apparent.
"We're best friends," Randy said, squeezing Sally's knee.
She smiled. "He's never quit holding my hand."
Local journalism is essential.
Give directly to The Spokesman-Review's Northwest Passages community forums series -- which helps to offset the costs of several reporter and editor positions at the newspaper -- by using the easy options below. Gifts processed in this system are not tax deductible, but are predominately used to help meet the local financial requirements needed to receive national matching-grant funds.
Subscribe now to get breaking news alerts in your email inbox
Get breaking news delivered to your inbox as it happens.
---