Sports
WSU lineman Joe Dahl should return for Sun Bowl after frustrating injury
Sat., Dec. 19, 2015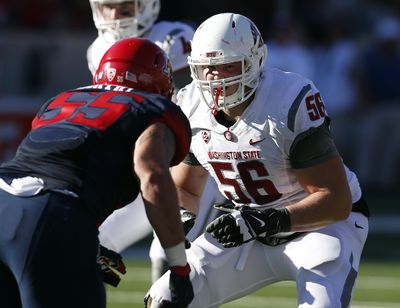 PULLMAN – As far as the personalities of football players go, Joe Dahl's fits a familiar archetype.
Players like Dahl are often noted for their conflicting dual personalities because it strikes people as odd that a person who is so polite and smiles so freely in his daily life is able to be successful in a sport in which stars are so often the biggest, the meanest, the most violent.
It's a trick Dahl, a graduate of University High, learned from fellow Spokane product Travis Long, who starred at defensive end for Washington State when Dahl was a walk-on underclassman who had transferred from Montana.
"I've always been kind of more of a laid-back guy. (Long) always stressed to me that – he was one of those guys too, who, when it was game time, he was a completely different person," Dahl said. "You couldn't really talk to him. So he stressed to me being violent, being nasty, especially with my hands. He always stressed that was the key to being a successful lineman."
Football games provide players a constructive outlet to unleash that violent energy they cultivate throughout the year in preparation.
But Dahl lost that outlet when he broke his foot two-thirds of the way through his senior season, sidelining him for WSU's final four games of the 2015 regular season.
"I didn't find the same joy I had," Dahl said. "I didn't get that one game a week. You only get 12, 13 games a year for all this hard work. That was the toughest part, putting in all this time all year long and I just didn't have the games to really show off what all the hard work was about and be out there with my teammates."
Paul Wulff's WSU coaching staff did not heavily recruit Dahl so he went to Montana, in part to punish the local school for not showing interest. He transferred to WSU after his first season with the Grizzlies, and was singled out by Mike Leach's staff as a player who could be molded into a productive starting left tackle.
"At offensive line, there's a lot of development," line coach Clay McGuire said. "A lot of times you've got to take a frame and athleticism and turn them into something. He came in here undersized. He was barely 6-foot-4 and about 245, but he was a really good offensive lineman in high school. He did everything the right way, worked extremely hard and developed himself into a really good offensive lineman."
Dahl has started 33 games at WSU – most of them at left tackle where he has been the Air Raid's fire extinguisher – immediately cooling off any heat from the edge and ensuring that quarterbacks Connor Halliday and Luke Falk can do their thing without any unpleasant surprises coming from their blind side.
As a senior, Dahl was so effective that the Pac-12 coaches voted him to the all-conference first team despite the fact only five Pac-12 coaching staffs actually faced him in games this year.
According to Pro Football Focus, Dahl played 692 snaps this season and gave up just three sacks, grading out well in both the running and passing games.
But Dahl had to watch the last month of the regular season on TV, with nowhere to direct his pent-up energy. He would watch the games with his family, either in Pullman or Spokane, reduced from key player to particularly knowledgeable spectator.
"It was so hard for him," said his mother, Sheila Dahl. "That Apple Cup after Gabe (Marks) got hurt, he could just not even watch it. It was killing him. And just to not be out there with his team, it was really brutal. For our family to not be at all those games we planned to travel to, it was really tough on him."
Dahl had surgery on his foot in early November. With a Senior Bowl invite in hand, he certainly could have called it a college career and began to focus on preparing for the NFL draft.
But Dahl's teammates say he's been around the team just as much as he was prior to his injury, attending practices and meetings, joining the team in the weight room when it lifts even if the rehabilitation had him on a different schedule.
He returned to practice on Thursday and WSU's Sun Bowl date – Dec. 26 – means he should have enough time to regain his legs and suit up for the Cougars one last time.
"His conditioning has always been good," McGuire said. "I have no problem with that. He'll be ready to step in and play 70, 80, 90 plays, whatever it may be he should be OK with that."
Local journalism is essential.
Give directly to The Spokesman-Review's Northwest Passages community forums series -- which helps to offset the costs of several reporter and editor positions at the newspaper -- by using the easy options below. Gifts processed in this system are not tax deductible, but are predominately used to help meet the local financial requirements needed to receive national matching-grant funds.
Subscribe to the sports newsletter
Get the day's top sports headlines and breaking news delivered to your inbox by subscribing here.
---