News > Idaho
Ski areas move past poor season, cheer forecasts
Sun., Dec. 20, 2015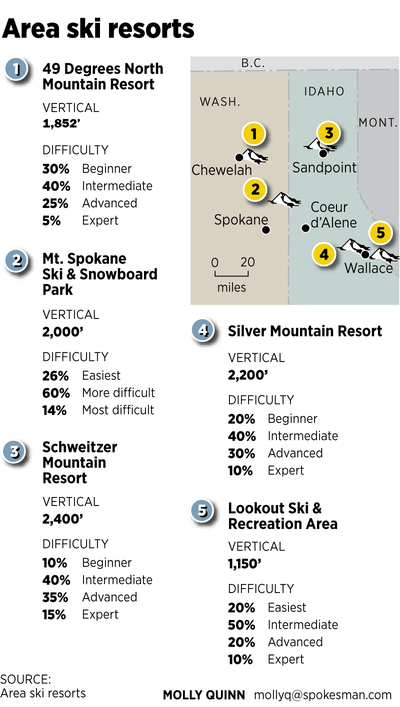 Last winter was one for the record books on Northwest ski slopes. It was as bad as it gets, with little snow and a short operating season that left ski bums seriously bummed.
But as in roulette, the result of the last spin has no bearing on the next. Ski area managers aren't dwelling on last year, and they don't want customers to worry about a repeat performance this winter.
"Last season is over, it's gone," said Dig Chrismer, marketing manager at Schweitzer Mountain Resort near Sandpoint. "We're dealing with the conditions we have currently, which are getting better and better by the hour. It looks good."
Just how good a season it will be, no one can say for sure – until April when it's over, Chrismer said. But she is encouraged by the strong start from recent storms and by forecasts for near-average snowfall in the Inland Northwest.
"And for us average is 300 inches of snow a year, so that's great," she said. "We'll take it. After last season, this is fantastic."
So far it's shaping up to be a good snow year in the region, said Brad McQuarrie, general manager at Mt. Spokane Ski and Snowboard Park.
"Last year it was so heartbreaking to see all the storms going around us," McQuarrie said. "So it's nice to get back into a normal pattern."
Last winter, the thin snowpack that receded well before spring forced Mt. Spokane to suspend operations by mid-February.
"It's been 10 years since we had a year like last year, but you bounce back pretty quick," McQuarrie said. "I moved past last year."
Near Chewelah, 49° North Mountain Resort was open less than half of its usual 105-day season last winter.
"I think last year was the worst on record for all of the Pacific Northwest ski resorts," General Manager Eric Bakken said. "It was bad."
In contrast, this is the best season start in five or six years, Bakken said.
"It's been a few years since we hit the ground running like this, with good snow and lots of fresh snow. We're excited," he said.
The blob is dead
The poor conditions of 2014-15 have been widely compared to the snow drought of 2004-05. Snow sports enthusiasts hope last season was an anomaly, not a trend.
Many of them are encouraged by analysis from University of Washington atmospheric scientist Cliff Mass, whose climate commentary appears on his blog, cliffmass.blogspot.com.
The low snowpack last winter was attributed to a "blob" of very warm water off the West Coast caused by a persistent high-pressure ridge. It exacerbated drought in the West and contributed to the record snow and cold in Eastern states, climate scientists said.
Recently, however, the area of high pressure dissipated, allowing for major cooling over the northeast Pacific, Mass observed.
"The blob is gone," he wrote. "But El Nino is still going strong."
In an El Nino year, temperatures typically are above normal and precipitation is below normal across the Northwest. But even in strong El Nino years the mountains will receive around 80 percent of normal snowpack, and the warming tends to be most acute after Jan. 1, Mass explained.
"For Northwest snow lovers, this is turning out to be a good year, with far more snow than during the snow-drought winter of 2014-2015," he wrote.
McQuarrie is happy to trade the blob for an El Nino winter.
"It's a weak El Nino. Traditionally we have decent seasons out of it. We have had some poor seasons out of it. Those are going to come and go," he said. "As long as we don't have drastically terrible ones like last year. That's what we want to stay away from."
Getting 80 percent of a normal year's snowfall would be just fine, said Willy Bartlett, marketing coordinator at Silver Mountain Resort in Kellogg.
"Especially after last season, I think that's worth getting excited about," he said.
Bakken with 49° North isn't worried about the El Nino pattern.
"We've had our biggest winters in El Nino years," he said. "When they described the kind of El Nino winter that it looked like it was going to be, I got pretty excited because it looked to me like the winter of '96-'97, and that one was huge for us."
Phil Edholm, president and CEO at Lookout Pass Ski and Recreation Area north of Wallace, said he follows Mass's blog and is happy to hear the menacing blob is no more.
"I'm very optimistic about this season," Edholm said. "I think it's going to be a heck of a lot better than last year."
Four-season fun
A low snow year can deliver a painful blow to ski area revenues, but increasingly resorts are cushioning themselves by developing other attractions, including summer recreation.
"We saw really what a boon the water park is for the skiing" last season, Bartlett said at Silver Mountain. The indoor attraction kept visitors coming despite the poor snow conditions.
"There are a lot of people who maybe aren't going to use the water park, but boy it sure helps keep the lifts running on a year like last year," he said.
Silver normally keeps its lifts running until the end of April, later than most area resorts. But last spring it went to a weekend schedule in mid-March and was closed at the end of March.
"We kind of just ran out skiers as the season went on," Bartlett said. "It was so nice, people started doing their summer activities in February."
With the snow fast melting, Silver reopened for scenic rides up the mountain in April. Then it opened its mountain bike park on Memorial Day weekend, three weeks early. It turned out to be a record-breaking summer for the 36-trail mountain bike system, Bartlett said.
"It has just shown that being a year-round resort is increasingly working for us," he said.
Lookout kept operating into March but also closed earlier than planned. Skier visits were down 12 percent for the year, Edholm said, but Lookout's summer operation, the Route of the Hiawatha bike trail, was up 10 percent.
"So overall we had a good year here at Lookout Pass – pretty close to what we've done the last few years as far as annual visitation," he said.
49° North, a 50-minute drive from North Spokane, plans to become a year-round operation as well with mountain biking, zip lines and other amenities.
This past summer the resort built a 1.5-mile road to a new base area, where it has erected two yurts connected by a large deck at the bottom of the Sunrise Quad chairlift. It's the first step toward a major residential development, with up to 2,000 homes and condos and a new ski lodge, on a block of private land the resort owns on the mountain.
"Our goal is to keep the mom-and-pop feel and be a first-class day-drive area, but still have affordable options for ski-in, ski-out housing that make it more of a regional attraction as well," Bakken said.
The resort is taking reservations on the first 144 housing units approved for construction starting next year. A proposed new lift to that area would operate year-round, ferrying mountain bikers and others up Silver Ridge.
Season pass jitters
Area resorts saw a dip in season pass sales for this season as many skiers, still smarting from last year, took a wait-and-see approach.
"Last year scared a lot of people, and a lot were gun shy about making that commitment" for this winter, said Chrismer at Schweitzer.
Buying a pass at pre-season discounts is an investment that usually pays off for those who make the commitment to get out, she said. Even last winter, Schweitzer was open 120 days.
"We were pretty proud of what we were able to offer," Chrismer said. "The way we look at it, we have seasons where we go well beyond our (usual) opening and closing dates, and we have more snow than we can handle. And our pass holders are with us."
Silver Mountain's Bartlett said many skiers held out for better conditions last year and passed up opportunities to ski.
"Even though it wasn't a bunch of good powder days … they could have skied more than they did," he said. "A lot of them had season passes; they already paid for it."
Bartlett said some skiers have told him they felt burned on their season pass last year so they decided not to buy one this year.
"It seems incredible they'll write off something that's a big part of their life just because of a bad year," he said.
Silver Mountain tried to appeal to those on the fence with a new product, a $69 "Silver Card," which gave purchasers some free ski days early and late in the season, plus discounts throughout the year.
"We were trying to provide a nice middle ground for skiers," Bartlett said.
Bakken said he also noticed a little skepticism with season pass sales.
"You just have to play the odds when you're a skier in the Northwest," he said. "Nine times out of 10 or even better than that, you're going to have a reasonably good winter."
The snow is piling up now, and that's the enticement people need to hit the slopes again.
"The enthusiasm for skiing has been tempered, and what it's going to take is a good solid month of lots of snow and people experiencing a great snow quality again," Edholm said. "Until that happens it's going to take a little while to get people to come back out and start thinking of snow sports as they did prior to last year."
A previous version of the graphic with this story included a wrong number for the 49 Degrees North vertical.
Local journalism is essential.
Give directly to The Spokesman-Review's Northwest Passages community forums series -- which helps to offset the costs of several reporter and editor positions at the newspaper -- by using the easy options below. Gifts processed in this system are not tax deductible, but are predominately used to help meet the local financial requirements needed to receive national matching-grant funds.
Subscribe now to get breaking news alerts in your email inbox
Get breaking news delivered to your inbox as it happens.
---