A&E > Food
Christmas crepes give gift of blank canvas
Tue., Dec. 22, 2015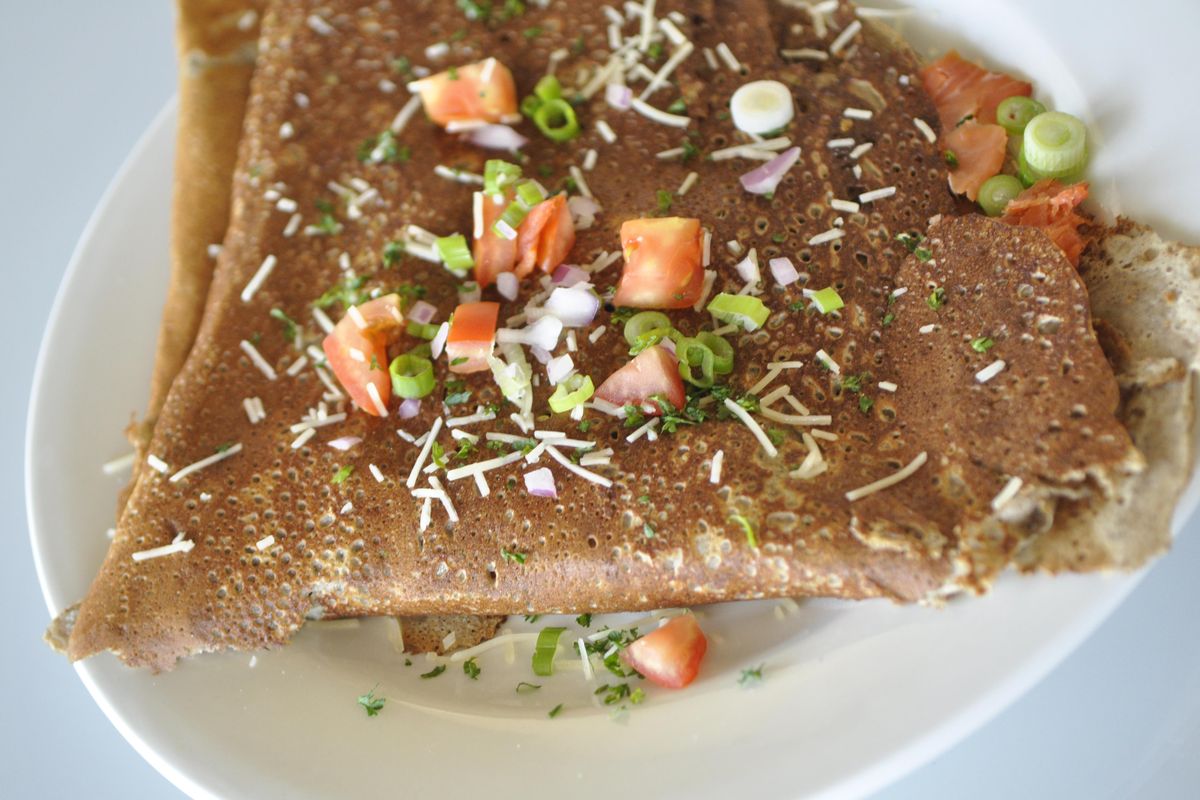 Buckwheat crepe. ADRIANA JANOVICH adrianaj@spokesman.com (Adriana Janovich / The Spokesman-Review)
Thin and versatile, crepes give the gift of a blank canvas for Christmas morning breakfast or brunch.
They make for quite a hearty meal, especially if you treat yourself to two: one savory and one sweet.
"They're so easy, and they're so delicious," said Kristen Ward, who learned to make the delicate French pancakes in France. Christmas morning, "I fill them with berries and whipped cream or Nutella. And (I) almost always enjoy (them) with a glass of sparkling wine or mimosa."
One of her secrets is letting the batter rest.
"Crepe batter is a funny thing," Ward said. "It really has a life of its own. It's better if it sits overnight."
That saves time in the morning when there are packages to unwrap.
Think of crepes as little Christmas presents. Rolled up like a cigarette or folded – almost like flowers – into thirds or quarters and filled with fresh strawberries and whipped cream or drizzled with warmed chocolate or caramel sauce.
Crepes evolved from the Neolithic practice of spreading thick, cereal paste on hot stones. They originated in the regions of Normandy and Brittany, where they're made with buckwheat and called galettes, from the old French word for pebbles, or rounded pebbles. The sides of Breton galettes are typically folded up and over to contain the filling in a square or hexagon.
Ward, who owns Ivory Table on East Sprague Avenue, wouldn't share her buckwheat recipe, which she uses to make her top-selling salmon crepe. She was willing, however, to share another recipe for regular, white-flour crepes, typically used for sweet fillings.
Try honey- or agave-tinged ricotta with spicy poached pears or figs, nutmeg-kissed cherry compote or cranberry sauce infused with raspberries and orange juice. One of the simplest ways to enjoy crepes is to spread them lightly with butter – a flavored butter, perhaps – and add a sprinkling of sugar and squeeze of lemon. Stewed or fresh fruit or preserves are easy, sweet toppings, too.
But the batter provides a versatile base for pretty much any flavor combination: ham and Gruyere, spinach and mushrooms, salmon with cream cheese and capers, bacon. Add an egg for an even more substantial stuffing.
Just be sure to let the batter rest, Ward said. "It changes over time. When it doesn't sit enough, the texture can be a little rubbery."
If the batter rests overnight in the refrigerator – "or for at least a few hours" – crepes turn out "more tender," she said. "They have a silkier texture."
Ward, a singer and songwriter, moved back to Spokane at the end of 2013 after a decade in Seattle. She opened her restaurant about six months later. Ivory Table specializes in hot and cold sandwiches and savory and sweet buckwheat crepes, which Ward first sampled while working as a cook in Chinon in the Loire River Valley.
"I accidentally ducked into this little creperie during a rainstorm. I was just drenched from head to toe," said Ward, who doesn't remembering placing an order.
On the Ivory Table website, she recalls the rest of story this way: "All I remember is that within minutes, a lovely French woman brought to me a creation of the Gods. A beautiful buckwheat crepe stuffed with sweet sauteed apples, melted Normandy butter and just a touch of sugar. … I couldn't speak French and had no way to communicate the feeling I had inside. … Many times since I have thought back on that small café, with its little steamy windows, and the sound of the drainpipe gurgling the gushing rain down onto the cobblestone streets. Time stopped, rain poured, people laughed, and for that moment, life was perfect and a radiating love filled that small creperie."
She still remembers that crepe, saying recently, "I had never tasted a crepe like that. It stuck in my memory. It was the best crepe I ever had in my life."
After five months in France, she returned to the States and worked on perfecting her technique. "You pick a starting point, and you just mess with it," she said. These days, at Ivory Table,"Our recipe is an adaptation of several recipes."
It isn't the one below, though. "I want to give people something that will be good, but not what they're going to get when they come here."
Ward put three or four crepes on the menu to start, "and they became our top sellers. We thought we should do more."
Now, just over a year later, Ivory Table offers 15 crepes: 10 savory, five sweet.
Crepes are similar in appearance, texture and taste to Russian blini or blinchiki and Swedish pancakes. Other countries and regions, particularly in northern and central Europe – Norway, Denmark, Finland, Netherlands, Germany, Spain, Turkey, Hungary, Romania and the Balkans – have similar flat, round pancakes. America does, too, in the form of 49er sourdough flapjacks.
Crepes at Ivory Table stretch 16 inches and are made on a commercial-grade griddle. At home, you can use a specially made crepe pan or griddle with a wooden trowel to help spread the batter. But it's not necessary. Your favorite frying pan coated with melted butter should work just fine.
Ward cooks her crepes over medium to low heat – "definitely not on high" – in melted butter. She usually makes one at a time."Once it looks dry you can flip it," she said.
Don't be surprised if the first one's a dud. There's a saying in Russian – "The first blin is always a lump" – about how the beginning of the batch isn't the prettiest. Same thing goes for French crepes.
No matter. It gives the cook a little something to snack on while making crepes for starry-eyed children – and others – on Christmas morning.
Nutella Crepes
From Kristen Ward of Ivory Table
6 eggs
4 cups milk
2 ½ cups all-purpose flour
9 tablespoons melted butter, divided
½ teaspoon salt
½ teaspoon sugar
1 cup Nutella
2 tablespoons powdered sugar, for sprinkling
Combine eggs, milk, flour, 6 tablespoons butter, salt and sugar in blender and blend until completely smooth, about 1 minute. Let batter stand refrigerated for at least 3 hours. Resting batter overnight is best.
Heat a medium-size, nonstick pan over medium heat. Lightly grease pan with butter. (The remaining 3 tablespoons should be enough for cooking the entire batch.) Pour 1 ounce or about 2 tablespoons of batter into center of pan and swirl the pan to spread evenly. Cook for 30 to 40 seconds, or until crepe looks dry, and flip. Cook for another 10 seconds. Remove crepe and place on a clean flat surface to cool. Repeat process until you have the desired amount of crepes or until all the batter is gone. Cooled crepes can be stacked and held in refrigerator for up to a week or frozen for up to 2 months.
To serve: Warm Nutella in microwave until melted and spreadable. Drizzle onto fresh crepes. Fold crepes and dust with powdered sugar. Serve immediately.
Ivory Table Brunch Eggs
From Kristen Ward of Ivory Table
Ward likens this simple but satisfying dish to "a Croque Madam without the bread."
It's super-easy to double or triple for larger groups.
"If you have company coming, you can assemble them the night before and pop them in the fridge," she said. "You have breakfast literally for 10 people in five minutes."
2 tablespoons melted butter, divided
½ pound ham, thinly sliced
4 eggs
4 slices Gruyere cheese (Swiss will work, too)
Preheat oven to 350 degrees.
Grease two boat dishes or large oven-safe ramekins with 1 tablespoon melted butter in each. Place ¼-pound sliced ham in layer on the bottom of each dish. Crack two eggs into each dish directly on top of ham. Place 2 slices of cheese over the top of the eggs.
Place eggs into oven for about 6 to 7 minutes. Remove eggs when cheese is melted. Remember eggs will continue to cook in hot ramekin, so remove dishes from oven before desired doneness is reached. Serve hot.
Makes: 2 servings
Local journalism is essential.
Give directly to The Spokesman-Review's Northwest Passages community forums series -- which helps to offset the costs of several reporter and editor positions at the newspaper -- by using the easy options below. Gifts processed in this system are not tax deductible, but are predominately used to help meet the local financial requirements needed to receive national matching-grant funds.
Subscribe to the Spokane7 email newsletter
Get the day's top entertainment headlines delivered to your inbox every morning.
---