News > Spokane
Newspaper carriers escape injury after tree crushes truck
Tue., Dec. 22, 2015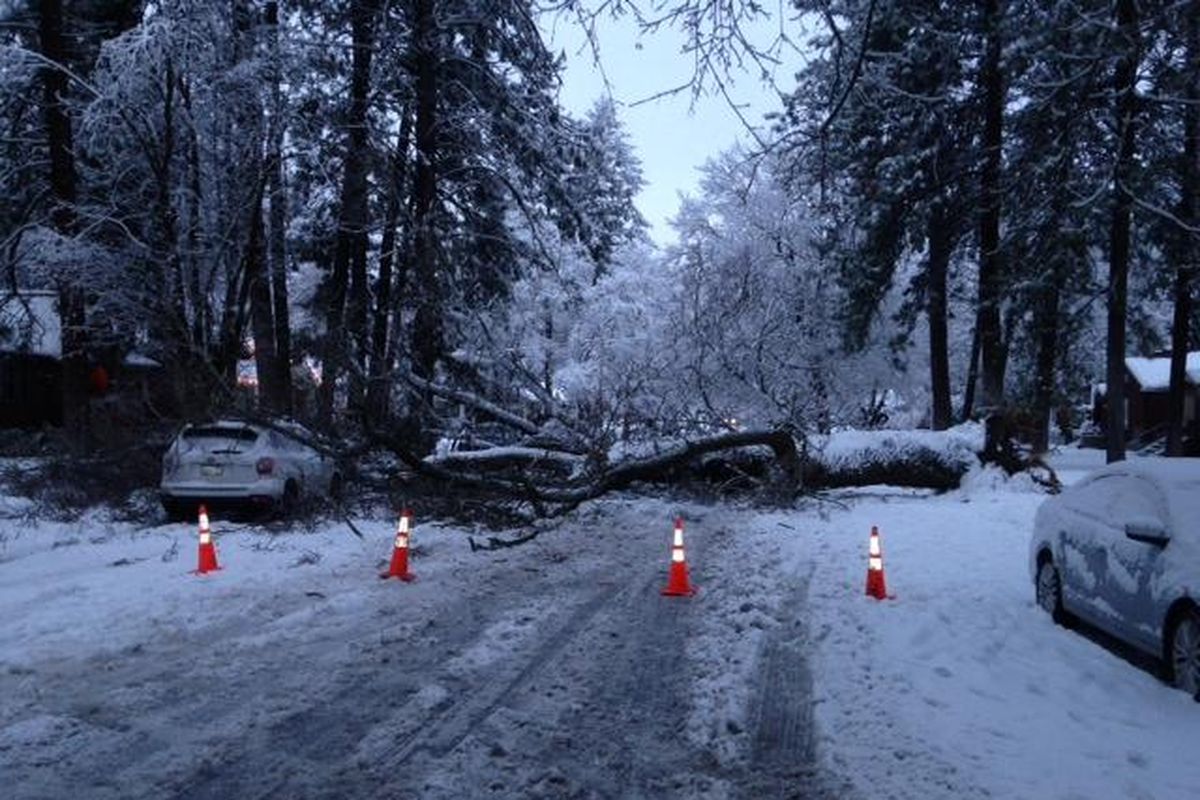 This tree fell near 19th Avenue and Lincoln Street early Tuesday. (Sredit)
Some Spokesman-Review customers didn't get their Tuesday paper after a falling tree crushed the truck of a newspaper delivery carrier early Tuesday.
Tori Beamer said she and her boyfriend, Drake Welshons, were driving near 19th Avenue and Lincoln Street on the South Hill around 4 a.m. when they saw a nearby tree crack and begin to fall. Welshons, who was driving, sped up in an attempt to get out of the way, Beamer said.
"Thank goodness he did," she said. "The tree fell just inches from where I was sitting."
The passenger side of the pickup bed was crushed and part of the passenger side of the cab was caved in by the tree. Beamer said both she and Welshons escaped without any injuries.
However, the papers in the bed of the truck were ruined by snow and broken glass. "We weren't able to finish," she said.
Jon Miles, a district circulation manager, said there was such a backlog of missing and late papers from other carriers because of the weather that no one was available to finish Beamer's routes. Those customers will get their Tuesday paper on Wednesday, Miles said.
Local journalism is essential.
Give directly to The Spokesman-Review's Northwest Passages community forums series -- which helps to offset the costs of several reporter and editor positions at the newspaper -- by using the easy options below. Gifts processed in this system are not tax deductible, but are predominately used to help meet the local financial requirements needed to receive national matching-grant funds.
Subscribe now to get breaking news alerts in your email inbox
Get breaking news delivered to your inbox as it happens.
---