News > Spokane
Spokane residents asked to move cars for plows; storm knocks out power in N. Idaho
UPDATED: Tue., Dec. 22, 2015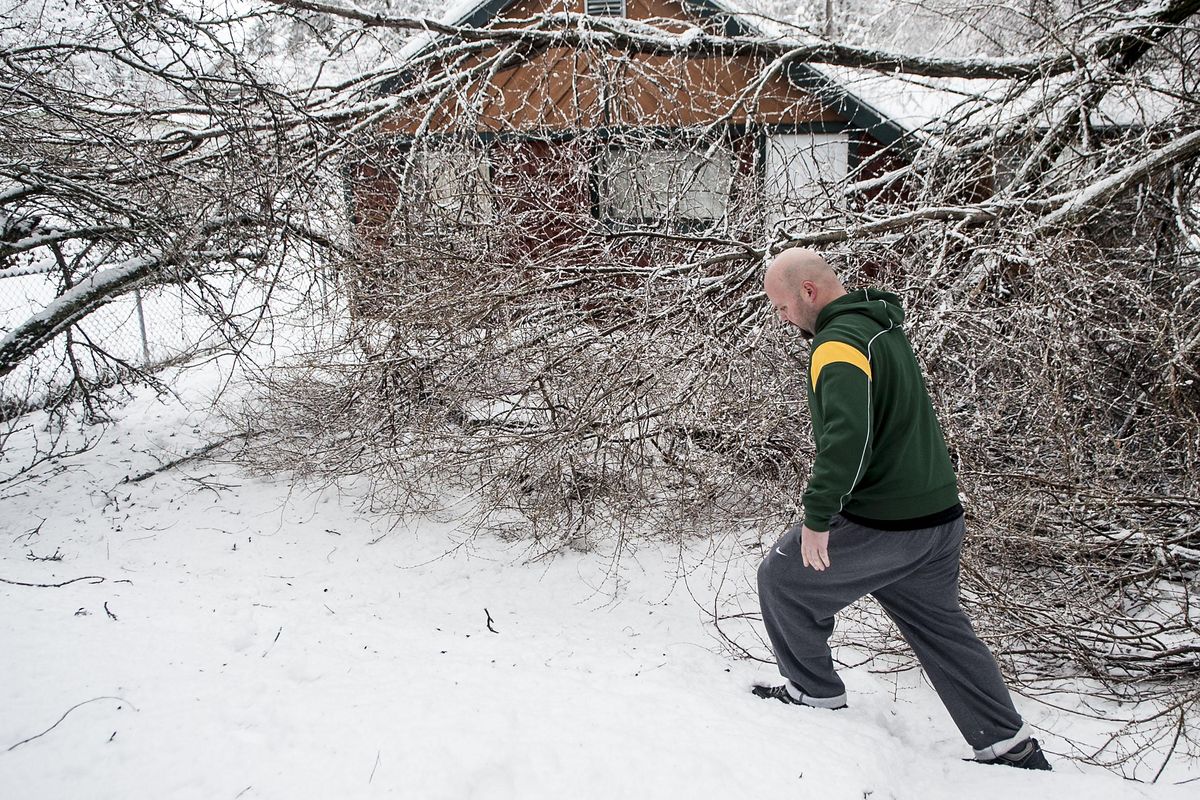 Scott McNeill surveys the damage caused when heavy snow toppled part of a tree in front of his house in Coeur d'Alene on Tuesday, December 22, 2015. (Kathy Plonka / The Spokesman-Review)
Spokane residents should move cars in residential areas to the odd-numbered side of the street and remove parked cars from arterials and bus routes to allow for a full snow plowing over the next few days.
The move by the city is one part of a regionwide effort to dig out and make repairs from days of snow and ice as the next round of storms are poised to deliver snow for the next several days.
In North Idaho and rural areas of Spokane County, power outages were reported by Kootenai Electric Cooperative, Inland Power and Light Co., and Avista Utilities after heavy snowfall blanketed the region Monday and Monday night.
One location near Clark Fork reported 16 inches of heavy, wet snow since Monday morning. Other locations reported 6 to 8 inches of new snow, although a handful of reports had up to a foot of new snow over the same period.
Kootenai Electric reported 5,000 outages Tuesday morning but that number was down to 2,400 Tuesday afternoon. The utility said it had restored 5,000 hookups since Monday night.
Avista said it had 1,300 customers without power. In Coeur d'Alene and Post Falls, the utility had 90 outages affecting nearly 500 customers. The number of Avista outages went up Tuesday afternoon to 2,400 before falling again by evening.
Inland Power reported 3,300 customers without power Tuesday morning with the largest outages on the West Plains and near Deer Park.
Clustered outages were reported by Inland Power in northeast Spokane County along the Foothills area leading to Mount Spokane.
They had whittled the number to 1,300 by evening.
Accidents were reported Tuesday morning, including a jackknifed semi near Lookout Pass on Interstate 90.
Snowfall has been especially heavy in North Idaho. Coeur d'Alene awoke to 6 to 8 inches, with tree branches and power lines weighted down by the dense snow.
While conifers were most susceptible to the powerful Nov. 19 windstorm in the Inland Northwest, deciduous trees and bushes are especially prone to damage from this week's snow.
"The No. 1 tree that is falling right now is the willow tree, and small deciduous trees are breaking – a lot of plums and stuff like that," said Don Taylor, who owns a Coeur d'Alene tree care service.
Taylor recommends tree owners knock the heavy snow off smaller trees and bushes to spare them from lasting damage.
"It needs to be done soon, otherwise they'll stay bent over and they get cellular damage from the cold temperatures. And that makes it basically just stay in that position," he said.
Taylor also cautioned people to not park under trees, as more branches are likely to come down.
Two large limbs snapped off a large old tree next to Scott McNeill's house on East Mullan Avenue in Coeur d'Alene. Neither branch struck the house, but they came close.
McNeill said the first one fell early Monday evening. The second came down in the middle of the night.
"I enjoy it. Not this," he said, gesturing to the tree damage, "but I do enjoy the weather."
On East Maple Avenue just east of Fifth Street, Nathen Brown awoke to find the lights and appliances in his house behaving oddly. He opened the blinds and saw that a giant tree branch had broken off a cottonwood tree in his backyard and taken down an electrical line to the garage, leaving exposed wires arcing.
"It was making the power in the house go nuts," Brown said.
"The weather is a little warm right now for the snow," he said. "It gets heavy and then branches start breaking, power lines come down."
An Avista repair crew was on the scene Tuesday morning to fix the line.
"I think Mother Nature is trying to catch up for the losses," Brown said of the abundant snow. "Because we haven't had really much snow this year, it's just been rain."
The city of Spokane Tuesday morning declared a Stage 2 snow event, meaning 6 inches of snow are on the ground and more snowfall is anticipated. That declaration means the city will bring in additional crews and begin a full-city snow plow. The city will also clear sidewalks around priority city owned property within 24 hours.
Residents are asked to move cars by 2 p.m. Tuesday, and to move vehicles off downtown parking spaces between 2 and 6 a.m. The city is also asking people to clear snow off parked vehicles along the street, and to clear snow from sidewalks within 24 hours.
In Browne's Addition, the city will require residents to clear the street of cars completely so plowing can occur later this week. Residents will receive at least 24 hours notice before this happens, city spokeswoman Julie Happy said.
In Spokane Valley, private grader operators are joining the city's effort to clear the streets. The graders, under contract with the city, will be working in residential areas, officials said Tuesday morning.
Full plowing in Spokane Valley takes about 48 hours.
Spokane County crews were working on priority routes, but were set to move to secondary arterials later on Tuesday.
Residential areas may not see county plows for a time since new snow is in the forecast, county officials said.
The snowfall is not going to let up.
The National Weather Service said Tuesday morning it expects 1 to 2 inches of new snow Tuesday night, another 1 to 2 inches on Wednesday and yet an additional 2 to 4 inches on top of that Wednesday night in Spokane.
A winter weather advisory for more snow was posted for North Idaho and the Palouse region through 7 a.m. Thursday for 3 to 6 inches in valleys and 4 to 8 inches in the mountains.
A potential threat for travelers could be increasing southwest winds on Wednesday. Gusts of 20 mph or higher could cause snow to drift across the Palouse, parts of North Idaho south of Coeur d'Alene and along the West Plains and southward.
U.S. highways 195 and 95 south of Spokane and Coeur d'Alene and Interstate 90 from Ritzville,Washington, to Spokane could see the strong winds. Also vulnerable could be state Highway 26 west of Colfax.
The snow is expected to ease up by Christmas Day, but temperatures are likely to turn cold with a low of 9 degrees Friday night with a high of 20 on Saturday.
After that, the next chance of more snow is on Monday.
As of Tuesday morning, Spokane had received more snow so far this season at 18.5 inches than it did during the 2014-15 season when 17.6 inches of snow fell.
Snoqualmie, Lookout and Fourth of July mountain passes on Interstate 90 were all open Tuesday morning and conditions were safe for travel across them. However, eastbound I-90 at Snoqualmie Pass was due for a closure for avalanche control Tuesday afternoon.
Spokane Valley officials said neighbors should watch out for one another.
"It's very important that community members keep sidewalks adjacent to their homes and businesses cleared of snow and ice, especially in areas used by schoolchildren and those with mobility concerns," the city said in a news release.
Local journalism is essential.
Give directly to The Spokesman-Review's Northwest Passages community forums series -- which helps to offset the costs of several reporter and editor positions at the newspaper -- by using the easy options below. Gifts processed in this system are not tax deductible, but are predominately used to help meet the local financial requirements needed to receive national matching-grant funds.
Subscribe now to get breaking news alerts in your email inbox
Get breaking news delivered to your inbox as it happens.
---