Sports > Gonzaga basketball
Wiltjer, Sabonis lead Zags' 85-62 romp over Loyola Marymount
Wed., Dec. 23, 2015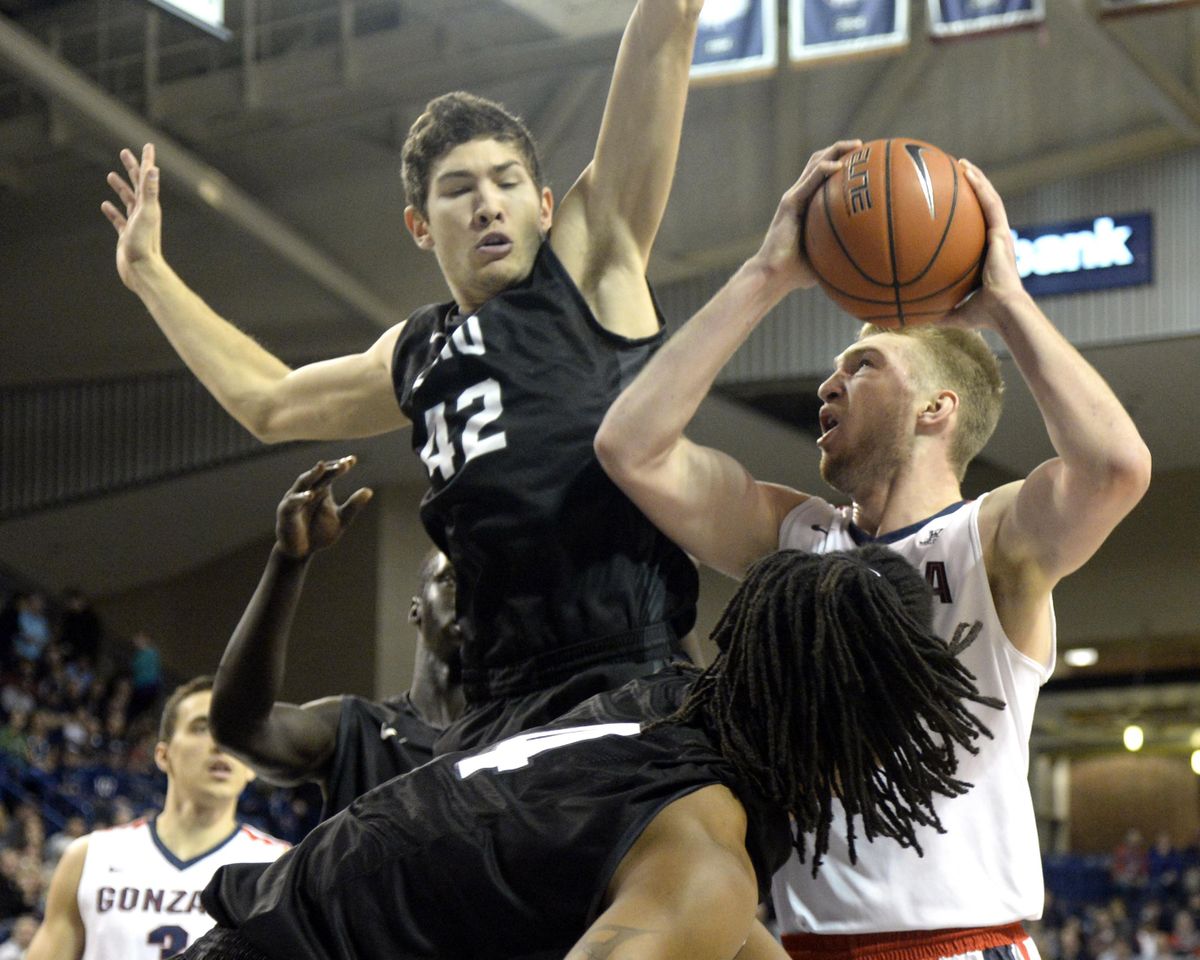 Gonzaga's Domantas Sabonis, right, struggles to get the put-back to the basket as he is mauled and fouled by Loyola Marymount's Adom Jacko, below, and Marin Mornar, above, Wednesday, Dec. 23, 2015 at McCarthey Athletic Center at Gonzaga University. (Jesse Tinsley / The Spokesman-Review)
Gonzaga coach Mark Few apologized to his team, and then congratulated them.
The Zags capped a three-game, five-day stretch with three wins – not to mention a challenging pre-Christmas schedule – by routing Loyola Marymount 85-62 in front of 6,000 Wednesday at the McCarthey Athletic Center.
GU (10-3, 2-0 WCC) beat the Lions (7-6, 0-2) for the 13th straight time and the 27th consecutive time in Spokane. The Zags will take a few days off for Christmas break and return to practice Sunday.
"This has been a brutal, brutal preconference schedule," Few said. "I told them that, that I put them through, it's on me.
"It's the hardest thing we've embarked on here in 17 years, when you factor in who we played, where we played and just the timing of it.
"We have an 8 p.m. game in Seattle and have to rush back and play two league games.
"I'm proud of them, man. To lose such a vital piece like Przemek (Karnowski), to keep fighting and get 10 wins and in position to win all the other games … they need some time off."
He'll get no argument from the players.
"It's an early Christmas present," said point guard Josh Perkins, referring to GU's 3-0 record in the last five days.
Senior forward Kyle Wiltjer fueled the latest victory with four 3-pointers and a game-high 26 points, 20 in the first half. Sophomore forward Domantas Sabonis, who hit his first six shots from the field, finished with 15 points and 13 rebounds for his sixth double-double of the season.
Wiltjer and Sabonis combined for all 10 points in a 10-0 run that put Gonzaga on top 17-9. The Zags scored the last five points of the half to take a 40-24 lead. Gonzaga led by as many as 32 in the second half.
"I thought we did a pretty good job on Sabonis and didn't do as good a job as I would have liked on Wiltjer," Lions coach Mike Dunlap said. "We bodied up Sabonis. I thought at times he struggled against our doubles and still he posts beautiful numbers. We know what he is, and he's special – as Wiltjer is."
There were encouraging signs throughout the stat sheet. Bryan Alberts hit a pair of 3s and scored 12 points. Kyle Dranginis added eight points and seven assists. The Zags had their fourth straight game with single-digit turnovers (nine). Their 19 assists rank as their second highest this season.
"We're just learning not to make the home-run play every play, just make the easy one," said Perkins, who has 15 assists and two turnovers in his last 100 minutes of playing time. "We're taking what they're giving us."
Gonzaga made 60 percent of its shots, including 10 of 18 3-pointers, and 91.3 percent at the free-throw line. Six Zags hit 3-pointers, two nights after eight connected in a blowout win over Pepperdine.
"Another night where guys were making shots, playing confidently," said Eric McClellan, who had eight points and four assists. "Guys are taking care of the ball, we know our spots better, guys are being strong with the ball."
Alberts has averaged 8.6 points since moving into the starting lineup four games ago.
"Day by day, game by game, I'm just getting more comfortable," said Alberts, who is shooting 55.6 percent beyond the arc. "When everybody is shooting the ball well, it puts confidence in you to shoot it well."
The Zags limited the Lions to 40 percent shooting. LMU did some damage on the offensive boards with 15, leading to 20 second-chance points. Forward Adom Jacko scored 19 points.
"We had a nice two-game stand here, played really good basketball and did the things we've been after them to do," Few said. "We took some real positive steps in all facets of the game."
Local journalism is essential.
Give directly to The Spokesman-Review's Northwest Passages community forums series -- which helps to offset the costs of several reporter and editor positions at the newspaper -- by using the easy options below. Gifts processed in this system are not tax deductible, but are predominately used to help meet the local financial requirements needed to receive national matching-grant funds.
Follow along with the Zags
Subscribe to our Gonzaga Basketball newsletter to stay up with the latest news.
---