News > Features
Raising a glass to local craft beer
Thu., Dec. 24, 2015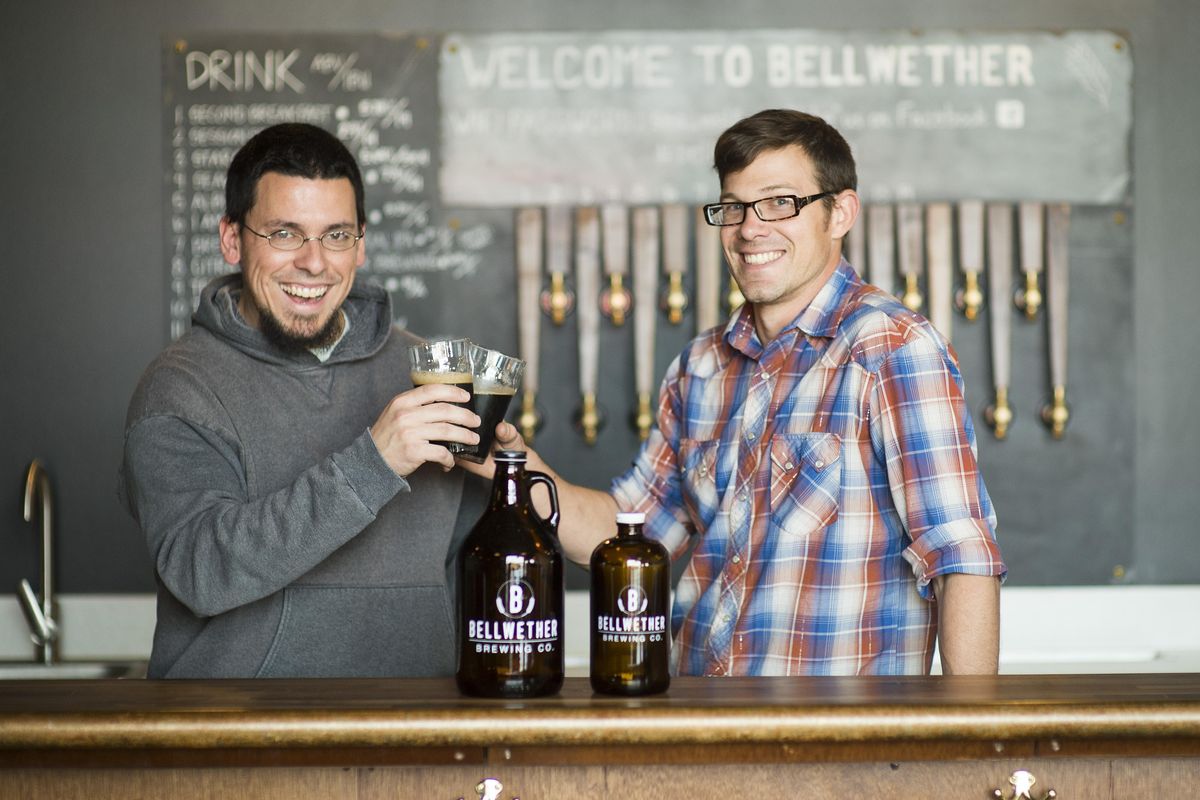 Thomas Croskrey, left and Dave Musser run Bellwether Brewing Co. on North Monroe Street. (Colin Mulvany / The Spokesman-Review)
Local craft beer was a gift that kept on giving – and giving, and giving – in 2015.
The past year brought more new breweries, new homes for existing breweries, and new approaches to producing, packaging and distributing beer throughout the Inland Northwest. Among the highlights:
Nine new breweries came on line in Spokane and Kootenai counties, boosting the total to 27. Newcomers included Black Label, Bennidito's and Bellwether in Spokane, Badass Backyard in Spokane Valley, 238 on Green Bluff, New Boundary in Cheney and Daft Badger in Coeur d'Alene.
Also in the Valley, Arbor Crest Wine Cellars launched its in-house Square Wheel Brewing, and Whistle Punk began limited distribution out of its home operation in Newman Lake while looking for a taproom location. (On the flip side, Ramblin' Road became the first local brewery closure since BiPlane in 2011.)
More are in the works for the new year, including Young Buck and Little Spokane as part of a downtown brewery cooperative, Sun Mountain in Greenacres, Post Falls Brewing and Bombastic in Hayden.
On a broader scale, Washington breweries passed the 300 mark in November, while there were 4,144 nationwide at the end of the month – topping the previous pre-Prohibition high of 4,131 in 1873.
Along with the growth in breweries, there are more places pouring their products. Among this year's many new local craft-focused bars and restaurants were three spinoffs of established leaders: the Blackbird, from the owners of Manito Tap House; Republic Pi, the Flying Goat's South Hill sister; and Coeur d'Alene's Mid City Pub, an offshoot of the Capone's chain. The Onion Bar & Grill owners copied their expansive Area 51 Taphouse concept from the North Division restaurant to the original downtown location, and downtown's Nectar wine bar launched Nectar Wine and Beer in Kendall Yards.
Downtown Spokane continues to become a craft beer destination. Along with the likes of the Onion, Black Label and the brewery cooperative project, Orlison opened a downtown taproom to complement its Airway Heights brewery, and Iron Goat announced plans to move to its larger new location at Second and Adams early next year.
In the Valley, Twelve String bought a bigger building on Pines north of Sprague for its eventual new home. It and several other breweries boosted production capacity at their current locations during the year, including major brewhouse expansions at MickDuff's in Sandpoint (from seven barrels to 20) and Mad Bomber in Hayden (from a single-barrel system to seven).
And breweries continue to broaden their distribution areas to move that extra beer. Twelve String and Waddell's recently started selling in North Idaho, while in Post Falls, Downdraft signed with a Spokane distributor and Selkirk Abbey began brewing lower-alcohol beers for planned distribution in Utah.
They may compete for customers, but the cooperative spirit among area brewers remains strong. Six collaborative beers by a dozen local breweries (plus one from Perry Street and Manito Tap House) were the focus of the first official Spokane Craft Beer Week in May, while the Steam Plant and Big Barn released a joint fresh hop beer in October. And No-Li reached an agreement to brew and package its first canned beer, Born & Raised IPA, using excess capacity at Orlison's production facility.
More local breweries began bottling their beers in 2015. Iron Goat launched a line of 22-ounce bottles in February, while Big Barn and English Setter recently joined in on a more limited basis, and Trickster's and Twelve String plan to release their own bombers this spring.
Growler fill outlets also multiplied, with the addition of Steady Flow in Spokane Valley, and the Filling Station on 5th and a Growler Guys in Coeur d'Alene. Following a growing trend, all serve beer by the pint as well as to go.
Area brewers continued to experiment with new styles and techniques. No-Li, River City, Hopped Up and Trickster's released their first sours, and barrel-aging has become commonplace. Tiny Bellwether pushed the boundaries with a series of Old World-inspired offerings, including hopless, herbed gruits and heather ale, as well as a honeyed beer-mead hybrid, braggot.
And several breweries started releasing regular weekly small-batch specialties – Daft Badger and Slate Creek on Wednesdays in Coeur d'Alene, No-Li for its new Brewsday Tuesdays – following the lead of Iron Goat, which has done one every Wednesday since January in honor of the Chinese Year of the Goat. (Fortunately for those busy brewers, it doesn't come around again until 2027.)
Send beer news, comments and questions to senior correspondent Rick Bonino at boninobeer@comcast.net.
Local journalism is essential.
Give directly to The Spokesman-Review's Northwest Passages community forums series -- which helps to offset the costs of several reporter and editor positions at the newspaper -- by using the easy options below. Gifts processed in this system are not tax deductible, but are predominately used to help meet the local financial requirements needed to receive national matching-grant funds.
Subscribe now to get breaking news alerts in your email inbox
Get breaking news delivered to your inbox as it happens.
---