Washington State players visit El Paso Children's Hospital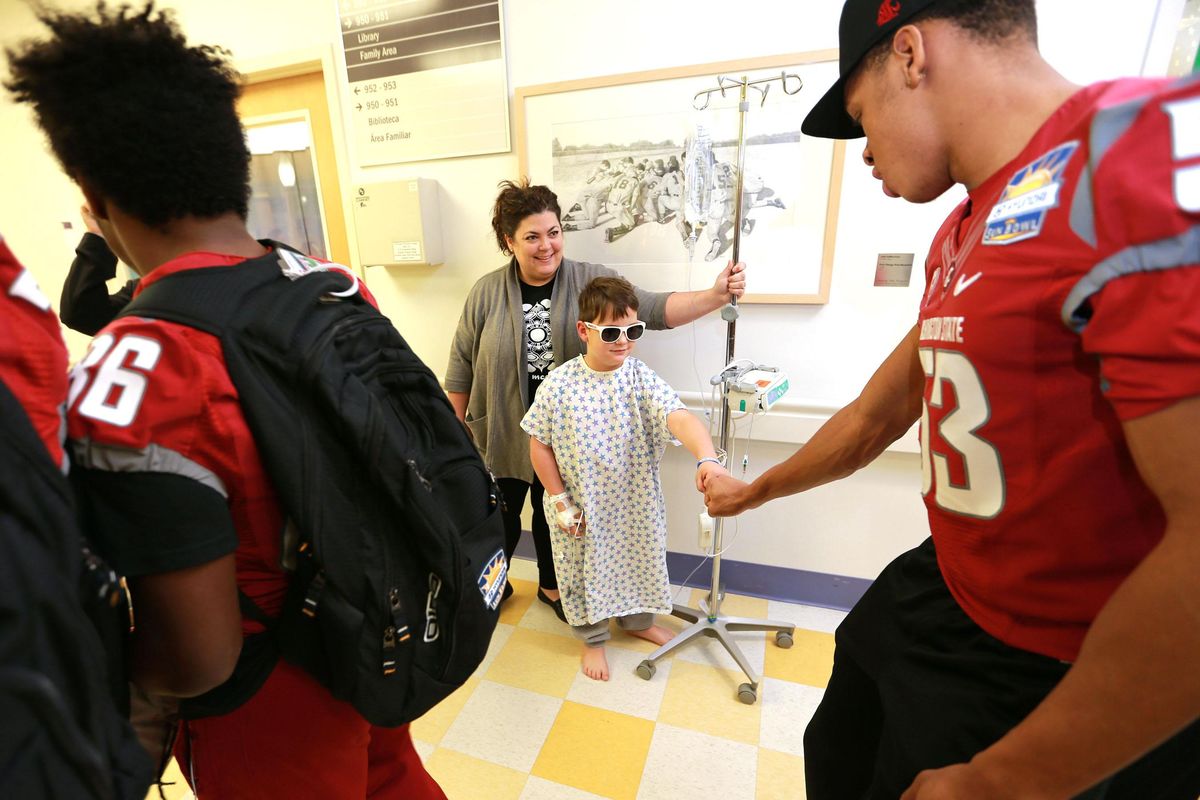 EL PASO, Texas – A dozen Washington State football player traipsed through the El Paso Children's Hospital with bags of gifts, carried not by red sleds but two red wagons, to bring an early Christmas to the sick kids and their families.
Inside the bags brought by the gridiron Santas were WSU flags, crimson and gray pom poms and miniature, stuffed Cougar mascots that play the WSU fight song when squeezed.
The Cougars visited rooms in the hospital for a couple of hours Thursday afternoon, bestowing the gifts on the surprised kids and serenading them with the school fight song and other holiday music.
Offensive lineman Carlos Freeman, who frequently volunteers his time at hospitals, said that his normally exuberant teammates were humbled by spending time around those less fortunate than themselves.
"You learn to really value the things you do have, all the things we overlook on a daily basis," Freeman said. "Having perfect health and all that. There are a lot of people, unfortunately, who go through things that aren't ideal and this is a really good chance for us to see that, and realize that and help people get through tough times."
While Thursday's visit was an event set up by the directors of the Sun Bowl, the Cougars have taken other opportunities to visit children's hospitals, doing something similar prior to last year's spring game in Spokane.
Cougars hire Nichol to coach receivers
Mike Leach's newest lieutenant may be a first-timer at WSU, but he could not be more familiar to the Cougars' head coach.
WSU announced that East Carolina offensive coordinator Dave Nichols will replace Graham Harrell as the team's outside receivers coach. Harrell will coach the Cougars in the Sun Bowl before starting his new job as the offensive coordinator at North Texas.
"Dave has tremendous passion for coaching and recruiting and will be a great addition to Cougar football," Leach said in a press release. "He brings a great background and a lot of experience. He is familiar with our concepts and how to attack different areas of the field. We're excited to have him on board."
Nichol is expected to start at WSU on Monday.
Nichol coached under Leach from 2003-05 as an offensive line assistant, and is no stranger to the Pac-12 conference having coached for five seasons at the University of Arizona.
He spent the past year coaching quarterbacks and managing the offense at ECU. The Pirates finished the year with the nation's No. 53 total offense and No. 28 passing offense.
Nichol will be in the booth during games, as Harrell was, serving as Leach's eyes and ears on the field. Because of his experience coaching multiple positions, like Harrell he may also be able to chip in and coach other positions during practice.
"He can do a lot of stuff," Leach said after Thursday's practice. "Yeah, there's no question. At some point in time Nichol's run about everything and stuck in there for a long time he has quite a body of experience and it's always been with something similar to us."
Young players continue to get work during bowl prep
After the travel squad players took off the pads and began making their selections from the abundance of energy drinks, protein bars, water bottles and other recovery supplements, WSU's backups stayed on the field and scrimmaged for about 30 plays.
By making a bowl game, the Cougars were able to pack in 10 extra practices and the coaches are trying to maximize the amount of time spent with players whose best days are ahead of them.
Even the experience of watching their teammates prepare for and play in the postseason will benefit WSU's emerging players, outside linebackers coach Roy Manning said.
"It's awesome, man. These guys haven't been a part of it, some of these guys just coming in," Manning said. "Especially for these freshmen, these (junior college) guys just coming in, just getting this bowl experience – the Sun Bowl has done a great job, obviously, taking care of our team – hopefully, it motivates those guys to want to do it again in the coming year."
---