News > Features
For vow renewal, Vegas hits jackpot
Poolside Buffett-themed ceremony perfect for Parrotheads
Sun., Feb. 1, 2015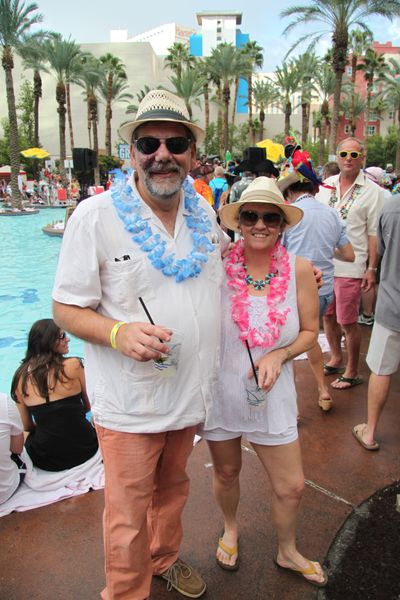 LAS VEGAS – We did it at Margaritaville Las Vegas.
Renewed our wedding vows, that is.
As part of a Jimmy Buffett concert weekend in October, about 100 couples renewed their wedding vows during a swimming pool party put on by the Margaritaville store located in the Flamingo.
There was a good reason for us to participate.
My wife had always contended that because we got married in a Greek Orthodox ceremony, she never actually said "I do."
The marriage renewal ceremony would solve that problem.
I emailed to organizers a copy of our original marriage license, which was issued in Butte in 1985, and we were all set for the big event.
It was somewhat unusual that we were headed to Las Vegas in the first place. My wife does not like Sin City and does little to hide that fact. But like a good sport she had agreed to attend the concert with me.
I am a Parrothead, as fans of Jimmy Buffett are called. I have seen him play in numerous cities, but for me the Vegas shows are always the best.
We decided to make a three-day weekend out of it.
We departed Spokane at 7 a.m. on Thursday, and were on the ground in Vegas by 9:30 a.m. We dropped our bags at the MGM Grand, and went for a walk on the Strip to pick up some show tickets and lunch.
Back at the MGM, we checked into our room and my wife unpacked and rested.
I, of course, headed right to the casino.
Almost immediately, I won a $2,026 jackpot on a penny slot machine called "Fireball."
It was going to be a good weekend.
I texted the news to Ann, who made it from the west tower of the hotel to my slot machine in about 5 seconds.
The jackpot set off some sirens, and MGM staff members suddenly appeared. They counted out 20 $100 bills and also handed me a tax form, since I would have to report this as income to the IRS. I tipped them like a boss and returned to the business of gambling.
I continued to have good luck the rest of the afternoon, winning a little here and there. At roulette, the numbers I play are the ages of our four children and our dog (will I go to hell for this?), and I hit the number twice that day.
Then we went to the Cirque d'Soleil Beatles show, ate dinner at the Irish pub in New York, New York, and called it a night.
The next day it became clear that my gambling luck had expired. But we walked the Strip – watching the fountains at Bellagio, window shopping at the Cosmopolitan – and went to a comedy show that night to see Ray Romano and David Spade.
Saturday we crawled out of bed late, went to the breakfast buffet, and then headed to the pool party at the Flamingo.
We spent a few hours drinking margaritas and dancing with hundreds of other Parrotheads. A couple we knew from Coeur d'Alene joined us.
Soon it was almost time to renew our vows.
More than 100 couples had signed up for the ceremony, receiving special yellow wristbands. Some of the women were dressed in bridal gowns and veils, others were in bikinis.
The band took a break and organizers called for the couples to move to one side of the swimming pool deck. We gathered in a bunch.
Suddenly, a little person appeared, dressed as a pirate, and announced that he was the "mini-ster" who would perform the ceremony.
It was the most Vegas of moments.
A brief, light-hearted ceremony followed, in which everyone said "I do." We were issued certificates saying we had renewed our vows at a Jimmy Buffett pool party, and then it was time to leave for the concert.
The four of us stopped on the way to have dinner at the Harley Davidson Cafe (not great) and then attended the show at the MGM Grand (great).
Again I stayed up gambling late into the night, but won nothing.
The next day, we boarded a plane carrying renewed wedding vows and most of the $2,000 jackpot.
Viva Las Vegas.
Local journalism is essential.
Give directly to The Spokesman-Review's Northwest Passages community forums series -- which helps to offset the costs of several reporter and editor positions at the newspaper -- by using the easy options below. Gifts processed in this system are not tax deductible, but are predominately used to help meet the local financial requirements needed to receive national matching-grant funds.
Subscribe now to get breaking news alerts in your email inbox
Get breaking news delivered to your inbox as it happens.
---