Sports
WSU head coach Ernie Kent returns to Oregon for first time as opposition
Thu., Feb. 5, 2015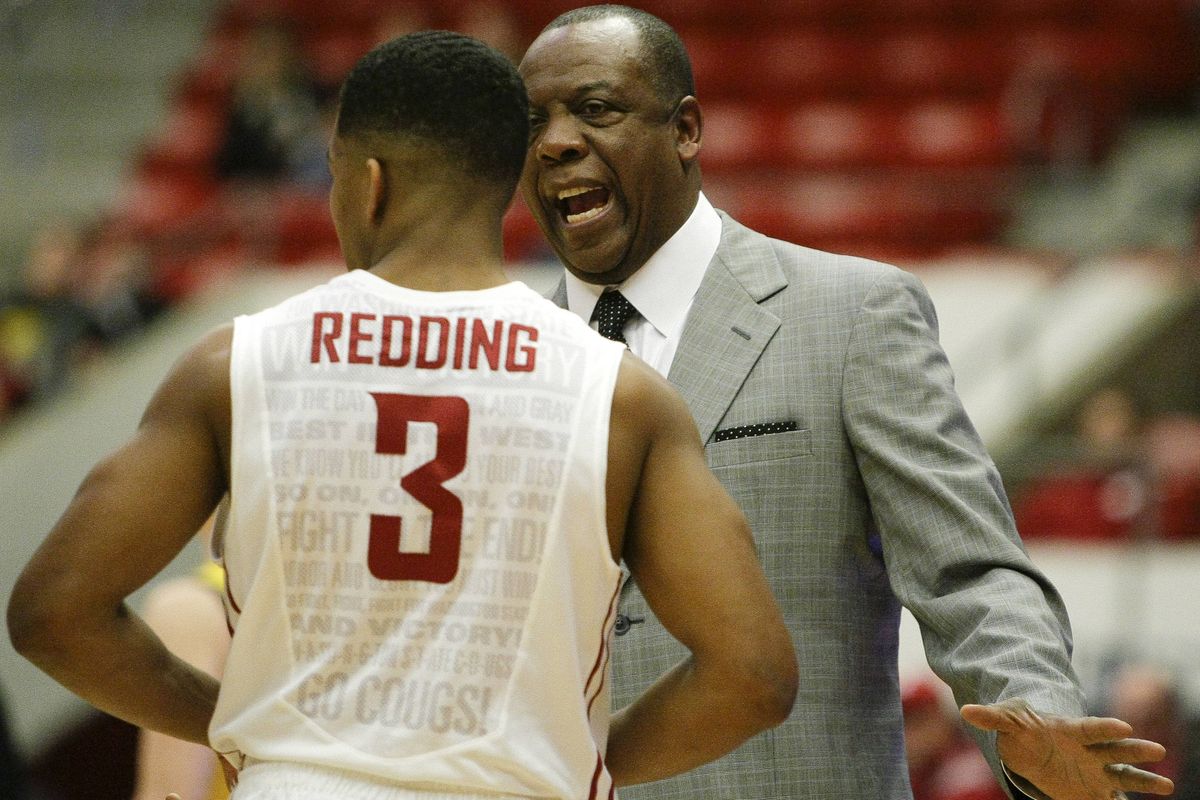 Washington State first-year head coach Ernie Kent talks with guard Ny Redding during a timeout in the California game in January, which the Cougars lost 76-67. (Associated Press)
PULLMAN – Ernie Kent never got to coach in the basketball Taj Mahal that he helped erect. When he does for the first time Sunday, he will do so as an intruder.
Totally modern, the 12,364-seat, $227 million Matthew M. Knight Arena is an homage to "new money" and the envy of most professional teams. It opened the year after Kent was fired by the University of Oregon after two bad seasons but would likely not have been built without the five NCAA tournament appearances and two Elite Eights he achieved during his time in Eugene.
For Kent, coaching in the arena will serve as a reminder of what could have been, but also what could be. Because at Washington State he has the same athletic director in Bill Moos that he had at UO and he's following the same blueprint that led to college basketball's most opulent temple.
Although he'll be an opponent on Sunday, Kent is intrinsically "Ducks basketball." He coached where he played, on UO's McArthur Court, where he and the rest of the Kamikaze Kids knocked off top-ranked UCLA and where, when "Million Moves" took over as UO's coach in 1997, his team again toppled No. 6 UCLA.
Kent's team didn't lose a game at Mac Court in 2002 – and again beat a top-ranked UCLA team – on the way to the school's first Elite Eight since 1945.
Yasir Rosemond understands the connection since he shares it. Rosemond was Kent's first recruit at Oregon and came back to coach under Kent for five seasons.
"Coach has passion for coaching at WSU and I know how he loves WSU and he loves what he does," said Rosemond, now an assistant coach at Georgia. "He's really excited about what he does. But I think when he was coaching at Oregon he could always sell it because he lived it. He lived it. He was there for half of his life so it's just a different type of passion that you have."
Other than a firsthand look at Kent's process of program-building, Rosemond shares another experience with the current WSU players: He transferred before his senior season to Seattle Pacific, where he was coached by Ken Bone, Kent's predecessor at WSU.
Rosemond's recollections of the early days of the Kent era at UO are strikingly similar to "The Process" that the new coach is attempting to implement in Pullman. First there were the retreats – isolated team bonding activities made easier since cell phones were still a few years off.
Kent made himself available to the players and involved himself in their personnel lives, something his current team has noticed as well. More than anything, he told them to get confident in their scoring by giving everyone a green light at the basket.
"Every day in practice he made us shoot the ball, shoot the ball, shoot the ball so when it came to the game we were ready, we were confident," Rosemond said.
There are no indications that the patronage of Ducks benefactor and Nike owner Phil Knight will follow Kent and Moos to WSU. The Cougars may never have an athletic sugar daddy who turns the campus into an athletic wonderland the way Knight has at Oregon. Cosmetic improvements to Beasley Coliseum are likely the best Kent can hope for in his tenure.
But when Kent returns on Sunday to his alma mater and longtime employer, it will be the hostile, sold-out crowds, the string of NBA guards and the trips to the postseason more often than not that he remembers from his past, and envisions for his future.
"Now we get an opportunity to do it again here at Washington State and that's how I focus it," Kent said. "I really have moved on from (the firing) and you have to do it that way. It will be a great opportunity to go back into that arena with a different team and a different program. For this team to look at that arena and look at those pictures and those banners and realize the success that we had, that we're building here right now, and they're at the foundation of all that."
Local journalism is essential.
Give directly to The Spokesman-Review's Northwest Passages community forums series -- which helps to offset the costs of several reporter and editor positions at the newspaper -- by using the easy options below. Gifts processed in this system are not tax deductible, but are predominately used to help meet the local financial requirements needed to receive national matching-grant funds.
Subscribe to the sports newsletter
Get the day's top sports headlines and breaking news delivered to your inbox by subscribing here.
---