Sports
Eastern's defense topples Hornets to take over first place
Fri., Feb. 13, 2015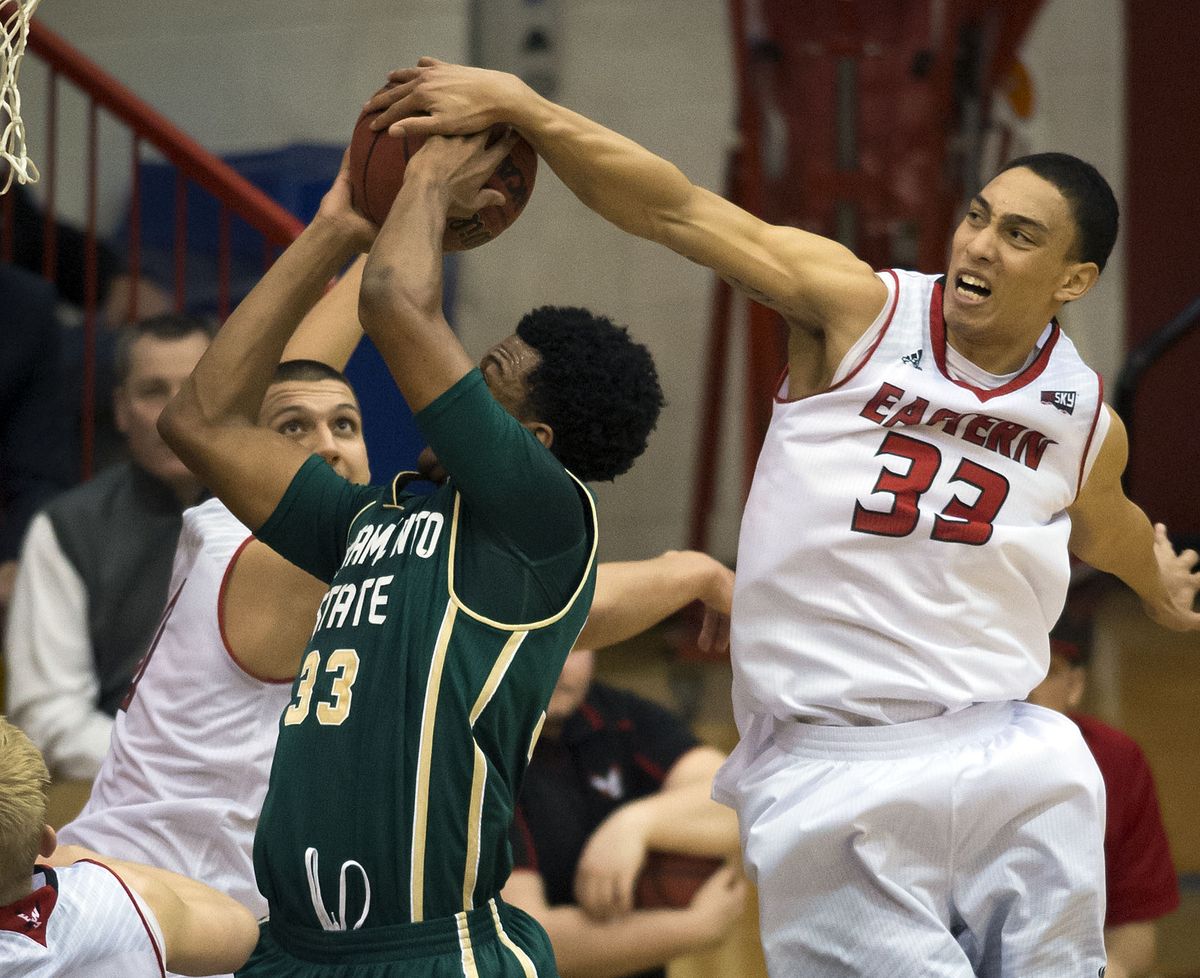 Eastern Washington forward Garrett Moon blocks a shot by Sacramento State's Nick Hornsby during the first half of Thursday's Big Sky showdown for first place. (Colin Mulvany)
Defending the home court never felt this good.
In the biggest game at Reese Court in more than a decade, Eastern Washington literally rose to the occasion Thursday night with a season-high 13 blocked shots in a 64-61 win over Sacramento State.
Only one thing felt better: The Eagles are alone in first place in the Big Sky Conference after swatting down the Hornets in front of a season-high crowd of 3,114.
The race isn't over, of course. Eastern (19-5 overall, 10-1 Big Sky) has seven regular-season games left as it pursues a chance to host the Big Sky tournament on March 12-14.
"It's still too early to think about it, we still have four Big Sky road games left." coach Jim Hayford said after the game. "Anything can happen on the road in the Big Sky – it's crazy – it is the Wild West."
It certainly was on Thursday. The Eagles (12-0 at home) led wire-to-wire, but almost tripped at the finish line as the Hornets (16-7 and 10-2) closed to within a point with 4 seconds left. Drew Brandon capped another big game with two game-clinching free throws before intercepting the Hornets' last-gasp pass downcourt.
"I am not so sure that we played well tonight, but we won," Hayford said.
For the third straight game, the Eagles won without Tyler Harvey, the national scoring leader who hasn't played since suffering a deep thigh bruise on Jan. 31. Harvey warmed up before the game, then changed into street clothes and sat on the Eagles' bench along with his 23.4 scoring average.
"He probably could have gone tonight, but when you are in the Big Sky you need to be your best in the Big Sky tournament," Hayford said, referring to the fact that the conference, most likely, will send only its tournament champion into the NCAAs.
The Eagles began the game as though they wouldn't need Harvey at all, leading 11-5 and 25-15 thanks to the long-range shooting of guard Parker Kelly, who had four 3-pointers in the first half and finished with 15 points. Forward Ognjen Miljkovic added a game-high 16 points on 6-for-8 shooting, including 4 for 5 from beyond the arc.
In several cases, the 3-pointers were set up by forward Venky Jois, who often found two defenders when he got the ball down low but found the open shooters. Jois scored only seven points, but he had six boards and a game-high five assists.
That was only part of the defensive effort against Sacramento State, which shot 63 percent in a 90-77 win over the Eagles last month. This time, the Hornets were 9 for 29 in the first half, including a 3-for-16 stretch in more than 14 minutes.
Sacramento State picked up the pace in the second half but finished 22 for 54, or 40.7 percent. Eastern hit 22 of 46 from the field and 12 for 23 on 3-pointers.
"Because we have been a high-scoring team all year, our defense has been called into question and now this is three straight games where our defense has helped us win games," Hayford said.
Eastern's 31-24 halftime lead was quickly cut to two, but Miljkovic drained a 3, Jois made a deft drive past two defenders and Brandon converted a block by Kelly into a three-point play as Eastern led 46-33.
The lead grew to 58-42 with 7 minutes left, but the Eagles got just two field goals the rest of the way while struggling against the press and missing several free throws. Mikh McKinney's 3-pointer cut the lead to 60-55 with 2:57 left, and he drained another at the 1:35 mark after forcing a turnover by Jois.
But reserve forward Garrett Moon scored his only points of the night on a layin from a feed by Jois – the winning points, as it turned out. That made it 62-58, and the Eagles got a big assist when Hornets forward Nick Hornsby missed two free throws as the crowd roared its approval.
McKinney hit three free throws with 4 seconds left before Brandon closed out the game with two free throws.
Local journalism is essential.
Give directly to The Spokesman-Review's Northwest Passages community forums series -- which helps to offset the costs of several reporter and editor positions at the newspaper -- by using the easy options below. Gifts processed in this system are not tax deductible, but are predominately used to help meet the local financial requirements needed to receive national matching-grant funds.
Subscribe to the sports newsletter
Get the day's top sports headlines and breaking news delivered to your inbox by subscribing here.
---