Sports
Injuries appear to be Big Sky-leading Eagles' toughest hurdle
Wed., Feb. 18, 2015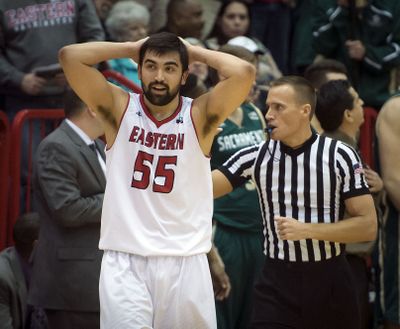 Eastern Washington basketball coach Jim Hayford likes where his team is sitting right now: alone in first place in the Big Sky Conference with six games to play.
However, the Eagles sit there tenuously. They're coming off their first home loss of the year, face four of their last six regular-season games on the road, and they're coping with injuries – lots of them.
"As many injuries as I've had in 16 years as a college head coach," said Hayford, who's used five different starting lineups in his last eight games after needing just one for 15 of the first 17.
In Saturday's 68-66 loss to Portland State, forward Venky Jois was sidelined by a lingering ankle injury and national scoring leader Tyler Harvey struggled in his first game back from a bruised thigh. Backup guard Sir Washington is out for the season with a knee injury.
"When you come off a loss, you like to fix things at home," Hayford said after practice Tuesday morning at Reese Court. "It's kind of a nice pillow underneath you, but that is not where we are."
Instead, the Eagles, 19-6 overall and 10-2 in the Big Sky – one game ahead of Montana and Sacramento State – face one of the toughest road trips in the conference this week, Thursday at Southern Utah and Saturday at Northern Arizona.
With the regular-season champion earning home-court advantage for the Big Sky postseason tournament, there's no choice but to "fight through," said point guard Drew Brandon, who's battled back spasms and played through a broken finger earlier this year.
"That's why we're a deep team," said guard Parker Kelly, who played through groin and toe injuries in November and December. "We just have to keep looking forward."
They have some good things to look forward to for a team that sits 75th in RPI and 14th in this week's mid-major poll.
Hayford said he was "encouraged" on Jois' recovery - an MRI came back negative Tuesday afternoon - and feels that Harvey simply needs to get back into game rhythm.
"We just need to get our guys on the court together," Hayford said. "If we can play with the same guys who played at the beginning of the season, we can hit a stride that could be special."
By then, the injuries could pay a dividend in the form of game experience for the top backups. Backup forward Felix Von Hofe, for one, has logged 20-plus minutes in four of his last five games.
"As much you say you're ready to go … the intensity of when you get into the game, when you see how hard the starters play, you really have to match that intenisty when you're out there," Von Hofe said.
"We have worked hard to get to this place in the season with three weeks to go," Hayford said. "I like the focus of our players and that we will have a good rotation of players."
Local journalism is essential.
Give directly to The Spokesman-Review's Northwest Passages community forums series -- which helps to offset the costs of several reporter and editor positions at the newspaper -- by using the easy options below. Gifts processed in this system are not tax deductible, but are predominately used to help meet the local financial requirements needed to receive national matching-grant funds.
Subscribe to the sports newsletter
Get the day's top sports headlines and breaking news delivered to your inbox by subscribing here.
---