Spokane sculptor Dorothy Fowler dies at 88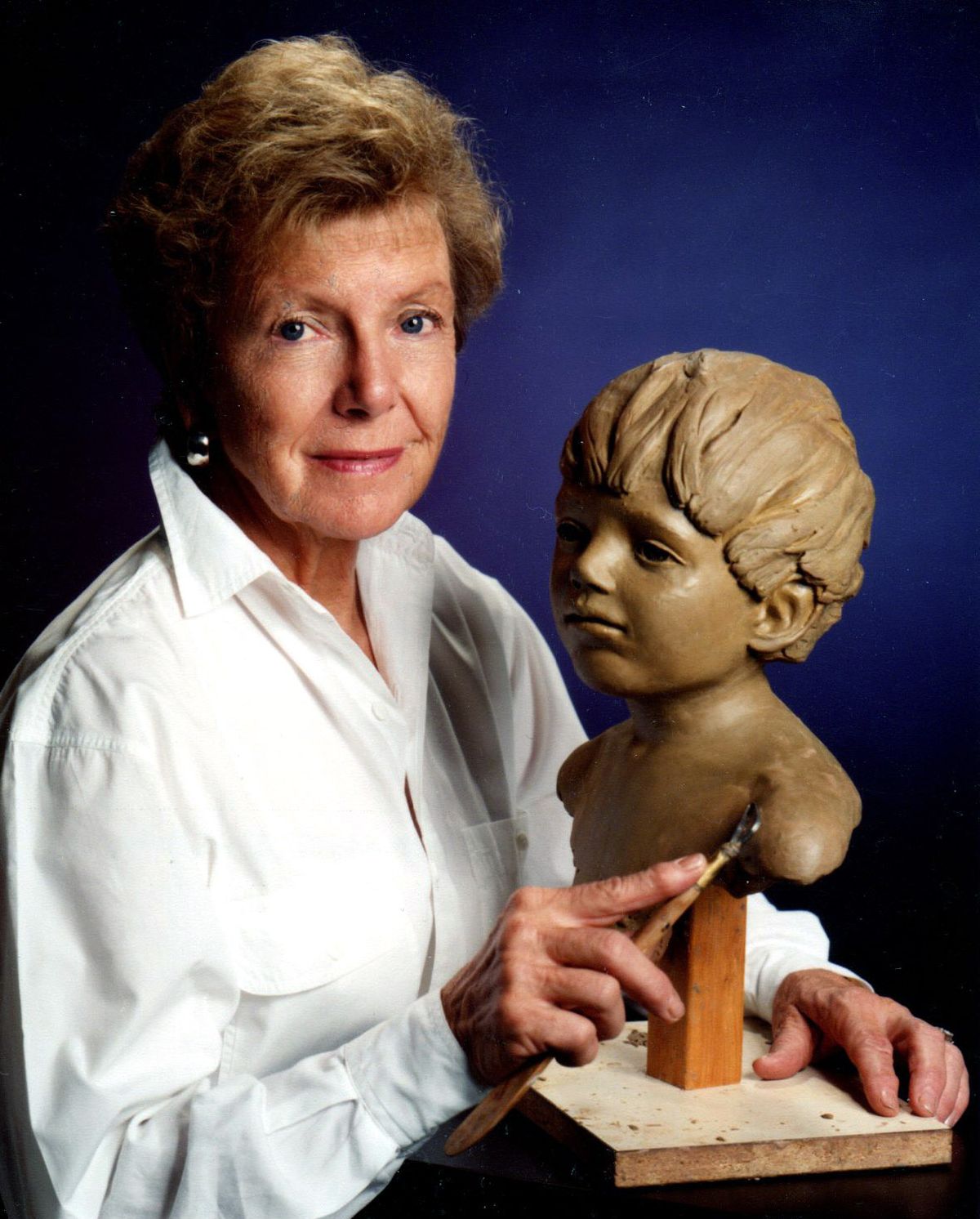 Spokane sculptor and aviator Dorothy Fowler, widely known for her bronze statues and cathedral door reliefs, died Saturday. She was 88.
Fowler, whose late husband, Jack, was the founding father of Schweitzer Mountain Resort near Sandpoint, took up sculpting in her 50s and created some of the best-known pieces of public art in the Inland Northwest.
Her tribute to Spokane astronaut Michael P. Anderson, killed in the 2003 explosion of the space shuttle Columbia, stands in the breezeway between the INB Performing Arts Center and Convention Center, and also outside the Museum of Flight in Seattle.
Fowler's bronze reliefs of saints and Jesus adorn the front doors of the Cathedral of Our Lady of Lourdes on Riverside Avenue, with similar works created for a Christian church in Israel and St. Ann Cathedral in Great Falls.
Her bronze bust of Katherine Gellhorn, Spokane's late arts and culture dynamo, is on display in The Modern Theater gallery.
Painter and poet Karen Mobley, who oversaw Spokane's public art program for 15 years, said she respected Fowler's craftsmanship and community involvement.
"She's been kind of a grand matron in terms of her influence on younger artists who are interested in bronze," said Mobley, who sits on the board of the Northwest Museum of Arts and Culture.
Fowler's style was traditional and realistic, her subjects emotional and contemplative. She pursued her art even as she endured years of arthritis and, in more recent years, battled cancer.
"She just would push through all of that, like no one I have ever known," said her daughter, Deborah Huestis, of Great Falls.
"Dress Rehearsal," depicting a ballet dancer tying on a slipper, also is on display at the INB center. Another well-known work – a mother embracing her child, titled "The Strongest Bond" – stands outside the Ronald McDonald House in Spokane and at the McDonald's Corp. campus in Oak Brook, Illinois.
In the mid-1990s Fowler was commissioned to sculpt the late Princess Mother of Thailand, mother of two kings and one of the most revered women in the Southeast Asian country. It's on permanent display in the Royal Palace compound in Bangkok.
Fowler's life-size sculptures have been displayed in galleries around the West, with pieces selling for tens of thousands of dollars. She once said her favorite work was "Heather's Gift," a statue of a young violinist in bare feet and a flowing dress, her eyes closed as she plays her instrument. The model for the piece was being treated for cancer and later died.
"Because she didn't even start sculpting until she was 55, that has been a tremendous inspiration to many, many middle-aged women that reach that point in their life where all of a sudden they have time to do something they always wanted to do," Huestis said.
Fowler was born April 10, 1926, in Butte. She spent several years in an orphanage there before moving to California, where she graduated from Pacific Grove High School in 1944. She attended art classes at San Jose State College, but not in sculpture.
She and her first husband, William Thompson, moved to Spokane in 1949 and started a family. Fowler was a homemaker and medical secretary at Sacred Heart Medical Center, and she spent time on craft projects with her son and two daughters. She turned fabric into everything from handmade clothes, upholstery and window coverings, to a trimmed-out interior for her son's 1953 Ford, family members recall.
In 1979, Fowler took a pottery class at the YWCA but quickly gravitated toward sculpting. At age 55 she exhibited her first sculpture at an art show at Spokane Falls Community College. Later she trained in places like the Scottsdale Art School and the Loveland (Colorado) Academy of Art, studying with some of the finest sculptors in the world.
In 1966, she married Jack Fowler, a dentist who established Schweitzer as a ski area in 1963. The couple, with six children between them, piloted antique airplanes that he restored. They flew to Mexico and Guatemala for missionary dental work, and she was an officer of "The 99s," the International Women's Pilots Organization started by Amelia Earhart. Her husband died in 2009.
Fowler, who had 12 grandchildren and 19 great-grandchildren, said in a 1995 interview, "I want to set an example for my children and grandchildren, that when you're older, life can still be meaningful and special if you're willing to work for it."
A memorial service will be held 1:30 p.m. Monday at First Presbyterian Church of Spokane.
---