Sports
In brief: Rakeem Christmas gifts win for Orange over Louisville
Thu., Feb. 19, 2015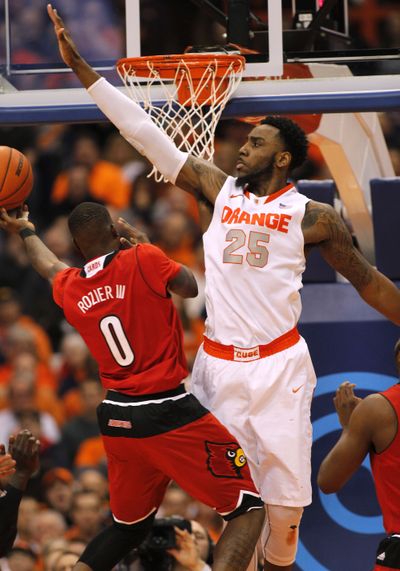 Top 25: Rakeem Christmas scored 29 points and added four blocked shots Wednesday as Syracuse (17-9, 8-5) beat No. 12 Louisville 69-59 in Syracuse, New York.
It was the first game between the teams as members of the Atlantic Coast Conference.
Louisville (20-6, 8-5) was out to bounce back from Saturday's home loss to North Carolina State but was without senior guard Chris Jones, who was suspended for violating team rules and did not make the trip. Freshman Quentin Snider made his first start in place of Jones, the team's assist leader (3.7 per game) and third-leading scorer (13.6 points).
The Cardinals have lost three of four and two straight after leading at the half.
• Cook leads No. 4 Duke past No. 15 UNC in OT: Quinn Cook scored 22 points and No. 4 Duke beat No. 15 North Carolina 92-90 in overtime in Durham, North Carolina.
In a thriller befitting college basketball's fiercest rivalry, the Blue Devils (23-3, 10-3 ACC) let an early 13-point lead slip away and trailed by 10 with less than 4 minutes left in regulation before rallying.
Tyus Jones had 22 points, Justise Winslow added 16 points and Jahlil Okafor had 12 points and 13 rebounds for Duke.
Kennedy Meeks and Brice Johnson each scored 18 points to lead North Carolina (18-8, 8-5).
• No. 5 Wisconsin beats Penn State: Sam Decker scored 22 points, Frank Kaminsky added 16 and No. 5 Wisconsin overcame a late Penn State surge to defeat the Nittany Lions 55-47 in State College, Pennsylvania .
Dekker and Penn State's D.J. Newbill waged an entertaining scoring battle. Newbill scored 29 points, but the next-highest scorer for Penn State (15-12, 3-11) was Brandon Taylor with seven.
The Badgers (24-2, 12-1 Big Ten), despite shooting 39 percent, were aided by Nigel Hayes' 13 rebounds and nine points. Wisconsin's 24th victory marked the school's best start in program history.
• No. 3 Baylor women hang on to beat Texas Tech: Niya Johnson scored 17 points and Nina Davis added 12 points and 10 rebounds to help No. 3 Baylor beat Texas Tech 67-60 in Lubbock, Texas.
The win, the Bears' 24th straight, assured Baylor a share of the Big 12 title with Oklahoma. A win over TCU in Waco on Saturday would give the Bears sole possession of the regular-season title, their fifth straight and sixth overall.
It was only the sixth time that Baylor (25-1, 14-0 Big 12) has won by single digits.
Red Wings defeat Chicago in shootout
NHL: Tomas Tartar scored in regulation and in the shootout, leading the visiting Detroit Red Wings to a 3-2 victory over the Chicago Blackhawks
Gustav Nyquist also scored in the tiebreaker for Detroit, which won for just the third time in 11 shootouts this season. Darren Helm had a goal and an assist, and Jimmy Howard made 32 saves through overtime.
Brandon Saad and Kris Versteeg scored in regulation for Chicago, and Corey Crawford had 26 saves.
• Hammond makes 42 saves in 1st NHL start: Andrew Hammond made 42 saves in his first NHL start and led the Ottawa Senators to a 4-2 win over the visiting Montreal Canadiens.
Milan Michalek, Jean-Gabriel Pageau, Mark Stone and Kyle Turris, scored for the Senators.
Hammond was called into action Monday to replace starter Robin Lehner, who was hurt in the second period against Carolina. Lehner was unable to play Wednesday. With Craig Anderson already out with a hand injury, Hammond got the start.
Former Trail Blazer Kersey dies at 52
Miscellany: Jerome Kersey, the small forward who played his first 11 NBA seasons with the Portland Trail Blazers and helped the San Antonio Spurs win the 1999 title, has died. He was 52.
The Trail Blazers confirmed that Kersey had died but didn't provide details.
A team ambassador, Kersey appeared Tuesday with fellow former Blazers Terry Porter and Brian Grant at a Portland school in celebration of African American History Month.
Kersey averaged 10.3 points and 5.5 rebounds in 17 seasons in the NBA.
• Witness: Hernandez claimed end of endorsements: Former New England Patriots player Aaron Hernandez matter-of-factly told witnesses that his endorsement days were over, according to testimony in Fall River, Massachusetts, from Azia Jenkins, his fiancee's uncle, who said the conversation happened a day after a slaying in which Hernandez would eventually be charged.
Jenkins said he had arrived at the Hernandez home that afternoon and was preparing to leave when police arrived and spoke with him in the driveway. He said he went to the police station. Upon his return, Jenkins said, Hernandez wanted to know what police had asked him.
After a brief conversation, Jenkins, Hernandez and Smith went to the basement to play pool and watch Game 6 of the NBA Finals. A commercial came on, Jenkins said.
"Aaron said, 'My endorsements are gone,' " Azia Jenkins testified.
Jenkins said that Hernandez didn't elaborate and that he appeared "cool, calm, collected."
At the time of the slaying, Hernandez had a $40 million contract with the Patriots and an endorsement deal with CytoSport, the company that makes Muscle Milk. He also had a two-year contract with the sportswear company Puma.
• Real Madrid beats Schalke in Champions League: Cristiano Ronaldo ended a three-game scoreless streak, putting Real Madrid ahead in the first half of a 2-0 win over Schalke in the first leg of the Champions League's second round in Gelsenkirchen, Germany.
In the night's other game, Danilo converted a penalty kick in the 79th minute to give Porto a 1-1 tie at Basel.
Ronaldo scored on a 26th-minute header off Dani Carvajal's cross, then set up Marcelo's goal from the edge of the penalty area in the 79th.
Real Madrid won 6-1 in the same stadium at the same stage last year. The second leg of the total-goals series is March 10 in Spain.
Madrid has won 10 consecutive Champions League matches, outscoring opponents 27-3.
• Venus Williams loses to Safarova in Dubai: Defending champion Venus Williams is out of the Dubai Tennis Championships after losing in the third round in straight sets to 11th-seeded Lucie Safarova in Dubai, United Arab Emirates.
The eighth-seeded Williams looked listless in the humid 93-degree temperatures as Safarova cruised to a 6-4, 6-2 victory.
Joining Williams on the sidelines was fifth-seeded Agnieszka Radwanska, who lost 6-4, 6-2 to unseeded Garbine Muguruza of Spain.
Sixth-seeded Ekaterina Makarova of Russia reached the quarterfinals by beating Zarina Dyas of Kazakhstan 6-3, 6-4.
Local journalism is essential.
Give directly to The Spokesman-Review's Northwest Passages community forums series -- which helps to offset the costs of several reporter and editor positions at the newspaper -- by using the easy options below. Gifts processed in this system are not tax deductible, but are predominately used to help meet the local financial requirements needed to receive national matching-grant funds.
Subscribe to the sports newsletter
Get the day's top sports headlines and breaking news delivered to your inbox by subscribing here.
---
Subscribe and log in to the Spokesman-Review to read and comment on this story