Sports
Gonzaga's Gary Bell Jr. epitomizes unselfish play
Thu., Feb. 19, 2015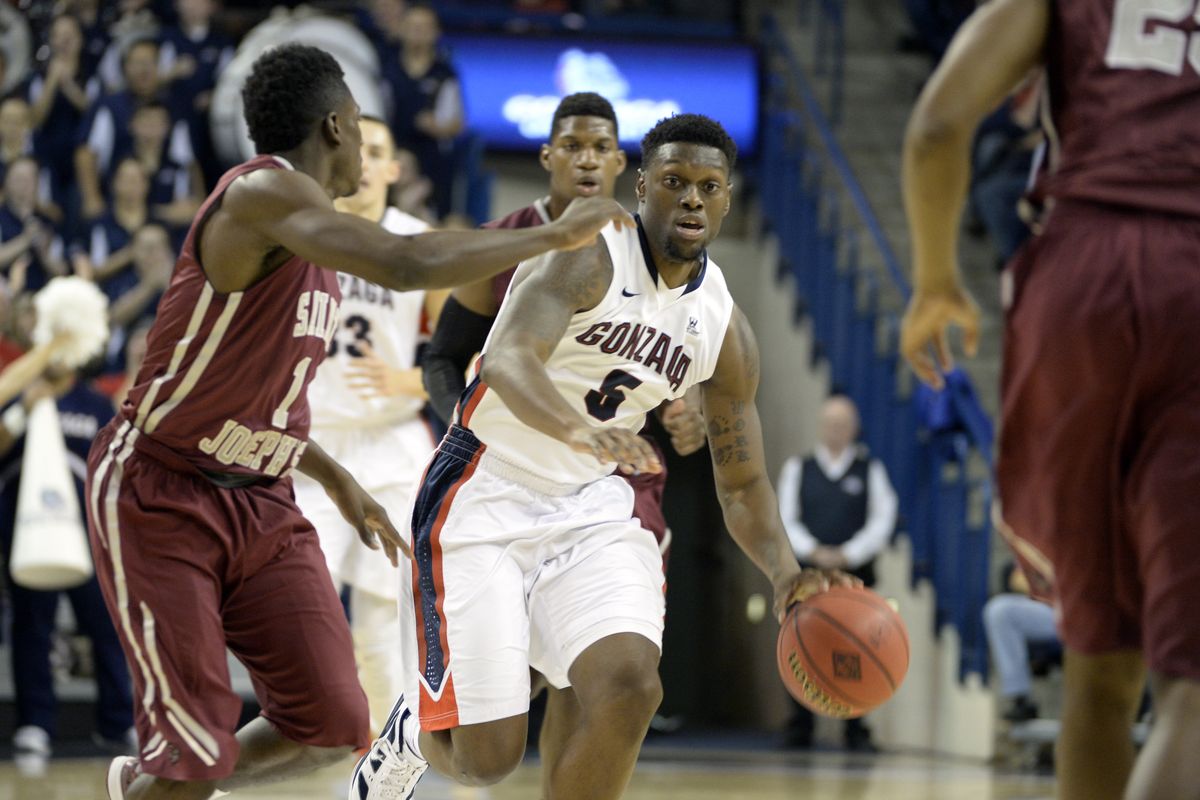 Gary Bell Jr. hopes his work ethic and shooting touch can help the Bulldogs reach their first Final Four. (Jesse Tinsley)
Gary Bell Jr.'s Senior Day speech is nine days away, but he already knows two things:
He's going to be a little nervous addressing 6,000 inside the McCarthey Athletic Center and he's not going to be long-winded.
"I'll make it short and simple," Bell said.
That is the Gonzaga guard's way, and has been since he joined the program. When he committed to the Zags, turning down six Pac-12 scholarship offers in the process, Bell deflected a reporter's phone call to his father.
"I just play," shrugged a smiling Bell, when reminded of that April day in 2010. "I don't have to be in the media. If you follow me on Twitter or Instagram, I rarely post."
Be assured he is entirely pleasant, polite and thoughtful. He becomes more expansive when the discussion turns to his teammates, his GU experience, his parents, his grandmother and his girlfriend Jozlin and their 1-year-old son Gary Bell III.
Bell's place among Gonzaga's best is already cemented. He ranks in the top 10 in 3-pointers made and attempted at a clip of 41.6-percent career accuracy. At his current pace, he'll probably finish just outside the top 20 in career points. He earns almost as much attention for his defensive work. He's guarded the opponent's top perimeter threat for four seasons.
Bell and running mate Kevin Pangos form the winningest senior class in school history. GU is 113-18 in the duo's four seasons. Bell has played in 124 games, Pangos all 131.
Teammates and coaches will talk your ear off if the topic is the rock-solid, 6-foot-2 guard from Kent, Washington.
"He is one of my (all-time) favorites," coach Mark Few said. "He's my kind of guy. He doesn't crave attention or need attention. He just helps you win basketball games and he's won so many games. He's done it with just solid, steady, tough-ass plays. That's what he is."
"He's our glue guy, just so unselfish," forward Kyle Wiltjer said. "He probably gives up shots (with) me and Byron (Wesley) coming here, but you never hear anything negative come out of his mouth. He's the ultimate teammate. It shows the character of our program and himself."
Bell said his work ethic comes from his parents. His dad drove a garbage truck for years and worked his way into a supervisor position. His mom is an accountant.
"They've worked five days a week for as long as I can remember," said Bell, a sports management major. "My mom wanted me to stay in business (at GU), but it wasn't my forte. They're hard-working, that's something I picked up on early and kept with me."
Few is constantly reminding freshman guards Josh Perkins and Silas Melson to soak in as much as they can from Bell and Pangos.
"I don't want you to be them," Few tells the freshmen, "but I want you to learn why they've been so good and so successful."
Bell learned the fundamentals of basketball from his father, who coached him until the sixth grade. Bell developed into an all-state player at Kentridge High and was rated 53rd on ESPNU's Super 60.
At Gonzaga, he emerged as a starter early in his freshman season. He averaged a career-high 11 points and 2.9 rebounds as a junior. He's battled knee, ankle and hand injuries in his career but has missed only seven games.
His girlfriend Jozlin played basketball at Community Colleges of Spokane. Bell had no clue how to care for a baby before the arrival of Gary Bell III, but he's proven to be a quick study in the food and diaper department.
"I still hang out with the team, but I want to be home and hang out with my son as much as I can because we're on the road so much," Bell said. "I'm a homebody now. It's a routine."
"He's a really good dad," guard Kyle Dranginis said, "and you can tell by the way he lights up around his son."
Dranginis and Bell were roommates for three years.
"He likes to enjoy himself, crack jokes and have fun but he's not too worried about being the star or the guy, which I think is really cool," Dranginis said. "He can sing a little bit. I'd always catch him singing along to a song."
Bell hopes to play basketball professionally. He also hopes to extend his senior season as long as possible, but he already knows he'll look back on his Gonzaga career with great memories.
"Everything I wanted, what they told me, happened," he said. "We're in the tournament every year, I'm playing and the family aspect … I'm probably going to be in Spokane the rest of my life. My girlfriend is from here and I have a kid, so I'm tied to Spokane and that's nice.
"I'm good with my decision to come here. All the things I wanted have come true. Now all I need to come true is to go to a Final Four."
Local journalism is essential.
Give directly to The Spokesman-Review's Northwest Passages community forums series -- which helps to offset the costs of several reporter and editor positions at the newspaper -- by using the easy options below. Gifts processed in this system are not tax deductible, but are predominately used to help meet the local financial requirements needed to receive national matching-grant funds.
Subscribe to the sports newsletter
Get the day's top sports headlines and breaking news delivered to your inbox by subscribing here.
---