Sports
Former EWU QB Vernon Adams Jr. preparing for jump to Oregon
Wed., Feb. 25, 2015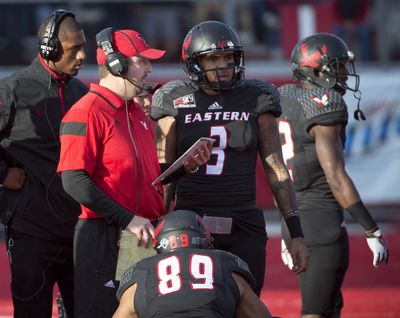 Underappreciated no longer, Vernon Adams Jr. is heading for bigger things.
Better things, too? Time will tell, but Adams has never lacked for confidence, a major reason the FCS All-American quarterback announced on Feb. 9 that he would carry his football talents from Eastern Washington to national power Oregon.
"I'm going to try to win this starting spot and lead Oregon back to the national championship – and win it," Adams said that day. "I want to thank God for this amazing opportunity."
Since then, things have been a bit awkward in Cheney, as Adams and the Eagles move in a different direction:
• Adams has been spotted on campus decked out in Duck gear – a sore point for some Eagle fans, given that EWU opens the season on Sept. 5 in Eugene. He was booed at an Eastern basketball game on Feb. 12.
• While some of Adams' ex-teammates have wished him well, others recently removed his All-American awards from the football locker room. "I guess some of the guys were kind of butt-hurt," Adams told Fox Sports.
• Even as he stated that he was basing his decision on "what's best for my future and my family," Adams broke up in January with his girlfriend, Cheyenne Merritt, an EWU student and the mother of his 8-month-old son, Vernon Kash Adams III. They will stay behind in Cheney while Adams pursues his dream, Merritt confirmed. "We're not together anymore," Merritt said.
• On Feb. 12, Eastern coach Beau Baldwin restricted Adams from from using the athletic weight room, which is reserved for varsity athletes. Since then, Adams has worked out at a fitness facility in Cheney.
• Since the Feb. 9 announcement, Adams has refused numerous interview requests from The Spokesman-Review, but has spoken at length with regional and national media.
In a wide-ranging, 33-minute interview last week with Fox Sports, Adams spoke of the challenges he's faced since he was an undersized quarterback in Pasadena, California, his four-year development at Eastern and his future at Oregon.
"I was definitely surprised" that Oregon was so interested, the 5-foot-11, 200-pound Adams said. "I never thought I was an Oregon-type quarterback. You know, it's the No. 2 team in the nation. So, it was just really crazy and very humbling."
Not exactly humbled, given Adams' confident statement last month that he's "not going down there to be a second-stringer." The move is considered risky because Adams already is a known quantity among pro scouts; the major upside in a move to Oregon is the increased visibility he would enjoy.
Since Feb. 9, Adams has revealed more details about his move:
• That UCLA and Texas also were in the mix for his services, but that the final choice was between Eastern and Oregon;
• He admitted being dazzled by Oregon's uniforms and facilities;
• He felt that the chance to be part of the Ducks' offensive scheme would make him more marketable as a coach after his playing career is over;
• He felt a strong connection with the Oregon players during his visit to Eugene on Jan. 30-Feb. 1. "They kept it real, and they're very family-oriented over there, and very welcoming," said Adams, echoing his comments about his recruitment by Eastern.
"All the guys, the players, coaches, showed me a lot of love on my visit. It seemed like an opportunity of a lifetime," Adams told Fox Sports.
The opportunity must wait at least three months. First, Adams must complete his undergraduate coursework. This term, he changed majors, from recreation management to interdisciplinary studies, allowing him to enroll in graduate studies at Oregon.
After graduation from EWU on June 12, he will depart for Eugene with diploma and football in hand. He will spend the summer perfecting his timing with the Duck receivers, and attempting to catch up to the returning Oregon quarterbacks in time to start for the opener on Sept. 5 against his old teammates.
"It's going to be so weird," Adams told the Oregonian. "Now they can finally tackle me."
The Eagles are moving on too. After expressing his gratitude for Adams' mentoring, quarterback Jordan West said on Feb. 9 that he was eager for spring ball and the 2015 season.
Baldwin said the subject of Adams hasn't come up. "Part of moving on is not talking about it," Baldwin said.
"It's been fine, and it's like when someone gets injured – the group comes together that much more, and we all showed a lot of that last year. I expect the same type of mentality from the players this year," Baldwin said. 
Local journalism is essential.
Give directly to The Spokesman-Review's Northwest Passages community forums series -- which helps to offset the costs of several reporter and editor positions at the newspaper -- by using the easy options below. Gifts processed in this system are not tax deductible, but are predominately used to help meet the local financial requirements needed to receive national matching-grant funds.
Subscribe to the sports newsletter
Get the day's top sports headlines and breaking news delivered to your inbox by subscribing here.
---
Subscribe and log in to the Spokesman-Review to read and comment on this story