News > Spokane
Spokane Valley apartment fire leaves one man with minor burns
Thu., Feb. 26, 2015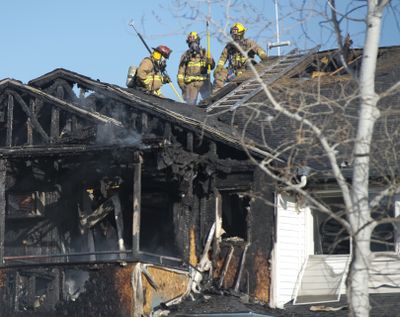 A two-alarm apartment fire in Spokane Valley sent one man to the hospital with minor burns Wednesday afternoon.
The Spokane Valley Fire Department was alerted to the fire at 12623 E. Broadway Ave. at 1:39 p.m. Wednesday after the resident of a third-floor apartment awoke to find flames on his balcony.
The man tried unsuccessfully to put the flames out with a fire extinguisher, Capt. Jeff Bordwell said.
"He tried to hit it," Bordwell said. "It wasn't impressed. He left and called us."
The man's neighbors already had called the fire department, however. He suffered minor burns to his forearms.
He had a small camp stove on his balcony but it is unknown if it had anything to do with the fire, Bordwell said.
"There was at least one propane tank that blew up, a small one," Bordwell said. "I guess it was quite impressive."
The man's apartment was destroyed and several others were damaged by smoke, flames and water. His cat suffered from smoke inhalation, but firefighters were able to revive it, Bordwell said. They were also able to rescue a second cat from one of the damaged apartments.
Damage to the building is estimated at $100,000. The cause is under investigation. The Red Cross is assisting the residents of the damaged apartments.
Spokane County Fire District 8 and the Spokane Fire Department assisted with the fire and with other calls while Valley Fire units were kept busy by the blaze.
Local journalism is essential.
Give directly to The Spokesman-Review's Northwest Passages community forums series -- which helps to offset the costs of several reporter and editor positions at the newspaper -- by using the easy options below. Gifts processed in this system are not tax deductible, but are predominately used to help meet the local financial requirements needed to receive national matching-grant funds.
Subscribe to the Coronavirus newsletter
Get the day's latest Coronavirus news delivered to your inbox by subscribing to our newsletter.
---