Unsung hero sparks Cougars to win over USC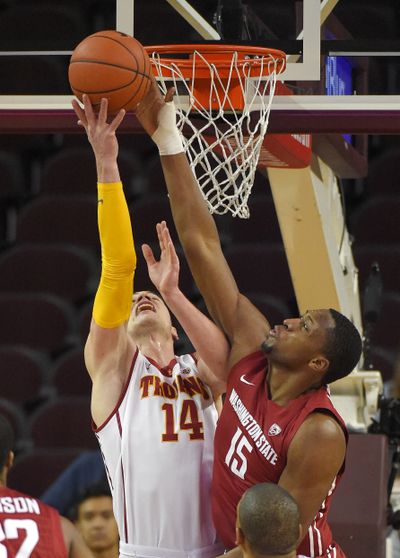 LOS ANGELES – Washington State had the dual experiences of blowing USC out on the road and escaping the Galen Center with a shaky win and an unlikely hero.
The Cougars almost messed that up, too, but Junior Longrus made sure WSU came away with a 70-66 victory in front of 2,735 fans on Wednesday night.
Longrus toed the free throw line with 17.1 seconds left having made just 8 of 26 free-throw attempts this season prior to the game, with the Cougars having used up all but three points of a lead that reached 19 just 11 minutes earlier.
He made his first attempt to gave the Cougars a two-score cushion, but missed the second. The miss was a net positive for the Cougars, however, since Longrus tracked down the rebound and passed it to Ike Iroegbu, who made both of his foul shots and got the Cougars a few seconds closer to victory.
USC's Katin Reinhardt made an ensuing 3-pointer and forced the Cougars (12-15, 6-9 Pac-12) to sweat a little longer, but the outcome was almost assured after Longrus' hustle play.
"Like coach just said, he won the game for us," said DaVonte Lacy afterwards. "It was a huge rebound. Obviously, the shooter knows if he's going to miss it or not so he anticipated and got a huge rebound. We don't win that game if he doesn't grab that rebound."
The game began in a similarly sloppy manner as USC (10-18, 2-14) couldn't make a shot and the WSU players seemed unable to run any offense without giving the ball away.
But with his mother and sister in attendance – no small feat when the departure point is Australia – Dexter Kernich-Drew entered the scoring zone he's been in so often of late, now leading the Cougars in points in four of their last five games.
USC took an early 5-0 lead but he cut into it with his first 3-pointer, and closed a 12-5 Trojans advantage with his second. The third 3 he let fly pulled WSU within one and his fourth – still a make – drew a rare first-half foul call.
At that point the game saw more blocks than fouls despite plenty of contact on both ends and neither team reached the foul bonus in the first half. But the tenor of the game changed drastically after the halftime break and it took the officials just 4:47 to match their first-half foul total. The Cougars were in the bonus with 14 minutes left to play and the teams combined to shoot 43 second-half free throws.
"It certainly changed the dynamics of the game because now everybody's shooting free throws, the game slowed down. A lot of fouls were called," WSU coach Ernie Kent said.
"I think there was a stark difference between the first half and the second half," Longrus added. "I think they called it both ways so it was on us to adjust."
Turnovers kept the Cougars from winning comfortably and they may well have done so anyway, leading by 19 with 11:35 left to play. Many, if not nearly all, of the turnovers were unforced as interior passes between posts were constantly fumbled and more than a couple passes sailed out of bounds.
"It's just maturity," Kernich-Drew said. "We've got two young point guards in Ike (Iroegbu) and Ny (Redding) and they're still learning and they're going to be great point guards once they become juniors and seniors."
Kernich-Drew led the Cougars in scoring, again, with 19 points and Lacy added 17.
In the second half the Trojans closed out hard on Kernich-Drew to take away his 3-point baskets, so he began to drive past the overeager defenders, first hitting a cautious layup to start WSU's second-half scoring and following it soon after with a baseline drive that concluded with a dunk.
Sophomore forward Josh Hawkinson had 11 points and 13 rebounds for his 17th double-double of the season, which ties the school's single-season record with at least four more games to play.
---