Sports
Blanchette: Przemek Karnowski, Maserati have a lot in common
Fri., Jan. 9, 2015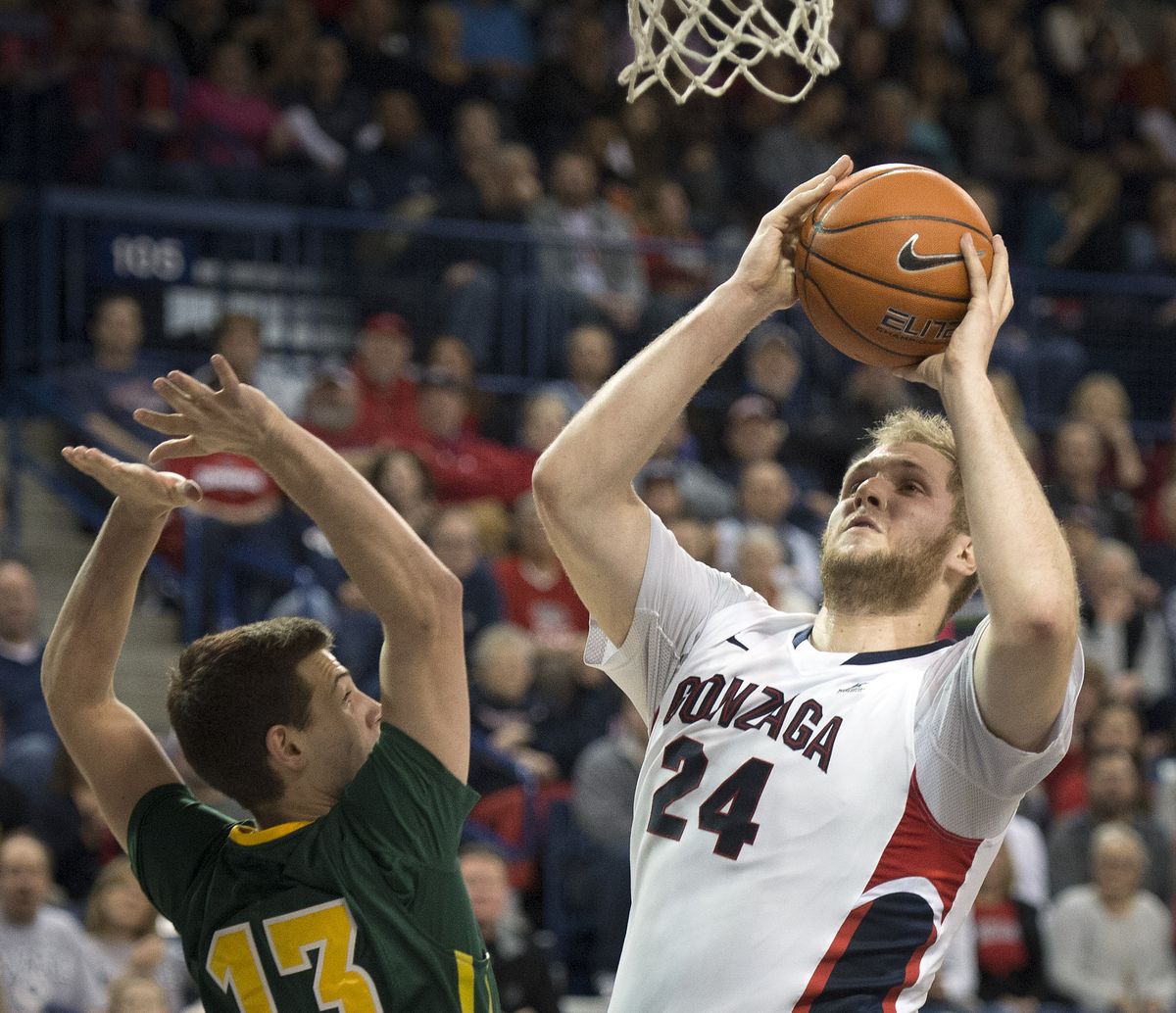 Gonzaga big man Przemek Karnowski has been turned every which way but loose. (Colin Mulvany)
The sign – lovingly made and prominently displayed Thursday night at McCarthey Athletic Center – read, "Pangos 4 President."
Not sure what that was all about – this not being an election year, the candidate lacking the requisite citizenship and his approval ratings being far too high for serious consideration anyway.
Now, if it had read, "Free Shem" – that would be understandable. If a grassroots movement flared up at this juncture of the Gonzaga season to play Przemek Karnowski at the point, to spot him up at the 3-point line or have him trigger the fast break, it would be no surprise.
"Don't encourage him, guys," pleaded coach Mark Few.
Too late.
You cannot hide a Maserati in the garage, especially when it's the size of a Peterbilt.
This is what happens in the ennui of college basketball's dog days – the quarter of the season that is played without one of its prime energy sources, the student body. There wasn't much juice in the joint when the Zags and San Francisco tipped it off Thursday night, and less as the home team went on to dispatch the Dons 88-57. So amusements must be manufactured.
Yes, these Zags are fun. But at the moment, no one is more fun than Przemek Karnowski.
And not just fun. A force.
On Thursday, that was a 16-point effort on 7-of-10 shooting, with a pair of no-sweat free throws. For all the Zags' success from 3-point range – a season-high 12, with Kevin Pangos, Kyle Wiltjer and Silas Melson doing the major damage – the important separation came late in the first half when Karnowski's production in the post took a four-point lead to 10.
"Just trying to be more patient," he said, "but at the same time more aggressive. Things are coming easier that way."
But this is not all that new. Starting with the win in the Arena over Washington State, the 7-foot-1 junior is averaging 13.4 points a game, and has been particularly sharp since GU's stop in Seattle. Which just happened to coincide with the arrival of his parents, Bonifacy and Wieslaw, from their native Poland.
"We need to keep his folks here," Few said.
And maybe that accounts for the uptick in showmanship, too.
There was the behind-the-back pass to Kyle Dranginis for a layup in the San Diego game – already committed to posterity on the Zags' highlight loop that runs during home-game introductions.
A few nights later at Portland, he was dishing out of the post to Pangos for spot-up 3s – and in one of the more comical moments of this or any other Zags season, spotted up for one himself. When the shot clock was slow to change after a kicked ball, Karnowski felt he had no choice but to fling one up after collecting an inbounds pass – and it was oh-so-true.
There was also a more traditional slam – a free throw to cap a three-point play – that cemented that victory, but that's big guy stuff.
"That 3," Few said, shaking his head, "started a whole new deal."
Shemdimes, Shemdaggers, Shemdunks – they're all a part of Shemworld now.
So it shouldn't have been a shock about seven minutes into Thursday's festivities to see Karnowski steaming downcourt, filling the right lane on a fast break Gary Bell Jr. had started with a steal. The surprise was Bell choosing the big fella for the finish.
"Honestly, I don't remember the play," Bell said, "but Shem has good footwork and rarely travels – when he gets called, you watch the film and it's not a travel. So I trust him to make the right play."
Yeah, OK, but on the next trip down the floor, who was it collecting the ball foul-line high in a half-court set and trying to take his man off the dribble a la Byron Wesley?
You know it.
The bigger they are, the smaller they want to be.
"True that," Karnowski confessed.
The finish was lacking, however. Apparently, so was Few's patience at that point, as Karnowski was summoned to the bench.
"I've seen him do it, joking around in practice," said Pangos. "And right now, I have confidence in him – whether he dribbles or shoots 3s or whatever it is – because he's so steady. It's good for him."
Indeed, it appears that more and more of GU's offense is being funneled through the big man, although Pangos says "maybe you just notice it more because he's being so effective."
Few will certainly second this opinion.
"He's taking shots on his terms instead of being pushed out," Few said. "He's probably as good as any big in the country as far as getting to his shots."
And probably the solution to that backup point guard until healthy reinforcements return, right?
"Yeah – when you're coaching him in the beer league," Few said. "You get him in the alumni game."
Hey, it's Shemworld. We're just living in it.
Local journalism is essential.
Give directly to The Spokesman-Review's Northwest Passages community forums series -- which helps to offset the costs of several reporter and editor positions at the newspaper -- by using the easy options below. Gifts processed in this system are not tax deductible, but are predominately used to help meet the local financial requirements needed to receive national matching-grant funds.
Subscribe to the sports newsletter
Get the day's top sports headlines and breaking news delivered to your inbox by subscribing here.
---