Sports
Gonzaga shifts into overdrive, romps past USF
Fri., Jan. 9, 2015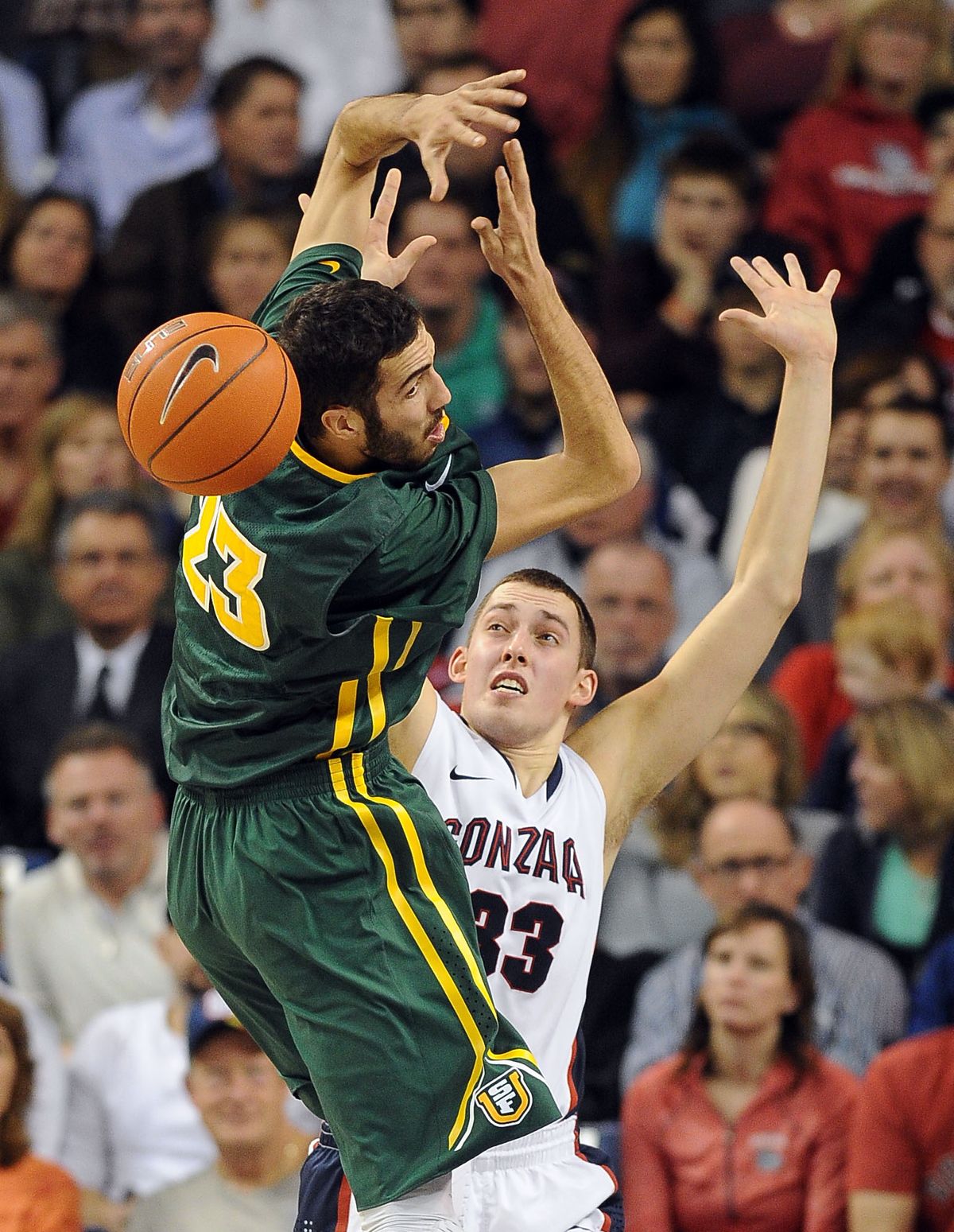 San Francisco's Mark Tollefsen loses ball under defensive pressure from Gonzaga's Kyle Wiltjer. (Colin Mulvany)
The inside game was productive with Przemek Karnowski maneuvering for 16 points. The outside game struck for a season-high 12 3-pointers.
And Gonzaga delivered the knockout punch that was missing in its previous two games.
The sixth-ranked Bulldogs put together a smooth offensive performance, rolled up 51 second-half points and coasted to an 88-57 victory over San Francisco in front of 6,000 Thursday at McCarthey Athletic Center.
It was all the more impressive because the Dons (7-10, 1-4) went to great lengths to try to disrupt Gonzaga's offensive flow with traps at various points on the perimeter. USF had some success early but the Bulldogs remained patient and connected on 18 of 30 second-half shots (60 percent).
"I like how we just hung with it," coach Mark Few said. "They were trapping the first pass, trapping a ball screen, running and jumping us. It tends to maybe feel you're out of rhythm but we were very, very efficient on the offensive end."
Gonzaga (15-1, 4-0 WCC) has won eight straight. GU and Saint Mary's share first place in conference. The Zags are 7-0 on their home floor with an average margin of 36.9 points.
GU trailed by four early but three Kyle Wilter 3-pointers and another by Kevin Pangos put the Zags up 21-12. The margin remained in that neighborhood when Gonzaga hit overdrive, turning a 46-39 lead into a 62-41 advantage. Pangos, Wiltjer and Domantas Sabonis fueled the 16-2 run with points or passes.
Wiltjer, who finished with 15 points, fed Sabonis for a three-point play. Sabonis found freshman Silas Melson, who reached double figures for the second time with 10 points, for an open 3-pointer from the corner.
"We knew we were right in same area we've been the last two games," Wiltjer said, "and we wanted to close it out."
The Zags finished with 19 assists – six from the trio of bigs – and just seven turnovers. They had quality looks on nearly every possession.
"When we play inside-out we're really tough to guard," said Wiltjer, who had three assists and five rebounds. "Shem is a load down there and I think I can spread the floor and go inside as well. When we're sucking them in it creates a lot of openness."
Karnowski made 7 of 10 shots and Wiltjer 5 of 7. Sabonis had seven points (his highest output since Texas Southern on Dec. 15) and nine rebounds (his most in 10 games).
San Francisco maintained a 16-13 rebounding edge in the first half, but Sabonis and the Zags owned the glass 26-10 in the final 20 minutes. Gonzaga has won the boards in every game this season.
"Could it be one of the first times we were losing the rebounds at half?" Sabonis asked. "That kind of motivated us."
Pangos buried five 3-pointers, giving him 276 for his career, third on GU's all-time list. No. 2 Richie Frahm has 280.
"They trap and play aggressive and try to change the flow of the game but I thought we handled it for the most part," said Pangos, who is 18 of 30 on 3-pointers in the last five games. "Our posts are great at passing the ball out when doubled. We had less than 10 turnovers – that's a good stat versus a trapping team."
The Dons committed turnovers on four consecutive possessions in the first half. They finished with 13 turnovers, leading to 17 GU points. The Zags also had a 36-24 edge in points in the paint.
Forward Kruize Pinkins made three 3-pointers in the first half and kept USF within striking distance until midway through the second half. He finished with 20 points. Freshman point guard Devin Watson chipped in 11 points, but he had just one assist and three turnovers.
Local journalism is essential.
Give directly to The Spokesman-Review's Northwest Passages community forums series -- which helps to offset the costs of several reporter and editor positions at the newspaper -- by using the easy options below. Gifts processed in this system are not tax deductible, but are predominately used to help meet the local financial requirements needed to receive national matching-grant funds.
Subscribe to the sports newsletter
Get the day's top sports headlines and breaking news delivered to your inbox by subscribing here.
---