News > Spokane
Spokane awarded grant to narrow stretch of Monroe Street
Sat., Jan. 10, 2015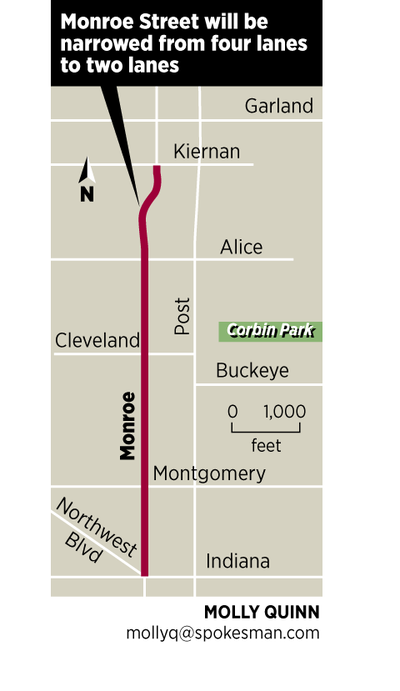 A 5-year-old girl killed trying to cross North Monroe Street with her mother in 2013 is leaving a lasting legacy in Spokane.
The Washington state Department of Transportation this week announced a $3.7 million traffic safety grant to convert Monroe from four-lanes plus a turn lane to a two-lanes plus a turn lane in the stretch where the girl was struck.
The change, which is expected two years from now, involves the stretch from Indiana to Kiernan avenues.
The Monroe remake will become the latest in a series of conversions placing numerous city arterials on what urban planners call a "road diet."
Having two through-lanes with a turn lane instead of four with a turn lane will allow the city to create wider sidewalks, safer crosswalks, roomier parking slots and more efficient bus stops, city officials said.
In addition, the city plans to install new landscaping and pedestrian lighting to improve the appeal along the strip dotted with small businesses. Bus shelters also will be possible.
"This couldn't have come at a better time," said E.J. Iannelli , chairman of the Emerson-Garfield Neighborhood Council, where most of the conversion will occur.
He said the project dovetails with a neighborhood land-use plan that was completed a year ago. That plan envisions a pedestrian-friendly and lively business district along Monroe.
Three other arterial segments in the Spokane region also won traffic safety funding for conversions from four to two lanes. The grants were announced on Thursday.
The other projects are Crestline Street from Euclid to Francis, $720,000; Maxwell and Mission avenues from Washington to Maple streets, $435,000; and McDonald Road in Spokane Valley from Mission to 16th avenues.
Statewide, $48 million is headed to 46 separate projects. Spokane County won $430,000 for safety data collection and improved signage.
Brandon Blankenagel, a Spokane city engineer, said the death of the 5-year-old girl, Elayna Burrows-Gust, was a chief reason that the Monroe project won the larger federal safety grant through the state's selection process.
He said the larger state grant will be combined with a smaller grant and city funds for a project budget of $4.1 million.
City Councilwoman Candace Mumm, who represents northwest Spokane, said the project has been one of her priorities since she took office last year.
"For me, this is great news," she said.
City Councilman Jon Snyder, who represents south Spokane, was one of the first officials to call for changes after the 2013 death.
That was the second fatality along North Monroe in recent years. In 2011, a police officer struck and killed an intoxicated man trying to cross the street at night. The officer was typing a message into an onboard computer just before the collision. Both accidents happened near Montgomery Avenue.
Snyder said the project has a dual purpose.
"This has the potential to be a good shot in the arm for that (business) district."
On South Perry Street in Snyder's council district, street-side pedestrian improvements and crossings a decade ago are credited as a key to the commercial revival there.
That project also won a transportation grant largely to improve pedestrian safety near Grant Elementary School.
Post Street on the North Side, East Sprague Avenue west of Altamont Street, 29th Avenue west of Grand Boulevard and Monroe and Lincoln streets on the South Side are other examples of conversions from four to two lanes.
Mumm said business owners from East Sprague were enlisted to attend Emerson-Garfield meetings to help calm any concern about the conversion among North Monroe business owners.
Iannelli said some people might think that the reduction in lanes would slow traffic overall, but the experience around the country shows anything but that. He said conversions are counterintuitive in that they actually improve traffic flow as well as safety.
"It's been proven again and again with 'road diets' across the country," Iannelli said.
Local journalism is essential.
Give directly to The Spokesman-Review's Northwest Passages community forums series -- which helps to offset the costs of several reporter and editor positions at the newspaper -- by using the easy options below. Gifts processed in this system are not tax deductible, but are predominately used to help meet the local financial requirements needed to receive national matching-grant funds.
Subscribe to the Coronavirus newsletter
Get the day's latest Coronavirus news delivered to your inbox by subscribing to our newsletter.
---