Post it: Another victory for Zags
Bulldogs' big men dominate Broncos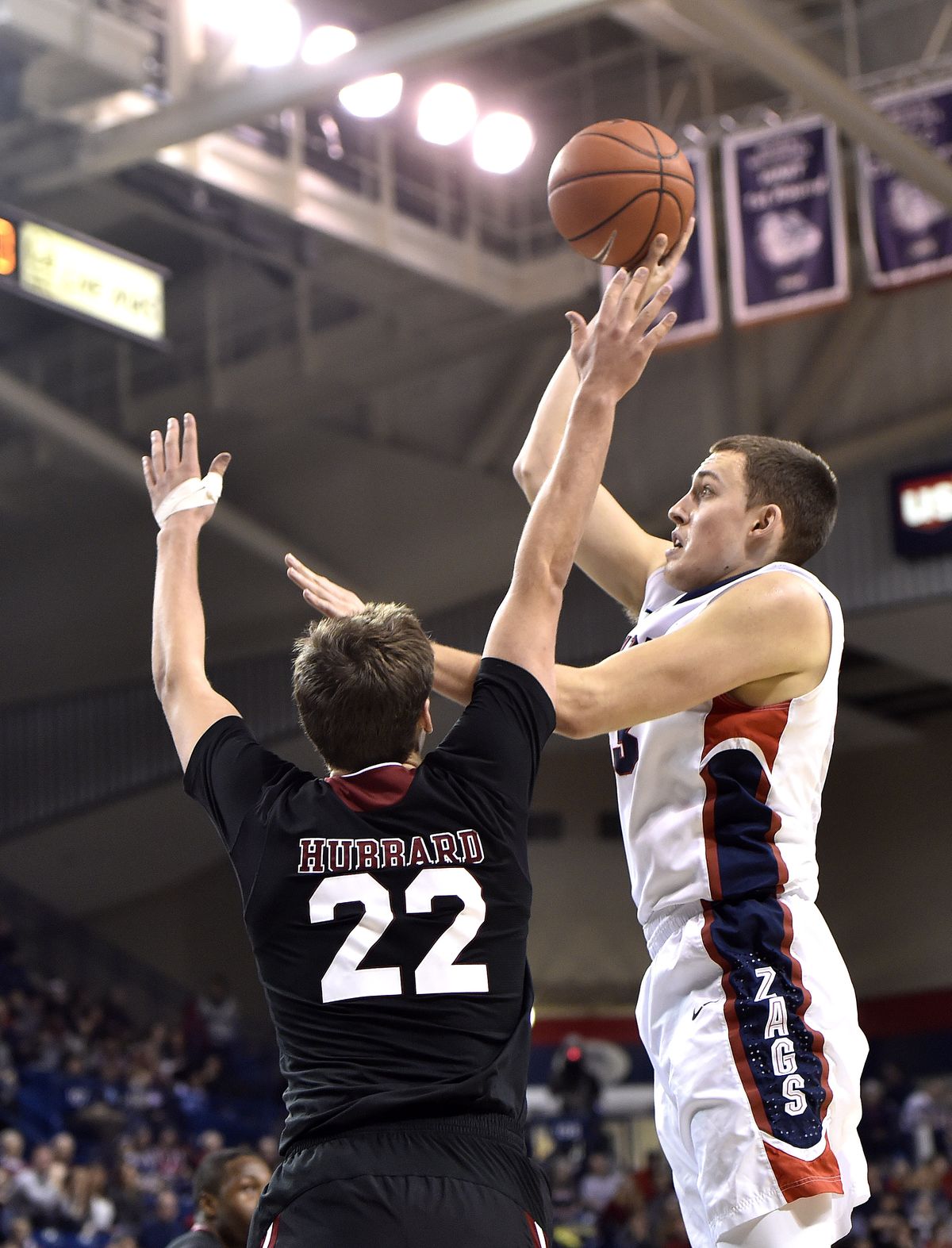 Przemek Karnowski took an entry pass, powered inside against Santa Clara's Nate Kratch and dunked for the game's first points.
Gonzaga's next possession ended with Karnowski making a jump hook. Kyle Wiltjer then connected on a short bank shot and scored on a layup.
Karnowski, Wiltjer and Domantas Sabonis made it a long night for Santa Clara's interior defenders, combining for 45 points as No. 6 Gonzaga thumped the Broncos 79-57 in front of 6,000 Saturday at the McCarthey Athletic Center.
The Zags (16-1, 5-0 WCC) racked up 44 points in the paint. Karnowski scored 18, Wiltjer 16 and Sabonis 11. The trio combined to go 19 of 29 from the field.
"They're going to have a size advantage over the whole country," Broncos coach Kerry Keating said. "You have to pick your position with those guys."
Santa Clara (7-10, 2-4) didn't help, bluff or double down on GU's bigs. Post feeds were available throughout for Gonzaga.
"I was kind of surprised because that's what we expected before the game," said Karnowski, averaging 18.3 points in the last three games. "From my side, I was happy they didn't. But if they did, and I think they tried one or two actions, Gary (Bell Jr.) got an open shot and we got another look down low.
"Honestly, it's kind of hard to stop us."
The Zags put five players in double figures – Kevin Pangos had 13 points and Byron Wesley 11. They cooled off a bit in the final eight minutes but still made 53.4 percent of their field-goal attempts.
"We take what the defense gives us," Bell said, "and that's what they gave us."
Gonzaga, which figures to move up one spot in the polls with No. 5 Louisville's loss to North Carolina, made it look easy at the outset. After Karnowski's and Wiltjer's early field goals, Pangos and Bell drained 3-pointers and the Zags led 15-4. All five GU starters had assists in the first four minutes.
Santa Clara, sparked by guard Jared Brownridge and freshman forward Matt Hubbard, a Colville High product, made up virtually the entire deficit, closing within 30-29 on Kratch's three-point play. Gonzaga's 14-2 run – Karnowski had six points, Pangos four – provided a comfortable 44-31 halftime lead.
The Broncos worked the 3-point arc to hang around. They made four 3s in a 4:15 span to stay within 60-47 with 11:35 remaining. Wiltjer's 24-foot 3-pointer started a 10-0 spurt that put Gonzaga up by 23. The other seven points were generated in the lane, including Sabonis maneuvering for a pair of baskets and Wiltjer hitting a left-handed jump hook.
"I'm sure coming in they wanted to force our posts to score," Wesley said. "When we saw they weren't going to double we just kept going to them."
Gonzaga had the upper hand in most categories: rebounds 41-26, assists 16-11, points off turnovers 19-4 and bench points 18-10. Karnowski and Sabonis each grabbed nine boards. The Zags, who didn't need to take many jumpers, dropped 5 of 11 3-pointers.
"We were crazy efficient on the offensive end," said coach Mark Few, whose team committed 13 turnovers in its 2-0 home stand.
Hubbard made five 3-pointers and equaled his season high with 15 points. Brownridge scored nine of his 14 points in the first half. Pangos did a nice job defensively on senior guard Brandon Clark. The Broncos' leading scorer at 15.3 points per game was 2 of 9 and scored four points.
---