News > Spokane
Spokane City Council passes law prohibiting blocking driveway traffic
Tue., Jan. 13, 2015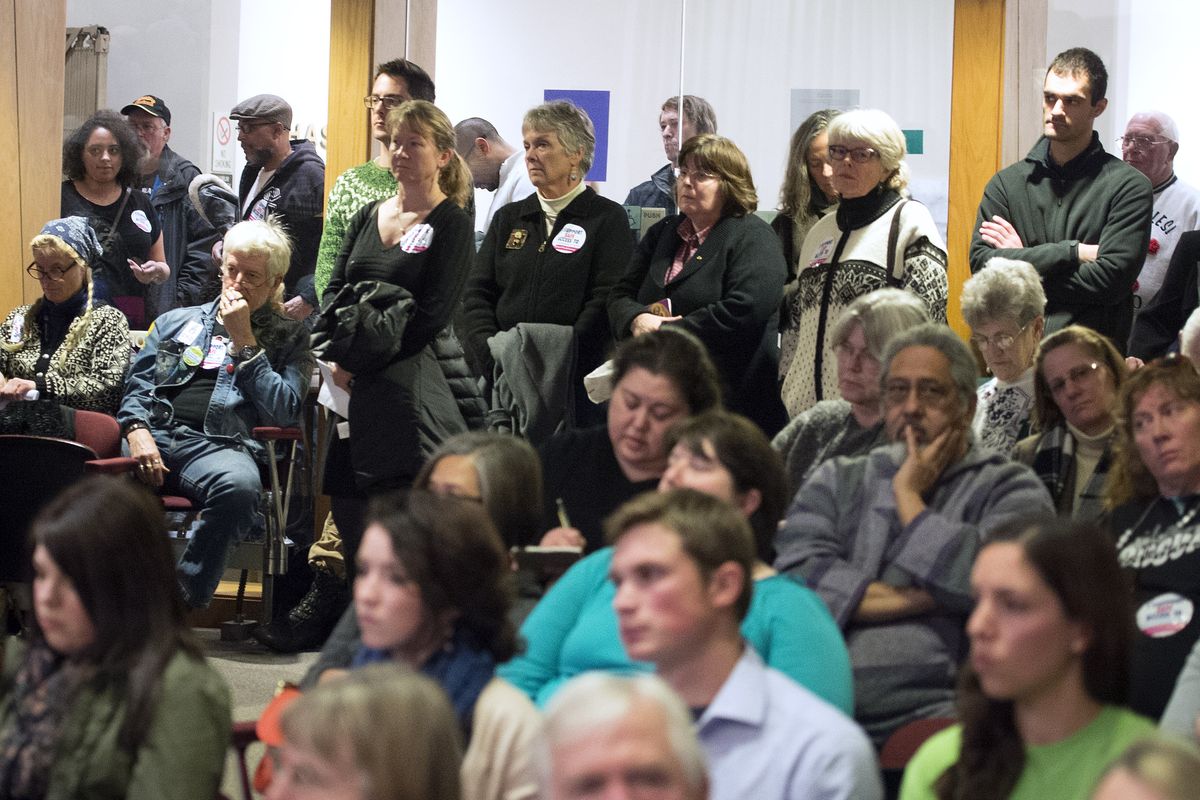 With wide-reaching topics like prostitution and an ordinance that would prevent abortion protesters from blocking the driveway to Planned Parenthood on the agenda, Monday's Spokane City Council meeting was packed with people wanting to voice their opinions. (Colin Mulvany)
A proposed city law about driveways turned into a full-throated debate on abortion Monday night at Spokane City Hall.
As 62 people spoke about an ordinance that added 11 words to the city's rule books, Spokane City Council members generally listened quietly over the two and a half hours of testimony.
Very few people focused on the section of the city's municipal code, which makes it illegal to block traffic on public roads. The new section debated at the meeting added: "or in a driveway located in the public right-of-way."
Instead, abortion foes and advocates of abortion rights tried to persuade the council to vote according to their own, very different beliefs.
It's the third City Council meeting in a row that drew large crowds on controversial issues. Before the council took a break for the holidays, Council President Ben Stuckart's proposal to create an apprenticeship program on large city projects was met with almost 200 people. Most of those who testified that night sided with Stuckart.
Last week, a rowdy crowd almost derailed the meeting as it protested the council's vote backing the Spokane Police Department policy to not ask people about their immigration status.
On Monday night, 250 people jammed into the council chambers and in the adjoining Chase Gallery to get a chance at the lectern.
Anti-abortion activists said they were respectful when protesting outside of Planned Parenthood, which became the focus of debate. Most said they were polite to people entering the clinic, and only spoke when someone seemed ready to listen.
One man, however, said he had been "proclaiming Scripture at premeditated infanticide for 14 years."
On the other side, abortion rights advocates accused protesters of dressing like clinic employees and tricking people to roll their windows down, when they'd get a prayer, denunciation or sermon.
At the end less than half of those who spoke supported the ordinance. The council voted 6-1 to add the new section.
Councilman Jon Snyder said the night's testimony was "making it more complicated than it needs to be."
He said he supported "a woman's right to choose," but argued that this ordinance simply barred people from blocking a business driveway, regardless of the business.
"Why is this business any different?" Snyder asked about Planned Parenthood. "It isn't. It isn't."
Councilman Mike Fagan was the sole member to vote against it, but not before giving an impassioned, 15-minute plea to his colleagues to strike the proposal down.
Fagan argued that the law was unconstitutional and violated free speech rights, but it had personal implications as well.
"I am pro-life," he said, noting that when he was a teen, he and his girlfriend terminated a pregnancy. "I am Christian."
Councilwoman Karen Stratton said she was raised Catholic and had been schooled by the religion for 12 years. She said she learned to be "courteous, respectful of others and to speak my mind."
"I'm all about the protest," Stratton said. "Just don't do it in a driveway."
Local journalism is essential.
Give directly to The Spokesman-Review's Northwest Passages community forums series -- which helps to offset the costs of several reporter and editor positions at the newspaper -- by using the easy options below. Gifts processed in this system are not tax deductible, but are predominately used to help meet the local financial requirements needed to receive national matching-grant funds.
Subscribe now to get breaking news alerts in your email inbox
Get breaking news delivered to your inbox as it happens.
---