Sports
Otiona Gildon works to leave her legacy at Gonzaga Prep
Thu., Jan. 15, 2015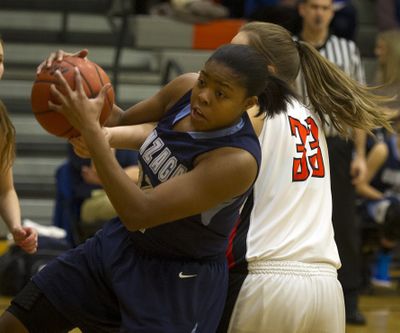 You could hear it in Kelly Graves' voice.
The former Gonzaga women's basketball coach, in his first year in a major rebuilding project at Oregon, can't wait for the arrival of Gonzaga Prep standout Otiona Gildon next year.
"It's in worse shape than I thought," Graves said about the program he inherited in Eugene.
Graves' Ducks just endured back-to-back drubbings to in-state rival Oregon State, one of the best teams in the Pac-12 Conference this season.
If Graves is going to build Oregon into a program similar to OSU, he had to start with his 2015 recruiting class.
He targeted Gildon while he was at Gonzaga. His interest didn't lessen when he resigned to go to Oregon.
"She's a culture creator is what I call her," Graves said of the 6-foot Gildon. "She will help us create the kind of culture we need. She's a winner."
Gildon signed with Oregon last November, and that allows Graves under NCAA rules to talk about her. There's a lot to talk about.
"She knows how to play at a big level," Graves said. "That's the kind of player you have to recruit. Her drive is amazing. She wants to be a good basketball player. I'm not going to have to push her. She puts in the extra time on her own. She's self-driven."
Whether Gildon starts right away remains to be seen. At the least she will earn starter-like minutes.
Gildon is the type of versatile wing/small forward player that Graves made a living off at Gonzaga.
"I love those types of kids," Graves said.
Gildon is rated by one recruiting service as the 38th-best player in the nation. Graves said Gildon is one of the best back-to-the-basket players in the country.
She's worked hard the past two years developing a perimeter game, knowing she will need to step out to 16 to 18 feet as a wing against taller defenders. But Graves salivates at the potential of opponents guarding her with a smaller player.
"She's the highest-rated recruit that Oregon has ever gotten in women's basketball since they've been doing the rankings," Graves said.
Graves doesn't put much stock in the recruiting services. The eye test is all he needs.
"She's the total package," he said. "She'll have to tighten up her handles (ball handling) and be more consistent on the perimeter. She has it in her. A league like the Pac-12 will challenge her to be her best."
Gildon's looking forward to being part of the turnaround at Oregon.
"Just knowing the recruits (Graves) has coming, I think we can be a powerhouse," she said. "He's going to build a program and I'm looking forward to helping him do it."
Gildon thrives on challenges. The most difficult challenge she's had hasn't been on the court. It was when she enrolled at G-Prep her freshman year and had a rude awakening to an academic culture foreign to her.
She admittedly did all she could to slide by in the two years she spent at Chase Middle School when her family moved to Spokane. While growing up in Gary, Indiana, she charmed her way through school.
Gildon had a tutor for each class her freshman year.
"I'm more proud of her academic progress and her growth as a young lady than her athletic progress," G-Prep coach Mike Arte said. "Socially, when she got here, she was a young black girl in a very white school community. It's tough for minority kids. It's a different culture. She had a lot of changing and adjusting. She's a girl who has made it for herself and used her work ethic to make her world around her better. We're so proud of who she has become."
Gildon lives three blocks from Ferris but considered going to Lewis and Clark if she didn't choose G-Prep.
She and her family met with G-Prep president Al Falkner the summer before her freshman year. She knew financially it would be a hardship on her family. G-Prep's tuition program, called Fair Share, is income-based.
"My family made a big sacrifice," she said. "I didn't have any study habits before I got here. Prep prepares you for college."
Arte doesn't think Gildon would have been prepared to go to an NCAA Division I school had she stayed in the public school system.
Gildon agrees.
"My freshman year was tough," she said. "But I've been improving each year. I know I can do better."
At Oregon, athletes have their own education center to assist with their studies. They're required to spend a minimum of 8 hours there.
"That will help me a lot," Gildon said.
On the court, Gildon has been in the middle of the most successful stretch in G-Prep history.
A three-year starter, Gildon came off the bench as a freshman when the Bullpups captured their first trophy at state (fifth).
As a sophomore, G-Prep improved to fourth.
G-Prep followed it up with a state championship last year.
The Bullpups are 80-12 during her career, including being 12-0 overall and ranked No. 1 in the state this season, 10-0 atop the Greater Spokane League and winners of their last 35.
Playing alongside Gildon during the run has been seniors Laura Stockton and Oona Harrington – two of Gildon's best friends and longtime club basketball teammates. Stockton signed with Gonzaga and Harrington signed with Carroll College.
Gildon's dream is to play in the WNBA.
Gildon believes she's improved the most this year in leadership. She wants to leave a legacy, and to do so she knows she must tutor the younger players coming up.
"At Prep, you learn it's about community, family and that it's more than about you," she said. "At the end of the day, we're all a team."
Arte is in his 27th year as G-Prep's head coach. He knows where Gildon ranks.
"She's by far the best player to come through in a long while," he said. "She's the most physically strong girl I've coached."
She will finish her career as the second-leading scorer at G-Prep behind Tia Presley. The league's MVP last year, Gildon is averaging 21.5 points per game, up from 15.2 as a junior. Her field-goal shooting percentage is 64.5, up from 58.1 a year ago.
Gildon doesn't think the Bullpups are better than the team that went 25-1 last season, but that doesn't mean G-Prep can't get to that level.
"We graduated a lot of scoring with Hannah (Caudill) and Kayla (Leland)," Gildon said. "I think we have better chemistry on and off the court this year. We can work through difficult situations better. The good thing is more kids are involved this year. They're getting better every day. We just have to keep working hard."
Local journalism is essential.
Give directly to The Spokesman-Review's Northwest Passages community forums series -- which helps to offset the costs of several reporter and editor positions at the newspaper -- by using the easy options below. Gifts processed in this system are not tax deductible, but are predominately used to help meet the local financial requirements needed to receive national matching-grant funds.
Subscribe to the sports newsletter
Get the day's top sports headlines and breaking news delivered to your inbox by subscribing here.
---