Sports
Oregon State's defense clamps down on Cougars
Sun., Jan. 18, 2015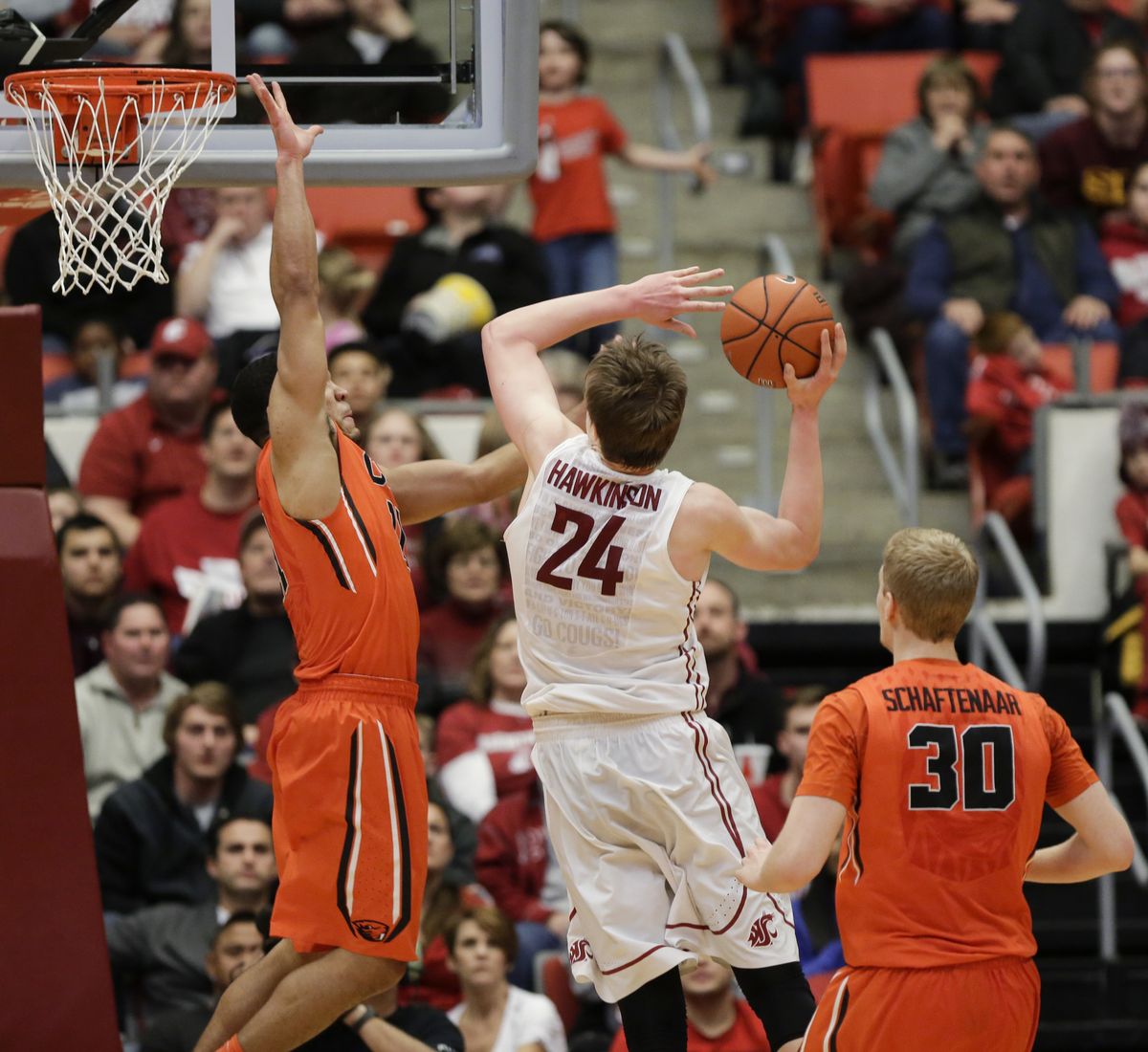 Washington State's Josh Hawkinson draws foul on OSU's Malcolm Duvivier, left. (Associated Press)
PULLMAN – The tortoise beat the hare on Saturday, or rather, the methodical Oregon State Beavers chewed up Washington State's impatient offense.
Oregon State beat the Cougars 62-47 in a game that was played at a pace last seen in Pullman when Dick and Tony Bennett were coaching WSU. The loss ends a three-game winning streak for WSU (9-8, 3-2 Pac-12) that saw the Cougars score at least 69 points in each game. WSU scored just 16 first-half points against OSU and made just 24 percent of its shot attempts. Two nights earlier against Oregon the Cougars had 57 points by halftime in the 108-99 overtime win.
"This team had a monster win on Thursday and you had them in an environment here, mentally they were just not where they needed to be, which is why they didn't shoot the ball well, quite frankly," coach Ernie Kent said.
"We saw it, we tried to guard against it, we talked about it," he continued. "But this team is in uncharted territories from where they've been the last couple years so as much as they have to handle the adversity going through some losses and the adversity of the road, they also have to handle the adversity of winning."
The crowd of 5,116 was WSU's largest of the season.
"They (the fans) tried to give us some energy and will our way back into the game so I thought they did a tremendous, tremendous job," Kent said. "Hopefully, they stay with us and come back because we've got a lot more basketball in us."
The game was a matchup of contrasting styles, with WSU ranking No. 4 in the conference in points scored per game but last in preventing them. The Beavers have the Pac-12's No. 2 scoring defense but no team averages fewer points per game. WSU employed various tactics to force the Beavers to play a more up-tempo game such as trying to trap the Beavers in the backcourt or playing speedy freshman point guard Trevor Dunbar 15 minutes. Starting center Jordan Railey only played 10 minutes as the Cougars decided early in the game to use a smaller lineup, again in an attempt to force the Beavers to hurry the heck up. By going small, however, the Cougars gave OSU an advantage on the glass and were outrebounded 37-22. The Beavers outscored the Cougars 24-12 in the paint and limited WSU to just two fast-break points.
"They controlled tempo pretty much the entire game," Kent said. "We never got an opportunity to play the pace we wanted to play at. When I look back on the game, we were a little bit stagnant. We looked like a Washington State team of old. What I mean by that, the way we looked early on in the preseason."
In the second half the Cougars were able to increase their scoring output by driving at OSU's zone, attempting 14 free throws compared to just three in the first half.
DaVonte Lacy led the Cougars with 16 points despite suffering a knee injury on Thursday.
He made 6 of 8 free-throw attempts in the second half and made two 3-pointers to spearhead WSU's comeback attempts.
"It's the ebb and flow of the game and you learn and at halftime you make adjustments," Lacy said.
Twice WSU cut OSU's lead from 12 points to single digits and each time the Beavers responded with a 3-pointer to hold the Cougars at arm's length.
"They made a great call to try to change the tempo a little bit to get us to cough it up and get back in the game," said OSU coach Wayne Tinkle, a graduate of Ferris High. "There were a couple loose balls they forced that we ended up with and boom, kick it to a shooter and Langston hit some big, big 3s for us."
Langston Morris-Walker led OSU with 22 points while hitting 3 of 4 from behind the arc while adding 11 rebounds. Gary Payton II's play was reminiscent of his pilfering dad. The son of Seattle's "Glove" had five steals to go with 13 points and 13 boards.
Local journalism is essential.
Give directly to The Spokesman-Review's Northwest Passages community forums series -- which helps to offset the costs of several reporter and editor positions at the newspaper -- by using the easy options below. Gifts processed in this system are not tax deductible, but are predominately used to help meet the local financial requirements needed to receive national matching-grant funds.
Subscribe to the sports newsletter
Get the day's top sports headlines and breaking news delivered to your inbox by subscribing here.
---