News > Spokane
Crowd of 2,000 turns out for Martin Luther King Jr. Day parade
Tue., Jan. 20, 2015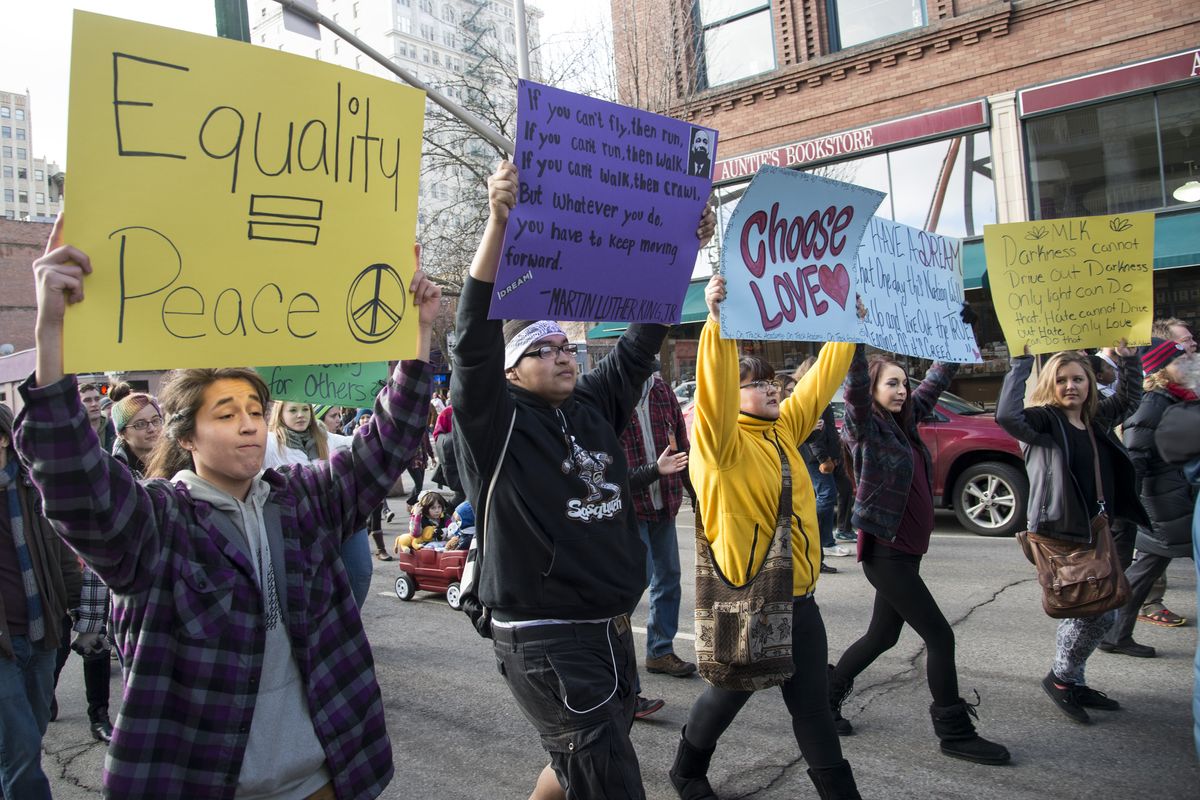 Marchers carry signs supporting the civil rights message and life work of Martin Luther King Jr. during the Unity Rally on Monday in downtown Spokane. (Colin Mulvany)Buy a print of this photo
About 2,000 people took to downtown Spokane streets Monday to honor the legacy of Martin Luther King Jr. and reflect on the ongoing difficulty of race relations in America.
It was a young crowd, too. The Rev. Happy Watkins of New Hope Baptist Church did his traditional reading of King's "I Have a Dream" speech, which was met with cheers and cries of agreement. But younger community leaders also spoke about King's legacy.
"There is much more to accomplish," said Satori Butler, the president of Eastern Washington University's Black Student Union.
She listed the names of half a dozen black people who have been killed by law enforcement in the U.S., including Aiyana Stanley-Jones, Oscar Grant and Michael Brown.
"I believe it is our moral obligation to bring justice to the lives that were stolen," she said, drawing applause from many in the crowd.
Freda Gandy, the executive director of the Martin Luther King Jr. Family Outreach Center, said she suspected clear skies helped make the crowd the largest she can remember in her 10 years of attending.
Representing dozens of schools, universities, civic organizations and churches, the marchers took a circular route down Spokane Falls Boulevard, turning south onto Wall Street and heading back down Main Avenue to return to the Convention Center.
Students from Grant Elementary drummed along the route, dancing a fast-paced Macru, a West African dance from Guinea.
"It was really amazing to see such a big turnout today," said Rachel Dolezal, president of Spokane's chapter of the NAACP. "That was really encouraging to see the next generation of emerging leaders."
Many in the crowd carried signs – some quoting King on the importance of love or justice, and others simply bearing the slogan "Black Lives Matter," a rallying cry that grew out of protests over the death of Michael Brown in Ferguson, Missouri.
Joanna Clifton attended the rally with her teenage son, Sayge, and said she was motivated to carry a Black Lives Matter sign because she's seen how her white sons are given the benefit of the doubt by police.
"When I think about mothers of color who are trying to raise boys … that difference of just reaching in your car or reaching in your pocket for something and having it be fatal is something I hope we in this country can move beyond," she said.
For some, the march was part of a larger day of community engagement. Students from Eastern Washington, Gonzaga and Whitworth universities joined together in a day of service, spending three hours working at one of 13 local nonprofit sites.
The Eastern chapter of Alpha Pi Sigma marched together before leaving for their day of service.
"It's something I think the whole community should support," said the sorority's vice president, Nancy Oropeza. The chapter focuses its philanthropic efforts on raising money for the Malala Fund, which supports the education of women and girls around the world.
Oropeza said that work ties into King's vision of a more just world because "everyone deserves the right to be treated equally."
Gandy said she was glad the rally highlighted the talents of the community's young leaders, and ended her remarks to the crowd with a call for action.
"Never give up on fighting for what's right," she said.
Local journalism is essential.
Give directly to The Spokesman-Review's Northwest Passages community forums series -- which helps to offset the costs of several reporter and editor positions at the newspaper -- by using the easy options below. Gifts processed in this system are not tax deductible, but are predominately used to help meet the local financial requirements needed to receive national matching-grant funds.
Subscribe now to get breaking news alerts in your email inbox
Get breaking news delivered to your inbox as it happens.
---