News > Spokane
Owners sell South Hill's popular Luna restaurant
Restaurant founders seek time for retirement; new owners 'really know food'
Tue., Jan. 20, 2015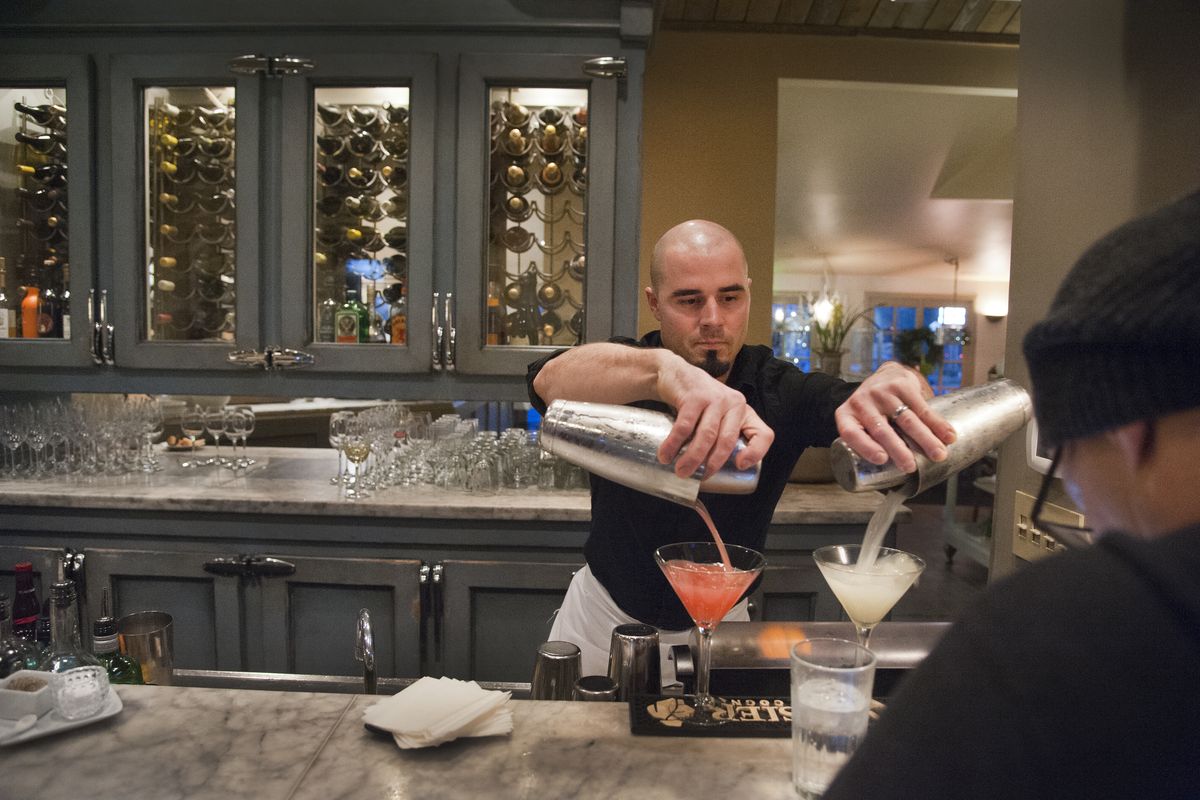 Patrick Kasper mixes his "Patrick Passion" cocktail for a Luna Restaurant customer last week in Spokane. He has worked in the bar for the past six years. Longtime restaurateur Marcia Bond and her husband, William, are selling their beloved Luna Restaurant on the South Hill to a local family, who will operate it in the same hands-on manner as the Bonds. (Dan Pelle)
Longtime Spokane restaurateurs William and Marcia Bond are selling their upscale Luna restaurant at 57th Avenue and Perry Street to a local family planning the same hands-on approach that regular Luna guests have enjoyed for more than 22 years.
Marcia Bond, 73, said she and her husband, 74, want to take more time to enjoy retirement.
"We decided that retirement for us would mean doing more for ourselves and with our family," she said on Friday.
The new owners, who take over on Jan. 27, include Aaron DeLis and his fiancee, Hannah Heber, along with his parents Frank and Julie DeLis, all of Spokane.
Aaron DeLis owns the Rusty Moose in Airway Heights. Hannah Heber, a pastry chef, is former co-owner of Taste Cafe at 180 S. Howard St. with her mother, Jane.
Frank DeLis is a longtime Spokane restaurant owner.
"They really know food," Marcia Bond said.
Opened in November 1992, Luna blazed a trail in Spokane by bringing fine dining to a neighborhood setting and has since become a staunch landmark on the South Hill.
In the years since, the concept has spread to other neighborhoods. Downriver Grill on Northwest Boulevard, Italia Trattoria in Browne's Addition and Clover near Gonzaga University are examples.
Marcia Bond said the new owners plan to keep the existing staff, including longtime chef Shaun Chambers.
"We have our best staff ever. We feel Luna is a very good place," she said.
At the same time, the change will allow staff members to offer ideas for the future, she said.
The inspiration for opening Luna stemmed from William Bond's passion for fine dining, and wine and food pairings. He is a retired neurologist.
The restaurant is renowned for its wine list developed through travel by the Bonds to some of the best wine locales, including Napa Valley in California and the western foothills of the Willamette Valley in Oregon.
Wine Spectator magazine recognized Luna for having one of the best restaurant wine lists in the world.
Luna has kept pace with the trend toward fresh, seasonal ingredients, supplementing its herb and produce supply with an on-site garden.
Baking and pastries are done on site.
According to Marcia Bond, guests over the years have registered a decided liking for the following three courses: tuna tartare for appetizer, coconut curry shrimp for entree and coconut cake for dessert.
The tartare is so well liked that some guests order it for a light entree.
The cake recipe was featured in Bon Appetit magazine about a decade ago. "There isn't a day we don't have it. There would be too much disappointment," Marcia Bond said, revealing her flair for knowing her clientele.
The couple's passion for food, wine and the restaurant business has extended to the Bonds' two children and their spouses.
Alex and Julie Bond operate Serratto Restaurant and Bar in northwest Portland along with two cupcake outlets and a third outlet in the works.
Cappy Bond and her husband, Price Gledhill, operate two restaurants called South on the waterfront in Wenatchee and in Leavenworth. They offer Mexican cuisine and other Latin fare.
Marcia Bond is from Wenatchee. William Bond came west from Memphis. The two met in Seattle and were married in 1966.
The new owners are buying both the restaurant and the property, which includes two former residences to the west, which were purchased and converted for restaurant production.
The new owners were chosen through a search of potential buyers through a commercial real estate broker and were among several parties vying to make the purchase, including suitors from New York and California, Marcia Bond said.
The soon-to-be former owner said she will look back with a sense of satisfaction. "It was exciting and it remains exciting," she said.
Local journalism is essential.
Give directly to The Spokesman-Review's Northwest Passages community forums series -- which helps to offset the costs of several reporter and editor positions at the newspaper -- by using the easy options below. Gifts processed in this system are not tax deductible, but are predominately used to help meet the local financial requirements needed to receive national matching-grant funds.
Subscribe now to get breaking news alerts in your email inbox
Get breaking news delivered to your inbox as it happens.
---