A&E > Food
Seasonal Kitchen: Ancient grains, modern meals
Wed., Jan. 21, 2015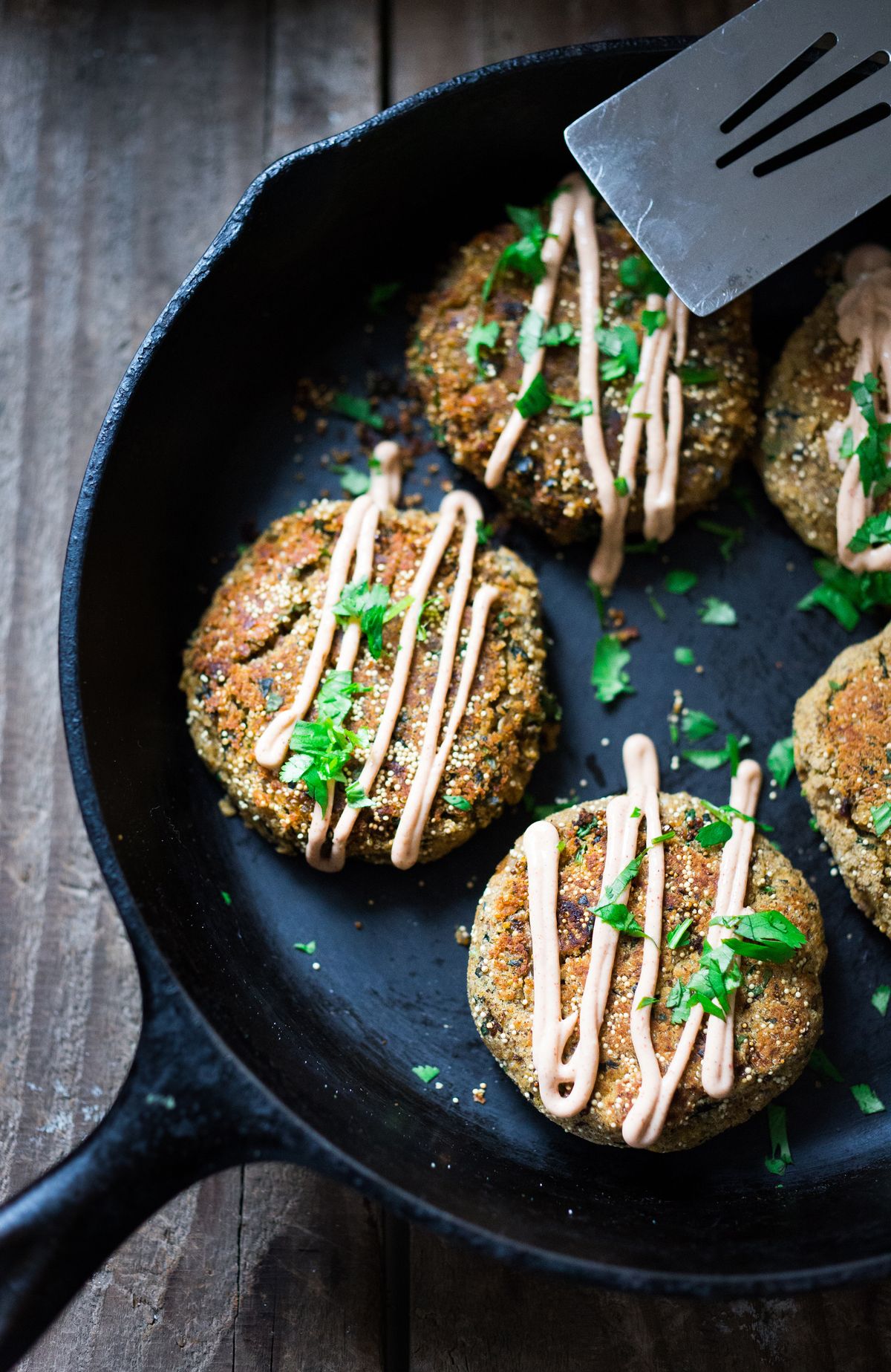 Find the recipe for Southwest amaranth and lentil patties with vegan chipotle "aioli" on Page C5. (Photo by Sylvia Fountaine)
Lately there's been a growing interest in whole grains, especially biologically diverse grains. They're the ones existing for thousands of years and now being marketed as "ancient grains" in everything from cereals and soups to breads and health snacks.
Ancient grains, also called heritage grains, are grains that have not been altered. They're whole, intact, organic and genetically unmodified, the same today as they were thousands of years ago. Many have been planted and harvested in the same way for hundreds of generations.
Some are very high in protein and some are gluten-free. By now, most of us are familiar with quinoa, probably the most popular ancient grain to hit local supermarkets and restaurants in the past decade, but other grains are entering the limelight: kamut, teff, sorghum, amaranth, barley, farro, millet, spelt, rye, einkorn, emmer, winter wheat, spring wheat and wild rice.
These grains are thought to provide more vitamins, minerals, fiber and protein than modern wheat, particularly when eaten in their whole, unprocessed form. But dealing with a whole grain often creates a barrier with consumers. The perception is that they are not convenient to cook with.
My first experience with farro had this effect on me. I cooked it in its whole grain form for seemingly hours on end without it ever softening. I didn't know at the time that a simple soaking in water overnight would shorten the cooking time significantly. With a little forethought, these grains can easily be incorporated into recipes we already make. Chef Tony Brown, owner of Ruins, near the courthouse in Spokane's West Central neighborhood, features seasonally inspired plates and often uses farro.
"I like the idea of taking something that has been cultivated for thousands of years and putting a new spin on it," he said.
It's farro's versatility that inspires him to try new things with it in the kitchen.
"I've ground it up and made farro pasta, steeped it in aromatics and added it to salads, made risotto, and puffed it up in a 500-degree oven to make cereal," Brown said.
In his recipe for farro risotto, Brown pairs it with roasted winter squash and a flavorful radish top pesto. Brown buys his farro from the Methow Valley's Bluebird Grain Farms, which also offers fresh, milled-to-order flours.
Farro is the Italian name for emmer wheat, an ancient strain of hard wheat originating in the Fertile Crescent in the Middle East and found in the tombs of Egyptian kings. Loved by Italians for its toasty nutty flavor and hearty texture, it is high in fiber and rich in B vitamins. It comes in many different forms, which can be confusing: perlato (pearled), semi-perlato (semi-pearled) and whole grain. As expected, whole-grain farro is the most nutrient rich.
To shorten farro's cooking time, soak whole grains overnight, or opt for semi-perlato or perlato. Now widely available, it is an easy substitute for rice or quinoa and lovely in salads, sides and soups.
If you've ever eaten in an Ethiopian restaurant, then you've most likely eaten teff, the world's tiniest grain. Almaz Ainuu, chef and owner of Queen of Sheba, an Ethiopian restaurant on the main level of Spokane's Flour Mill, uses teff to make injera, a spongy, crepe-like flatbread used to scoop up a savory array of wats or stews.
"Teff is one of the main staples of Ethiopian cuisine, served alongside most meals," Ainuu said.
The size of a grain of sand, "teff" is derived from the Amharic word for lost, quite fitting for a grain that is difficult to even see. But don't let its size fool you. This miniscule grain packs a punch, rich in minerals and high in protein. Ethiopians get about two-thirds of their dietary protein from teff, and the country's long-distance runners credit their energy, endurance and health to the grain.
Ainuu's passion for her country's history, culture and ingredients inspired her to open her restaurant featuring this grain, paired with scratch-made meals, with many vegan and gluten-free offerings. She gets her freshly ground organic teff flour from the Teff Company, based in Southern Idaho, now one of the leading growers of teff outside Ethiopia.
Amaranth is an ancient crop originating on the American continent. It was a staple food of the Aztecs, Incas and Mayas, and it's thought to have been domesticated 6,000 to 8,000 years ago. Another gluten-free and delicious wheat alternative, amaranth is a complete protein containing all the essential amino acids, including lysine, which is lacking in most grains. It's also high in fiber and a good source of magnesium and iron.
In many South American countries, it is sold as street food, often popped like popcorn. In India, Mexico, Nepal and Peru, it's a traditional ingredient for breakfast porridge. In Mexico, a favorite treat is dulce de alegria – "alegria" is the Spanish word for joy – a sweet confection made from popped amaranth mixed with sugar or honey, very similar to our rice crispy treats.
Because of its small size, cooking amaranth is very fast and easy. Gently boil it like you would pasta, in water for 15 minutes, then drain. The cooked grains hold their shape and can be added to veggie burgers, patties or your morning porridge for a boost of nutrition. Or, for fun, try popping amaranth, like you would popcorn on the stove top. In the recipe for Southwest amaranth lentil patties, it adds a nutty flavor and pleasant crunchy texture.
Sorghum, another ancient grain, originates from Africa. Gradually, it spread throughout the Middle East and Asia via ancient trade routes, traveling to India and China along the Silk Road. Its name comes from the Italian "sorgo," which in turn comes from the Latin "Syricum (granum)" meaning "grain of Syria."
Primarily grown in the states as livestock feed, sorghum is an important food staple in other parts of the world, namely India and Africa. But recently we have seen sorghum's popularity on the rise here as well, thanks to the gluten-free benefits it offers. But being gluten-free isn't sorghum's only bragging right.
According to a new study from the University of Georgia, some varieties of sorghum have antioxidants and anti-inflammatory properties that compare and even exceed other superfoods, like blueberries and pomegranates. And unlike other gluten-free grains, the hearty, chewy texture of whole grain sorghum is very similar to wheat berries, making it an ideal candidate in pilafs, salads and soups. In the recipe for Tuscan-style cannellini bean stew, sorghum adds an unexpected heartiness that I've come to enjoy.
A tip: To ensure that you always have healthy whole grains readily available on hand, cook up extra quantities, let them cool completely and freeze in smaller portioned packages. On weekdays, they can be thawed in the refrigerator or quickly defrosted in the microwave. Add to soups and stews, stir-fries, or toss with freshly chopped vegetables for a hearty salad.
Farro Risotto with Roasted Acorn Squash and Radish Top Pesto
From Tony Brown, chef and owner of Ruins in Spokane
For the squash risotto
1 acorn squash
1 tablespoon olive oil
Pinch salt, pepper and cayenne
2 cups dry farro (pearled, or whole grain – soaked overnight)
4 cups water or stock
3 tablespoons butter
1 cup stock
4 tablespoons grated Parmesan-Reggiano cheese
Handful bitter greens (mizuna, arugula), for garnish
For the pesto
1 cup radish leaves
2 cloves garlic
1/3 cup oil
1/4 teaspoon salt
1 1/2 teaspoon lemon juice
1/4 cup Parmesan
1/4 cup toasted almonds
Preheat oven to 350 degrees. Slice acorn squash, into 4 rings, 3/4-inch thick, remove seeds. Brush sides with olive oil, sprinkle with salt, pepper and a dash cayenne, and bake on a baking sheet for 35 minutes. Bring farro, water (or stock) and butter to a boil in a medium pot. Once boiling, cover, and simmer on low for 25 to 30 minutes, or until water has evaporated and farro is tender.
Make the radish top pesto: Pulse all ingredients (radish tops, garlic, oil, salt, lemon juice, Parmesan and toasted almonds) in a food processor until combined (don't blend too smooth, leave a little granular).
Make the risotto: Once farro is cooked, add 1 cup stock and simmer over medium heat, until warmed through, add cheese, stir, and adjust salt. To assemble, place an acorn squash ring on a plate, fill with risotto, top with pesto, and scatter bitter greens around the plate.
Yield: 4 servings
Sorghum, Cannellini Bean and Fennel Stew
1 cup dry cannellini beans, soaked overnight
1 cup dry sorghum, soaked overnight
1 tablespoon olive oil
1 cup diced onion
3 cloves chopped garlic
1 1/2 cups diced fennel bulb
1 cup diced carrot
1 1/2 cups sliced celery
1 cup diced tomato
6 cups chicken stock
1 teaspoon herbes de Provence
1 to 2 cups chopped kale
Salt and pepper to taste
Soak dry beans and sorghum in water overnight. When ready to use, drain. Heat oil over medium high heat in a heavy bottom pot or Dutch oven. Add onion and saute for two minutes, stirring often. Turn heat to medium and add garlic, fennel, carrots, celery and saute for 7 to 8 minutes. Add tomato, stock, herbes de Provence, drained beans and sorghum. Bring to a boil, cover, turn heat to medium low, and simmer until beans are tender, about 1 1/4 to 1 1/2 hours. Add kale. Season with salt and pepper. Serve in bowls, drizzle with a little olive oil (optional).
Southwest Amaranth and Lentil Patties with Vegan Chipotle 'Aioli'
For patties
1 cup red lentils
1 cup amaranth
1 tablespoon olive oil
1 onion, diced
3 cloves garlic
2 cups chopped kale
1 teaspoon cumin
1 teaspoon chili powder
2 tablespoons ground flax seed
1/2 cup chopped cilantro
1/2 teaspoon salt, plus more to taste
1/2 teaspoon cracked pepper
Oil for frying
For "aioli"
1 package silken tofu
1/2 to 1 teaspoon chipotle powder
1 teaspoon coriander
1 teaspoon smoked paprika
3/4 teaspoon salt
Juice of half a lime
1 garlic clove
Add red lentils and amaranth to a pot. Cover with water and boil for 15 minutes. Drain. Place in a bowl and let cool. In a large skillet, saute onion in oil over medium high heat for two minutes. Turn heat down to medium. Add garlic. Sauté 3 to 4 minutes. Add chopped kale, spices and salt. Add onion-kale mixture to lentil-amaranth mixture in bowl. Stir to combine. Add ground flax and fold in fresh cilantro.
Make aioli. Place all ingredients in a food processor and blend until very smooth, scraping down sides. Place in bowl and set aside.
When patty mixture is cool enough to handle, form 2- to 3-inch patties and lightly coat in dry amaranth seeds. Heat 1 to 2 tablespoons oil in a nonstick frying pan over medium heat. Sear patties a few minutes on each side, until golden brown and heated all the way through. Alternatively, you can bake them: Put the patties on a greased or parchment-lined baking sheet and bake at 350 degrees, for 30 minutes, flipping half way through, 15 minutes on each side.
Serve with the chipotle "aioli" and fresh sprigs of cilantro.
The Seasonal Kitchen is a monthly feature. Local chef Sylvia Fountaine writes about seasonal foods she's making in her kitchen, sharing recipes and a passion for local foods. Fountaine is a caterer and former co-owner of Mizuna restaurant. She writes about home cooking on her blog, Feasting at Home, www.feastingathome.com.
Local journalism is essential.
Give directly to The Spokesman-Review's Northwest Passages community forums series -- which helps to offset the costs of several reporter and editor positions at the newspaper -- by using the easy options below. Gifts processed in this system are not tax deductible, but are predominately used to help meet the local financial requirements needed to receive national matching-grant funds.
Subscribe to the Spokane7 email newsletter
Get the day's top entertainment headlines delivered to your inbox every morning.
---