No charges for deputy in young cyclist's fatal crash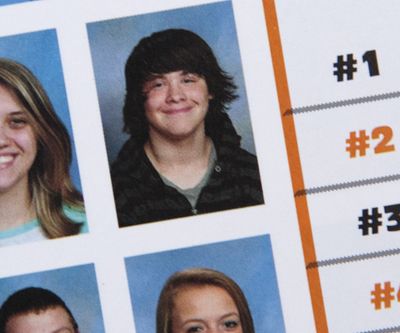 Three separate investigations into the death of a 15-year-old bicyclist last May in Spokane Valley have determined that a speeding patrol car driven by a sheriff's deputy did not strike the teen as preliminary reports suggested, the Spokane County Prosecutor's Office announced Friday.
Instead, investigators found that Spokane County Sheriff's Deputy Joe Bodman braked and swerved to the right, missing West Valley High School student Ryan Holyk – by as little as one foot – as Holyk and a friend crossed Sprague Avenue on bicycles about 10:30 p.m. May 23.
Neither Bodman's car nor Holyk's bicycle had any damage that indicated a collision had taken place, the prosecutor's office said.
The office announced in a news release Friday that no criminal charges will be filed in connection with the incident.
A witness told investigators that Holyk turned his handlebars sharply to the right as he crossed Sprague at Vista Road, and he flipped over the handlebars and landed on his head. Holyk died from his injuries June 4.
Holyk was crossing Sprague against a red light. He had no brakes, lights or reflectors on his bicycle and was not wearing a helmet, the news release said.
However, it appears that Bodman may have been violating sheriff's office rules at the time.
Bodman, who had a green light when he nearly struck Holyk near the Vista intersection, was driving more than 70 mph in a 35 mph zone without his emergency lights or siren on, the news release said. Bodman was on his way to back up a deputy who was on a traffic stop and was not answering his radio.
According to the Sheriff's Office policy manual, deputies are allowed to violate traffic laws if they are responding "code" with lights and siren. Deputies heading to routine calls without lights and siren are required to "observe all traffic laws."
The news release didn't speculate whether Holyk turned his handlebars to avoid the patrol car.
"The investigative reports are unable to confirm why he turned the handlebars full right," it said. 
Spokane County Sheriff Ozzie Knezovich said he could not comment on the prosecutor's decision because there will now be an investigation into whether Bodman followed department policies and procedures.
"It's very self-explanatory as to the facts of the case," he said.
The three accident reconstructions were conducted by the Spokane Investigative Regional Response Team, the Washington State Patrol Major Accident Investigative Team and Grant Fredericks of Forensic Video Solutions.
County spokeswoman Martha Lou Wheatley-Billeter said Spokane County Prosecutor Larry Haskell contacted Holyk's mother before releasing the decision to the media. Wheatley-Billeter said Haskell wanted to explain the decision to the family before the charging decision made the news.
Bodman has about 25 years of law enforcement experience, half of which is with Spokane County. He has run for political office several times in Kootenai County and served 12 years on the Post Falls City Council.
Staff writer Kip Hill contributed to this report.
---