News > Spokane
Poplars' potential: Rathdrum Prairie grove part of study on cellulose-based biofuel
Thu., July 2, 2015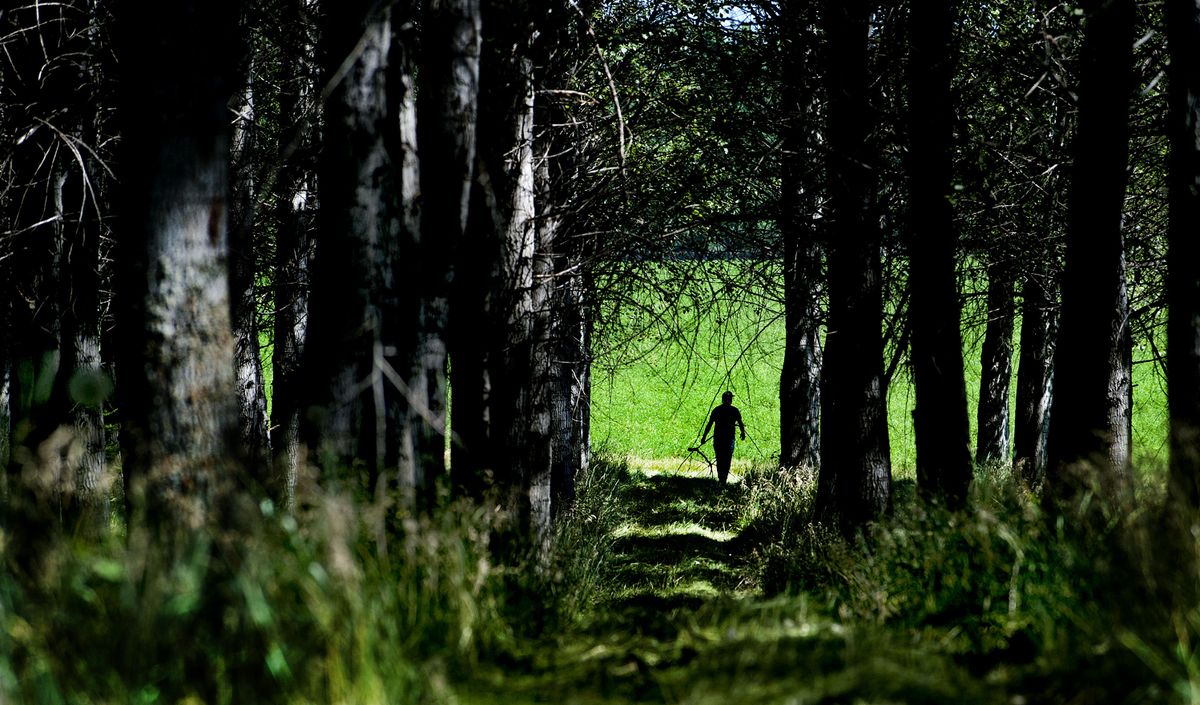 Independent contractor Steve Roth walks through the Hayden Area Regional Sewer Board's 150-acre poplar grove Tuesday. This grove is not part of the research, but is near a test plot on the Rathdrum Prairie planted by GreenWood Resources of Oregon. (Kathy Plonka)
Seventy acres of poplars on the Rathdrum Prairie rustled in a hot, summer breeze, flashing silvery-green leaves.
Someday, cars and trucks could be running on fuel made from the trees.
A $40 million research project, funded by the U.S. Department of Agriculture, is studying poplars' potential to produce cellulose-based biofuels. The grove north of Hayden is one of four test plots in the five-year project, which is being led by University of Washington researchers in cooperation with two private companies and five other colleges and universities.
"They are an amazing tree, when you think about the amount of biomass per acre they are able to generate," said Joe Regnery, chief commercial officer for ZeaChem Inc., a Colorado company that is one of the research partners.
In Hayden, the fast-growing poplars were harvested back to stumps less than two years ago, but already have new canopies stretching 20 feet into the sky.
More than 80 different hybrid poplar clones are grown on land leased from the Hayden Area Regional Sewer Board. The wood is lab-tested for cellulose content and other traits to determine which clones are best suited for biofuels production.
The project is one of seven USDA-funded initiatives nationwide aimed at turning wood and agricultural waste into cost-competitive, environmentally friendly gasoline, diesel and jet fuels. As part of the study, researchers are calculating the net greenhouse gas emissions associated with growing the trees and producing the fuel.
"We're looking at whether we have an impact on the carbon exchange with the atmosphere," said Mark Coleman, an associate professor at the University of Idaho's College of Natural Resources, who is involved in the research.
The study, which will wrap up next year, also examines the costs and profit potential. The hybrid poplar study was launched in 2011, when crude oil prices were more than $100 per barrel.
"Economically, it looked like it would be a viable thing," said Patricia Townsend, a Washington State University Extension specialist and educator.
With crude oil prices currently trending around $60 per barrel, the economics of turning wood into fuel are much tougher today, Townsend acknowledged. In the near-term, the focus is on producing ethanol from wood chips, along with high-value biochemicals used in plastics, paints, textiles and solvents, she said.
"That's stuff we use every day," Townsend said, "and it's made with chemicals that come from petroleum."
The longer-term goal is to develop gas, diesel and jet fuels that can be used in conventional cars, trucks and planes.
ZeaChem is moving forward with plans to open a small biorefinery in Boardman, Oregon, in 2017. The plant will produce 15 million to 22 million gallons of ethanol annually from poplars and crop residue, along with some biochemicals, said Regnery, the company officer.
The company uses a fermentation process that converts cellulose-derived sugars into alcohol. ZeaChem has been running a demonstration refinery in Boardman since 2013 as part of the research project. Regnery said he's optimistic about the future of biofuels production in the Northwest, including ethanol.
Since the Northwest isn't a big corn-producing region, it doesn't have as many existing ethanol plants to compete with, he said. Most of the ethanol blended into gasoline in the Northwest comes to the region by rail from the Midwest, he said.
"We're looking at building multiple developments," Regnery said.
But the sites have to be carefully chosen to pencil out, he said. In Boardman, the company is near a 28,000-acre poplar tree farm owned by GreenWood Resources, as well as a transportation corridor that includes barge, rail and freeway.
GreenWood Resources is also managing the 70-acre test plot of poplars in Hayden. The trees are adjacent to a 150-acre poplar grove developed by the Hayden Regional Sewer Board, which is irrigated with nutrient-rich wastewater from the sewage treatment plant.
The poplars in the biofuels project aren't irrigated with wastewater, but that could be a possibility in the future, said Ken Windram, the general manager. In addition to producing an alternative fuel, poplar groves could serve a dual purpose of helping cities manage growing amounts of wastewater, he said.
"We love this project," Windram said this week during a WSU-led tour of the poplar test site. "Look at all that leafy material … It has good drinking potential."
Local journalism is essential.
Give directly to The Spokesman-Review's Northwest Passages community forums series -- which helps to offset the costs of several reporter and editor positions at the newspaper -- by using the easy options below. Gifts processed in this system are not tax deductible, but are predominately used to help meet the local financial requirements needed to receive national matching-grant funds.
Subscribe now to get breaking news alerts in your email inbox
Get breaking news delivered to your inbox as it happens.
---