Sports
Clint Dempsey scores as U.S. beats Guatemala
July 3, 2015 Updated Fri., July 3, 2015 at 7:53 p.m.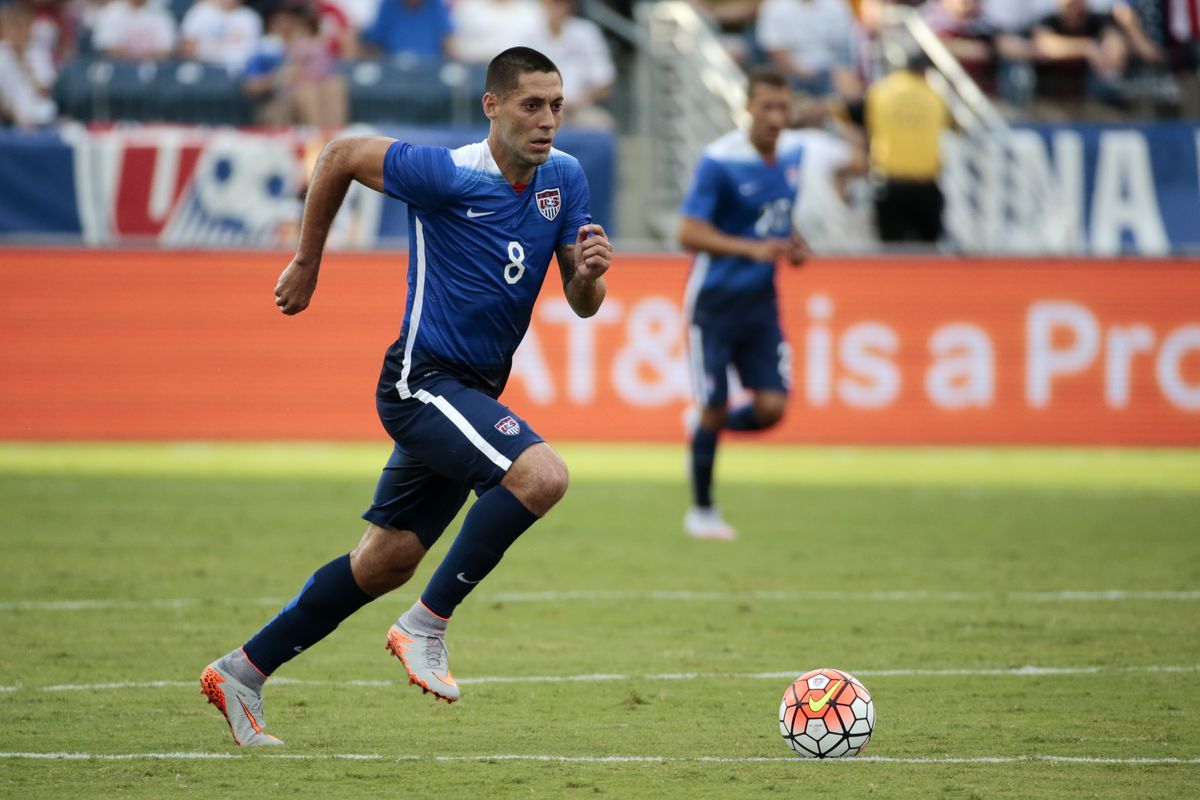 U.S. forward Clint Dempsey returned to action on Friday vs. Guatemala, scoring from the penalty spot. (AP)
NASHVILLE, Tenn. — Clint Dempsey wants to look ahead to helping the U.S. defend its CONCACAF Gold Cup title and not back to his confrontation with a referee that caused American coach Jurgen Klinsmann to replace the fiery forward as captain for the tournament. Dempsey converted a penalty kick in his return from a suspension, Timmy Chandler scored his first international goal and the United States routed Guatemala 4-0 Friday night despite some sloppy play in an exhibition ahead of the Gold Cup. Dempsey was suspended for three games by Major League Soccer for the confrontation on June 16 in Seattle's fourth-round loss to Portland in the U.S. Open Cup. Dempsey grabbed a notebook from the official and tore it after a teammate was given a red card. He also was suspended from the Open Cup for at least two years. "That's something I put behind me," said Dempsey, who posted an apology on Twitter after the incident. "I talked with my teammates. I talked with coaches and just focused on moving forward, focusing on the Gold Cup, making sure we win it and put ourselves in position … for the Confederations Cup." The U.S. opens the defense of its Gold Cup title on Tuesday against Honduras. If the Americans win the tournament, the championship of North and Central America and the Caribbean, they would qualify for the 2017 Confederations Cup. Klinsmann announced this week that Michael Bradley was replacing Dempsey as the U.S. captain for the Gold Cup "to take the heat off Clint." "It's cool," Dempsey said. "Michael's a great leader. He deserves to be captain. For me, I'm excited to be part of the team, trying to push to win the Gold Cup, be a part of the Confederations Cup. I got to experience being captain in the World Cup. For me, that was something special and I'll always kind of remember, but it's never been a big thing for me to be captain." Wearing special stars and stripes numbers on backs of the players' blue jersey on the Fourth of July weekend, the Americans improved to 15-0-6 in their last 21 matches against Guatemala, their longest unbeaten streak against any nation. "Obviously 4-nil sounds really nice," Klinsmann said. "Performance? Not so nice. I'm not happy with that performance. I'm kind of disappointed with a couple of things — moving off the ball, speed of play, urgency. Things we talked about before were not executed the way we wanted them to be executed." Jozy Altidore was pulled down early by Wilson Lalin, but goalkeeper Paulo Motta batted away Altidore's penalty kick with his right arm. One minute later, the Americans went ahead in the 19th minute when Carlos Castrillo headed in DeAndre Yedlin's cross into his own goal from 6 yards. Guatemala nearly tied the game early in the second half when Jose Contreras' shot from the center of the penalty area went wide. Playing his 22nd international match, Chandler doubled the lead in the 58th minute with a 25-yard left-footed shot inside the far post. Dempsey converted the penalty kick in the 72nd minute after Castrillo knocked over Bradley, who was making his 99th appearance with the U.S. team. Chris Wondolowski had a tap-in in the 86th minute after Dempsey played the ball over the defense to Gyasi Zardes, dribbled the ball to the end line and cut it back between Motta and Deniss Lopez. Brad Guzan made four saves as the U.S. maintained the momentum it established with victories at the Netherlands and Germany last month. Guzan also shut out Guatemala in his debut performance with the U.S. team — a 4-0 victory on Feb. 19, 2006. "All of us as players, we're not naive to think that we were unbelievable tonight," Guzan said. "We know there are areas where we need to sharpen things up. We know there are areas where we need to clean things up. But in saying that, going forward from here on out, it's about results. I think winning is a mentality. It's contagious. It was important we kept that going from obviously two great wins in Europe. "Although it wasn't our best performance, it was important that we found a way to win."
Notes
Donovan appeared to criticize Klinsmann when he tweeted Tuesday about the U.S. women's team: "Love the enthusiasm and veteran presence of (at)AbbyWambach despite not playing much. That kind of leadership is priceless during a WC" … Donovan was among the final seven cuts from Klinsmann's World Cup roster last year, denying him a fourth trip to soccer's top tournament. … The attendance of 44,835 at Nissan Stadium was the largest crowd to watch a soccer game in Tennessee.
UPDATE: Adds quotes, new lead. Should stand
Local journalism is essential.
Give directly to The Spokesman-Review's Northwest Passages community forums series -- which helps to offset the costs of several reporter and editor positions at the newspaper -- by using the easy options below. Gifts processed in this system are not tax deductible, but are predominately used to help meet the local financial requirements needed to receive national matching-grant funds.
Subscribe to the sports newsletter
Get the day's top sports headlines and breaking news delivered to your inbox by subscribing here.
---