Sports
Auto Racing: Kyle Busch involved in multi-car crash in Daytona return
Sat., July 4, 2015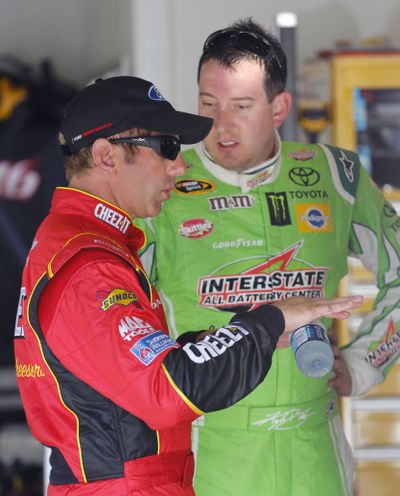 Kyle Busch was involved in a multi-car crash at Daytona International Speedway, where he returned Friday for the first time since he was injured at the Florida track in February.
Busch, who broke his right leg and left foot in a crash a day before the season-opening Daytona 500, spun nine minutes into the first practice session when he was bumped from behind by Brad Keselowski. As Busch's car spun he was hit squarely in the side by Greg Biffle.
Those two cars then spun into Martin Truex Jr., and the scrum was hit by Denny Hamlin. Also caught up in the crash was Carl Edwards, as Joe Gibbs Racing had three cars involved in the crash and 10 total drivers had to pull out their backup cars.
"Looks like (Keselowski) got into my left rear," Busch said. "He got away unscathed and trashed everybody else's stuff."
Busch placed the blame squarely on Keselowski for a move he deemed "not very smart."
"All these guys at the shop and everybody, they work way too hard building race cars in general to be wrecking them in practice. There's room to lift (off the throttle) and sometimes people don't," Busch said. "It's his fault. He caused it, but I've also been in the same boat and caused them before.
"It's practice, you don't need to be up a guy's left rear. I rolled out and got out of the gas I don't know how many times just to not run into the car in front of me because it's not that time of the game to go."
The session was led by Danica Patrick, who posted a lap at 198.133 mph as she paced all of her Stewart-Haas Racing teammates. The four SHR drivers sat atop the leaderboard, with Kurt Busch second behind Patrick and followed by Kevin Harvick and team co-owner Tony Stewart.
Formula One
Nico Rosberg provided further evidence of the threat he poses to championship-leading teammate Lewis Hamilton by posting the fastest times in both practice sessions at the British Grand Prix in Silverstone, England.
Rosberg has won three of the last four races to trim the Briton's lead to 10 points in the standings.
The race is Sunday.
Local journalism is essential.
Give directly to The Spokesman-Review's Northwest Passages community forums series -- which helps to offset the costs of several reporter and editor positions at the newspaper -- by using the easy options below. Gifts processed in this system are not tax deductible, but are predominately used to help meet the local financial requirements needed to receive national matching-grant funds.
Subscribe to the sports newsletter
Get the day's top sports headlines and breaking news delivered to your inbox by subscribing here.
---