Sports > Seattle Mariners
Mariners hit four home runs in victory over Oakland
Sat., July 4, 2015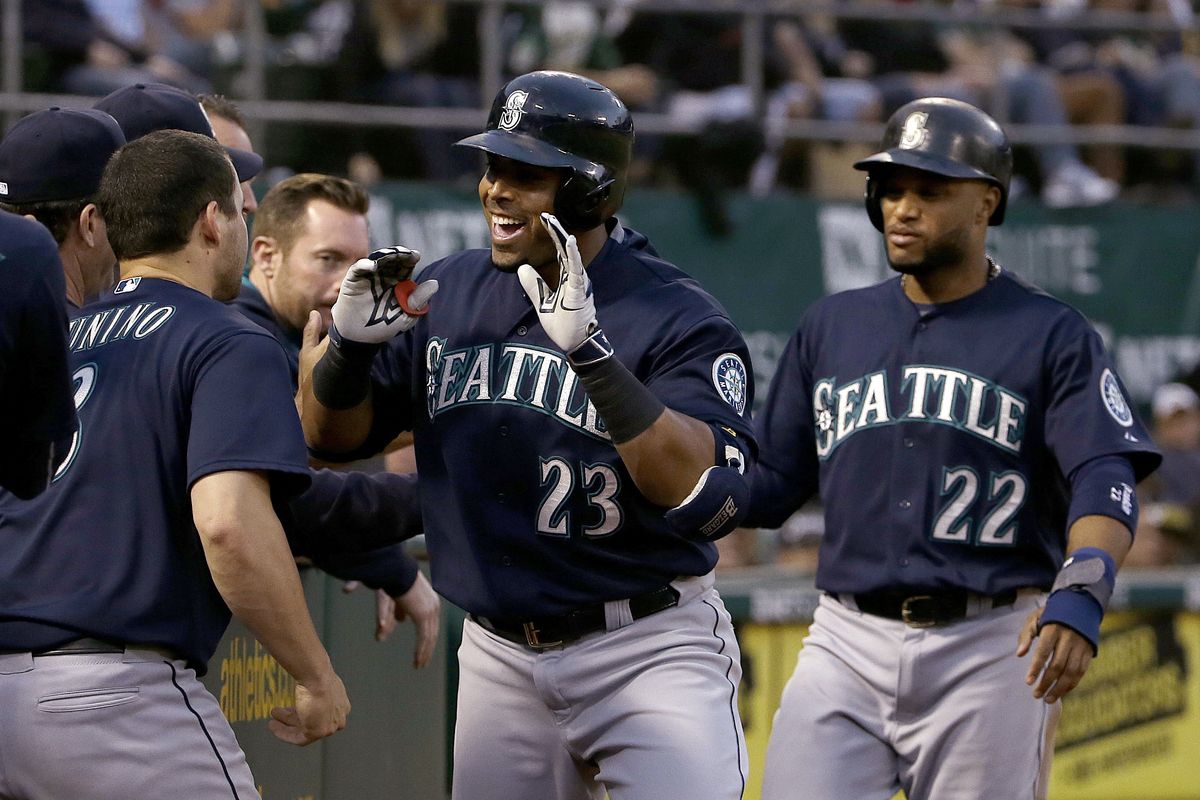 Seattle's Nelson Cruz, center, is greeted by teammates after hitting a home run that also scored Robinson Cano, right. (Associated Press)
OAKLAND, Calif. – So, you like fireworks to mark the nation's birthday? How about four two-run homers Friday night by the Mariners in a 9-5 victory over the Oakland Athletics.
Yes, it was July 3. But the A's had a full house of 35,067 on hand at the O.co Coliseum, in anticipation of postgame fireworks to mark Independence Day.
Close enough.
"It wasn't like we came out of the gate swinging," shortstop Brad Miller said. "(Oakland starter Jesse) Chavez did a really nice job. I just thought we stayed in it. And I like how we added on there at the end."
The Mariners trailed 3-0 when Logan Morrison started the comeback with a two-run homer in the third against Chavez. They took the lead on Seth Smith's two-run bomb against Chavez in the sixth.
Nelson Cruz and Miller hit two-run homers in the seventh inning against reliever Evan Scribner that turned the game into a rout.
"We bounced back real nice today," manager Lloyd McClendon said. "That's a big one, particularly after falling down 3-0. Our guys showed a lot of resilience and kept fighting. It was a good win for us."
J.A. Happ (4-5) rebounded from a three-run second inning by retiring 14 of the last 16 batters faced through the sixth. Mark Lowe inherited a one-run lead to start the seventh.
It was a six-run lead when Charlie Furbush pitched the eighth. Carson Smith, who hadn't pitched since Sunday, wobbled through a two-run ninth inning before closing out the victory.
"I didn't have my best stuff," Smith said. "I left a couple of balls up, and they got a couple of hits."
With a six-run lead, the only real damage was to Smith's ERA, which jumped from 1.45 to 1.97.
"He had four days off," McClendon said. "He was a little rusty. We needed to get him in there. We needed to get Furbush in. It was nice to get the rust off."
Happ snapped a nine-start winless streak that included losses in his previous four outings. He gave up eight hits in six innings but didn't walk anyone and struck out five.
It was just nice, Happ admitted, not to be frustrated.
"I did not want to tell you guys that today," he told a media scrum. "No, it feels good, definitely. A nice outburst. A nice outburst throughout the game, and especially at the end, by our offense."
Chavez (4-8) kept the game close in limiting the M's to four runs in 6 1/3 innings, but Scribner took a beating after replacing Eric O'Flaherty following Robinson Cano's leadoff single in the seventh.
The M's trailed 3-2 in the sixth when Kyle Seager lined a two-out single to center. Smith then worked the count full against Chavez before turning on a 92-mph fastball.
"I hit it good with some backspin and some trajectory," said Smith, who played for the Athletics in 2012-13. "You never know anywhere, really, but especially a park like this.
"But I figured unless something crazy happened, it was going to find its way out."
The 393-foot drive easily cleared the right-field wall, and the M's had a 4-3 lead.
Cano then opened the eighth with a single, his third hit. In came Scribner, and Cano immediately stole second, his second steal of the year.
Cruz followed by crushing an 0-2 fastball for a no-doubt homer to right-center. It was his 21st of the season, the M's led 6-3 – and they weren't done.
Seager doubled past third and went to third on Smith's grounder to third. Seager scored when first baseman Stephen Vogt boosted Dustin Ackley's grounder.
Miller then rocked a two-run homer and, that quickly, a one-run lead had turned into 9-3.
McClendon announced after the game that left-hander Vidal Nuno and right-handers Tom Wilhelmsen and Roenis Elias have been optioned to Triple-A. "We'll announce the corresponding moves tomorrow," he said.
McClendon did confirm that right-hander Hisashi Iwakuma will be activated from the disabled list in time to start Monday against Detroit in Seattle.
Left-hander David Rollins, who has yet to allow a run in 9 1/3 innings for Tacoma, is a Rule 5 selection from the Houston Astros, and with the completion of his 80-game suspension, for testing positive for a performance-enhancing drug, he must be added to the 25-man roster by today or the M's will lose him.
Local journalism is essential.
Give directly to The Spokesman-Review's Northwest Passages community forums series -- which helps to offset the costs of several reporter and editor positions at the newspaper -- by using the easy options below. Gifts processed in this system are not tax deductible, but are predominately used to help meet the local financial requirements needed to receive national matching-grant funds.
Subscribe to the sports newsletter
Get the day's top sports headlines and breaking news delivered to your inbox by subscribing here.
---