News > Spokane
Small dog park in works for Spokane Valley
Sat., July 4, 2015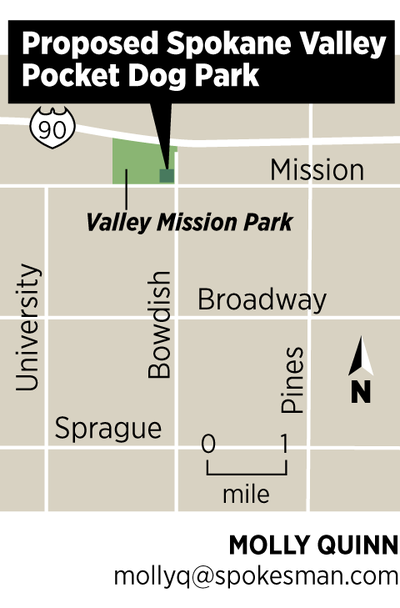 A pocket dog park is not just for small dogs.
It's a fully functioning dog park in a smaller space, and the city of Spokane Valley is planning on putting one in the southeast part of Valley Mission Park – near Mission Avenue and Bowdish Road at the old senior center site.
"People park there and hang out, but it doesn't attract a lot of good use," said Mike Stone, Spokane Valley parks and recreation director.
Spokane Valley Parks will hold a planning and information meeting about the proposed dog park at 6 p.m. Thursday at CenterPlace Regional Event Center, 2426 N. Discovery Place.
"We have been talking about this for quite a long time," Stone said. "Our problem has been finding a good site."
Participants in Thursday's meeting will be asked for input on the dog park's design and location.
Stone said successful dog parks are centrally located so they are easy to find for residents and traveling dog owners.
If completed it will be Spokane Valley's first.
The site is just 1.14 acres – a bit small for a dog park, Stone said.
The small dog park at the newly renovated McEuen Field in Coeur d'Alene served as inspiration for this project.
Stone said there is $75,000 in this year's parks budget for the project and that the total cost depends on how much construction is needed, such as bringing water service to the site from the street.
Adding a new parking lot at the site would be expensive and make the park even smaller.
"We are hoping people will be OK with parking in the regular parking lot and walking over," Stone said.
Construction could begin this summer, and part of the park could be ready by fall.
Stone is hoping a small dog park may inspire a bigger one somewhere else.
"If we get one in, then I think it will just snowball," he said.
Local journalism is essential.
Give directly to The Spokesman-Review's Northwest Passages community forums series -- which helps to offset the costs of several reporter and editor positions at the newspaper -- by using the easy options below. Gifts processed in this system are not tax deductible, but are predominately used to help meet the local financial requirements needed to receive national matching-grant funds.
Subscribe now to get breaking news alerts in your email inbox
Get breaking news delivered to your inbox as it happens.
---