News > Business
Trade show lays out food innovations
Wine ice cream, maple water among products at event
Sat., July 4, 2015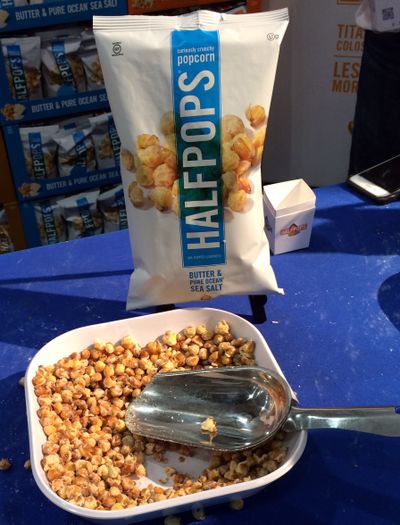 NEW YORK – Chips made out of broccoli, chickpeas and kale. Wine-spiked ice cream. Popcorn that didn't quite fulfill its destiny.
Those were some of the alternate-universe products at this week's 61st annual Fancy Food Show. Many have limited distribution and aren't easy to find, but could signal coming trends.
Buyers for places like supermarkets milled about the trade show at the sprawling Jacob Javits Center in New York City, tasting the treats on display and stuffing bags with free samples.
"It's like a secret wonderland of food," said Louise Kramer, a spokeswoman for the Specialty Food Association, the trade group that puts on the show. The expo is not open to the public.
Here are some potential foods of the future exhibitors were showing off:
Wine ice cream
Instead of a glass, this wine can be served in a cone.
Mercer's, a dairy in upstate New York, was offering tastes of its "wine ice cream," which has up to 5 percent alcohol. The ice creams come in eight flavors including "Strawberry Sparkling" and "Chocolate Cabernet."
Roxaina Hurlburt, a co-owner of Mercer's, said the dairy started packaging the wine ice cream in 2008.
Maple water
Is maple water the next coconut water?
Drink Maple, based in Concord, Massachusetts, sells bottles of maple water it says is tapped from maple trees.
It's the same stuff that's boiled down into maple syrup, but don't expect a thick and sticky drink. The clear liquid has the consistency of water and a lightly sweetened taste, with a 12-ounce bottle labeled as having 30 calories and 7 grams of sugar. The product also seems to hit on all the prevailing dietary trends: The company's website notes maple water is "low calorie, gluten-free, dairy-free and non-GMO."
It also says "no trees are harmed" in the collection process.
Half-popped kernels
Do you think those half-popped kernels at the bottom of the popcorn bag are the best part? Now two companies are selling bags of just those bits.
HalfPops and Pop'd Kerns offer the snacks in different flavors, with a 1-ounce serving containing between 130 and 160 calories, depending on the flavor.
HalfPops, based in Bellevue, Washington, says it uses a proprietary process to cook the kernels. Six-ounce bags of HalfPops are available online and at about 2,000 locations, including some Whole Foods and Wegman's, said Mike Watts, the company's vice president of marketing.
Broccoli bites
A prevalent theme at the expo was snacks made from unusual ingredients; think bags of roasted chickpeas, cheese puffs made out of beans, and chips made out of seaweed.
Another example that fell into that category was Broccoli Bites from Rhythm Foods, which also makes kale chips. Before being dehydrated, the broccoli is tossed in a dressing made with seeds, herbs and spices to add flavor and prevent crumbling. Each 1.5-ounce bag has 150 calories.
Local journalism is essential.
Give directly to The Spokesman-Review's Northwest Passages community forums series -- which helps to offset the costs of several reporter and editor positions at the newspaper -- by using the easy options below. Gifts processed in this system are not tax deductible, but are predominately used to help meet the local financial requirements needed to receive national matching-grant funds.
Subscribe now to get breaking news alerts in your email inbox
Get breaking news delivered to your inbox as it happens.
---