News > Features
Busy blogger Dave Clark targets boomers, seniors
Mon., July 6, 2015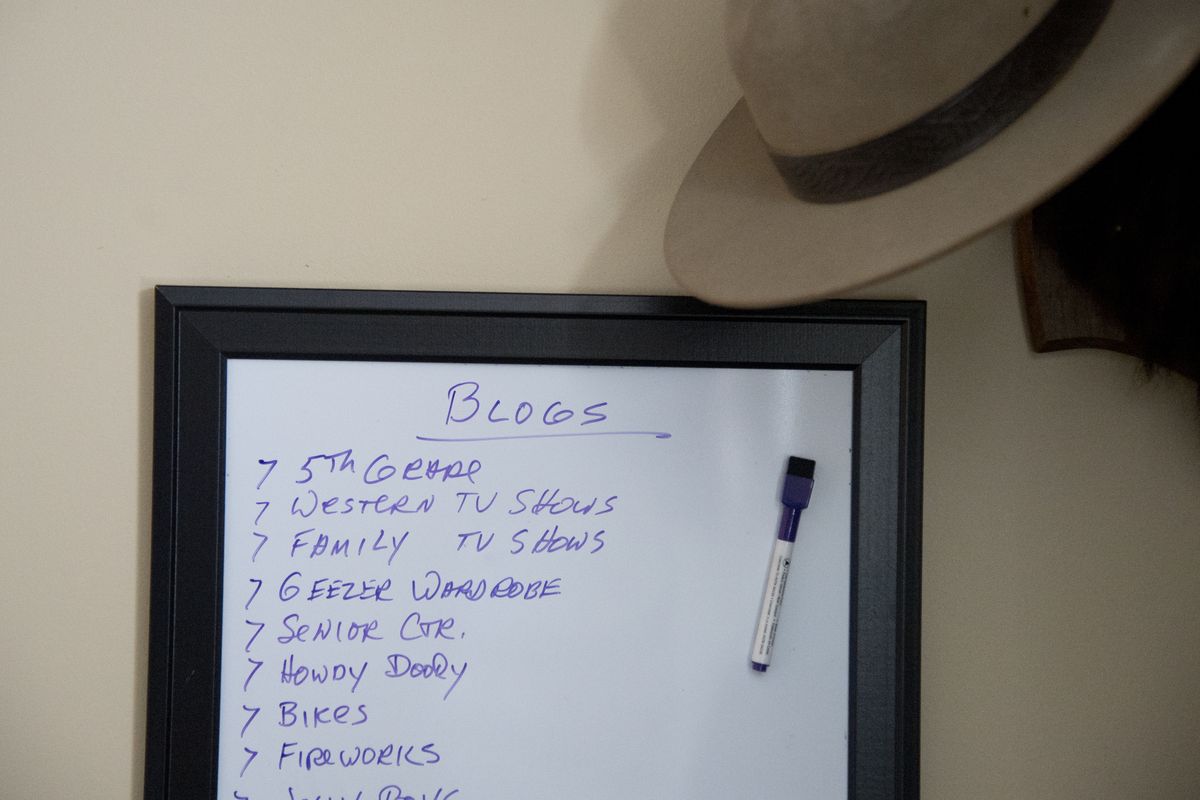 Clark's office wall has a newly installed white board with scribbled blog ideas
As an obsessed fly fisherman with bad knees living in a new city, Dave Clark was forced to do something new with his retirement years. 
The former park ranger likes to write – he published "Silver Creek," a book about a southern Idaho fishing stream, in 1997 – and take photos. He's opinionated with a cantankerous streak. To Clark, 67, that's a good enough résumé to start a blog. 
So was the birth of www.justageezer.com, a blog about geezers, boomers, seniors, activities and life after retirement.
"The world has pretty much decided seniors, boomers and geezers don't have much to say anymore – let them know they are wrong! Alone we're just geezers, but together we are geezer strong," writes Clark in his blog introduction.
"I'm no longer bored," Clark said recently from his basement office in north Spokane that is decorated with fly fishing decor and reminders of his 30 years of work at Craters of the Moon National Monument and Preserve in Arco, Idaho. "Now there's not enough time in a day."
The office wall has a newly installed white board with scribbled blog ideas and he's already shared his 20 challenges for 2015 – get a massage, read at a poetry slam, attend a murder trial, try marijuana – with the blogosphere, about 200 viewers in the last six months.
Clark wants to grow his audience and paid a consultant to help boost his search engine optimization – which means when someone searches "geezer" or "boomer" or other key words they might have a better chance of Clark's blog popping up. (That seems to have worked. Google "Spokane" and "geezer" and his blog is the first entry.) He ordered business cards.
He has no desire to sell ads or make money. He just wants to keep his mind stimulated by writing daily and sharing his experiences, whether it's movie reviews, poetry, stories about babysitting the grandkids solo (a humorous tale of bonked heads, car seats and the difficulty of ordering Happy Meals) or philosophizing about the intricacies of aging.
According to WordPress – the service Clark used to start and host his blog – more than 409 million people view more than 20.1 billion pages a month using its services. It's difficult to pinpoint the total number of blogs, which are really just regularly updated online diaries, but some estimates are more than 156 million.
Blogging, which gained popularity in the late '90s, has been somewhat overshadowed by the explosion of social media such as Facebook and Twitter. Clark uses Facebook, but wanted his own place in cyber world, where he had more freedom to tell his stories and show his pictures.
News organizations, businesses that serve the aging, advocacy groups, even the AARP, all use blogs. So do many boomers. Yet Clark said he hasn't found a lot of local writers specifically focusing on "geezers."
Spokesman-Review blogger D.F. Oliveria, who writes the popular North Idaho blog Huckleberries Online, said he has four regular contributors with blogs who have lots to say about aging – From a simple mind, Bay Views, Dogwalk Musings and Slight Detour. 
Marianne Love, a retired Sandpoint High School teacher, writes for an hour each morning updating the blog world on the happenings in her life while living in the country. It's been a ritual for 11 years, perhaps only missing a week of daily writing for Slight Detour: Mutterings of a country hick. She gets up to 150 views each day.
"I want to give people something they can enjoy, maybe laugh or identify," Love said, adding that readers count on the daily musing about her "Lovestead," border collie dogs and her adventures and photographs.
Clark is hoping to attract the same kind of faithful followers and help encourage them to try new things, whether its just a new restaurant or one of the big bucket-list life goals, and enjoy life no matter your state of aging.
"The point is to keep myself intrigued by life," Clark said.
Local journalism is essential.
Give directly to The Spokesman-Review's Northwest Passages community forums series -- which helps to offset the costs of several reporter and editor positions at the newspaper -- by using the easy options below. Gifts processed in this system are not tax deductible, but are predominately used to help meet the local financial requirements needed to receive national matching-grant funds.
Subscribe now to get breaking news alerts in your email inbox
Get breaking news delivered to your inbox as it happens.
---