Sports
Clint Dempsey scores twice, U.S. beats Honduras 2-1 to open Gold Cup
Wed., July 8, 2015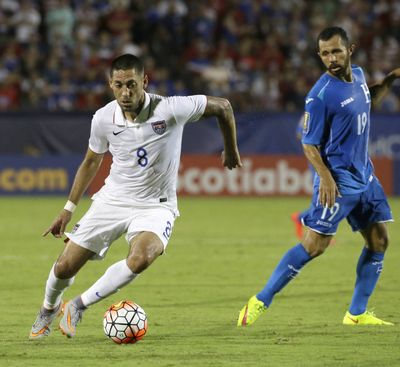 FRISCO, Texas – Clint Dempsey scored twice on headers in front his home state fans, and the United States opened defense of its CONCACAF Gold Cup title with a 2-1 victory over Honduras on Tuesday night.
Dempsey's goal in the 64th minute was created by a cross from Michael Bradley, wearing the captain's arm band in his 100th international appearance.
Dempsey's big night came in the same area where the East Texas native trained as a youth, and he boosted the Americans to 13-0 in Gold Cup openers. With 43 international goals, he is 14 behind Landon Donovan's American record.
Carlos Discua scored his first international goal in the 69th minute for Honduras, a semifinalist in the last three Gold Cups.
"It wasn't our best performance, but we're happy to get three points from our first game," Dempsey said.
It was the first competitive match for the U.S. since losing to Belgium in overtime in the second round of last year's World Cup. The Americans, 29-1-2 in Gold Cup group play, meet Haiti on Friday and Panama on Monday.
U.S. goalkeeper Brad Guzan had a couple of tough saves in the first few minutes before a sellout crowd of 22,357 at the home of Major League Soccer's FC Dallas.
The first goal developed when DeAndre Yedlin played a short corner kick to Bradley, who crossed on a bounce to the far post. Henry Figueroa's clearance attempt back to Bradley's side was picked up at the side of the 6-yard box by Jozy Altidore, who took a touch and shot. Goalkeeper Donis Escobar saved the ball with his right foot and it popped up to Dempsey, who instinctively nodded it in from 6 yards.
Bradley's free kick from the flank led to the second goal. Escobar stayed on his line and an unmarked Dempsey jumped 4 yards out and headed inside the far post.
After a sluggish start, the U.S. controlled the pace in the second half until Discua took a nifty pass from Wilmer Crisanto and touched the ball past center back Ventura Alvarado before beating Guzan over the keeper's left shoulder. Alvarado, who also had been eligible to play for Mexico, played his first competitive match for the U.S. and became tied to the American national team.
Honduras had a couple of good opportunities in the final 20 minutes, including when Guzan knocked a ball toward Eddie Hernandez, who had an open net but couldn't control the ball before it went out.
Bradley, a son of former U.S. coach Bob Bradley, became the 16th American male to make 100 international appearances. At 27 years, 341 days, he is the fourth-youngest American after Landon Donovan (26-96), Cobi Jones (27-239) and Marcelo Balboa (27-320).
Honduras controlled the pace early, twice testing Guzan in the first 6 minutes while outshooting the Americans 6-3 before halftime.
Anthony Lozano forced Guzan to make a diving, one-handed save from close range. Guzan tipped a shot from Andy Najar just over the crossbar about 3 minutes later, and Najar was close again just before halftime.
Haiti salvages draw
Duckens Nazon scored on a nifty breakaway move in the 85th minute to give Haiti a 1-1 tie with Panama in the CONCACAF Gold Cup opener Tuesday in Frisco, Texas.
Panama, runner-up to the U.S. in the 2013 Gold Cup, went ahead in the 55th minute of the Group A match when Alberto Quintero scored from just outside the penalty area.
Local journalism is essential.
Give directly to The Spokesman-Review's Northwest Passages community forums series -- which helps to offset the costs of several reporter and editor positions at the newspaper -- by using the easy options below. Gifts processed in this system are not tax deductible, but are predominately used to help meet the local financial requirements needed to receive national matching-grant funds.
Subscribe to the sports newsletter
Get the day's top sports headlines and breaking news delivered to your inbox by subscribing here.
---