News > Obituaries
Obituary: Munson, Lillian Esther (Parker)
Age 96
Wed., July 8, 2015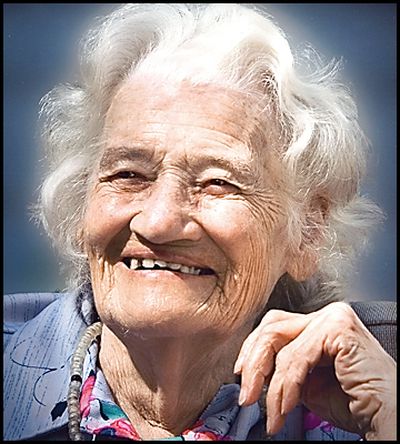 MUNSON, Lillian Esther (Parker) (Age 96) Lillian was born in Malad City, Idaho on April 7, 1919.
She moved with her parents, Albert and Harriet (Clayton) Parker to Spokane in 1929, graduated from Lewis and Clark High School in 1937, married Hunts Munson and eventually moved to Otis Orchards in 1950.
She lived the rest of her life there.
Lillian was very involved in Starr Baptist Church, and loved to crochet and do needlework.
The items she made for her family are loved and cherished.
She never talked bad about anyone and her kindness will be missed by all who knew her, as well as her generous heart.
She was preceded in death by her husband Hunts, brother Albert, sister Dorothy Cole and son Brian.
She is survived by siblings Dora Zogram, Betty Moleneaux and Jack Parker; children Hunts, Earl, Mike, Linda Wearly, Pat, Nancy Mahmstrom, Walter, Joe, Nona Taft and Susan Fricke; 22 grandchildren, 35 great-grandchildren; and three great-great-grandchildren.
Lillian passed away on June 29, 2015 at Gardens on University Nursing Home.
A memorial service will be held on July 9, 2015 at 2pm at Starr Baptist Church, 4720 N. Starr Road, Otis Orchards, WA 99027.
Local journalism is essential.
Give directly to The Spokesman-Review's Northwest Passages community forums series -- which helps to offset the costs of several reporter and editor positions at the newspaper -- by using the easy options below. Gifts processed in this system are not tax deductible, but are predominately used to help meet the local financial requirements needed to receive national matching-grant funds.
Subscribe now to get breaking news alerts in your email inbox
Get breaking news delivered to your inbox as it happens.
---