A&E > Entertainment
Coeur d'Alene Kinetic Fest puts creativity into motion
Fri., July 10, 2015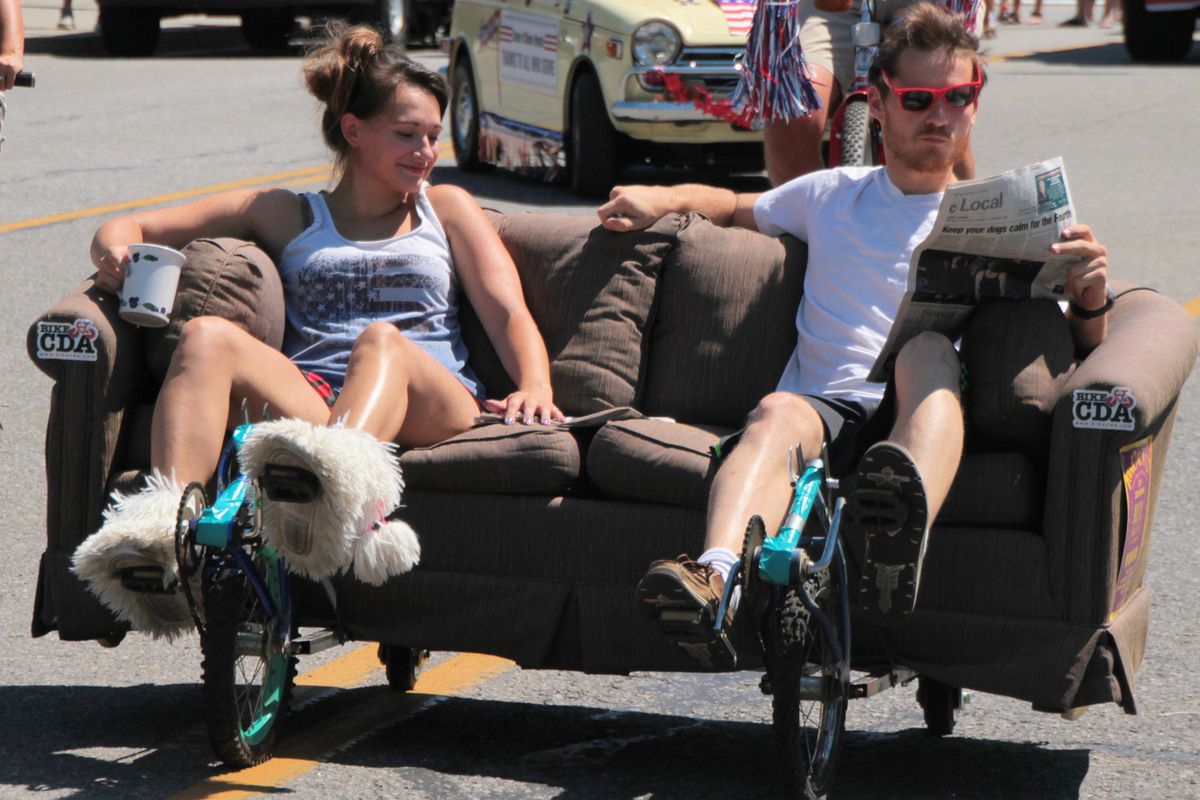 Kelsey Wheeler and Eric Satrin ride their couch-cycle in Coeur d'Alene's Fourth of July parade. They plan to participate in Sunday's parade as well.
On Sunday, irrigation wheels, a row boat and shark will parade down Main Street in Coeur d'Alene's Riverstone development.
Mutant toys will come to life. And four teams of artists will be building kinetic sculptures from bits and pieces in 40-gallon trash cans.
It's all part of Coeur d'Alene's first Kinetic Fest, sponsored by Gizmo-CDA, CDASk8Prk and BikeCDA.
The day is all about encouraging outlandish behavior, imagination and creativity, said Barb Mueller, Gizmo's executive director.
To that end, rolling Kinetic Cops (aka the Snake Pit Roller Derby Dames) will be handing out arm bands.
"If you're audacious, you'll get one color; if you're mediocre, you'll get another," Mueller said. And, if you don't like the color you get, they'll take bribes.
Even the rules for the Kinetic Fest parade participants have a dash of cheekiness. For instance, Rule No. 4 calls for "a recognizable theme, or unrecognizable, as long as it is glorious."
"That really is the nature of the kinetic fest," said Kirsten Pomerantz, an English teacher at Lake City High School and a Kinetic Fest volunteer.
Kinetic festivals "tend to be kind of funny. All of us are very serious about safety, but the idea is to be kind of playful," said Pomerantz, who's been to a festival in California.
Pomerantz's family of five will be in the parade. One son is riding a vehicle of his own creation, somewhat like a recumbent tricycle made with 2-by-4s and zip ties. The rest of the family will be riding a contraption made of three bicycles welded together.
And it's not too late to join the parade.
"You could even take cardboard and just decorate a vehicle," Mueller said. Just make sure to fill out an entry form (available at Gizmo's website) before you head down.
"It's a family event, it's a really great space to expose kids to the art of not being consumers, of being creators," Mueller said.
Kimberly Lusk
When: Sunday; sculpture building starts at 10 a.m., the parade is at 11 (line up at 10:45 a.m. if you're in it), booths and activities continue through 5 p.m.
Where: Main Street in Riverstone, Coeur d'Alene
Cost: Free to attend, being in the parade costs $20 for adults, $5 for children.
Local journalism is essential.
Give directly to The Spokesman-Review's Northwest Passages community forums series -- which helps to offset the costs of several reporter and editor positions at the newspaper -- by using the easy options below. Gifts processed in this system are not tax deductible, but are predominately used to help meet the local financial requirements needed to receive national matching-grant funds.
Subscribe to the Spokane7 email newsletter
Get the day's top entertainment headlines delivered to your inbox every morning.
---