News > Spokane
Getaway destination: 'Escape Spokane' offers prison break experience
Fri., July 10, 2015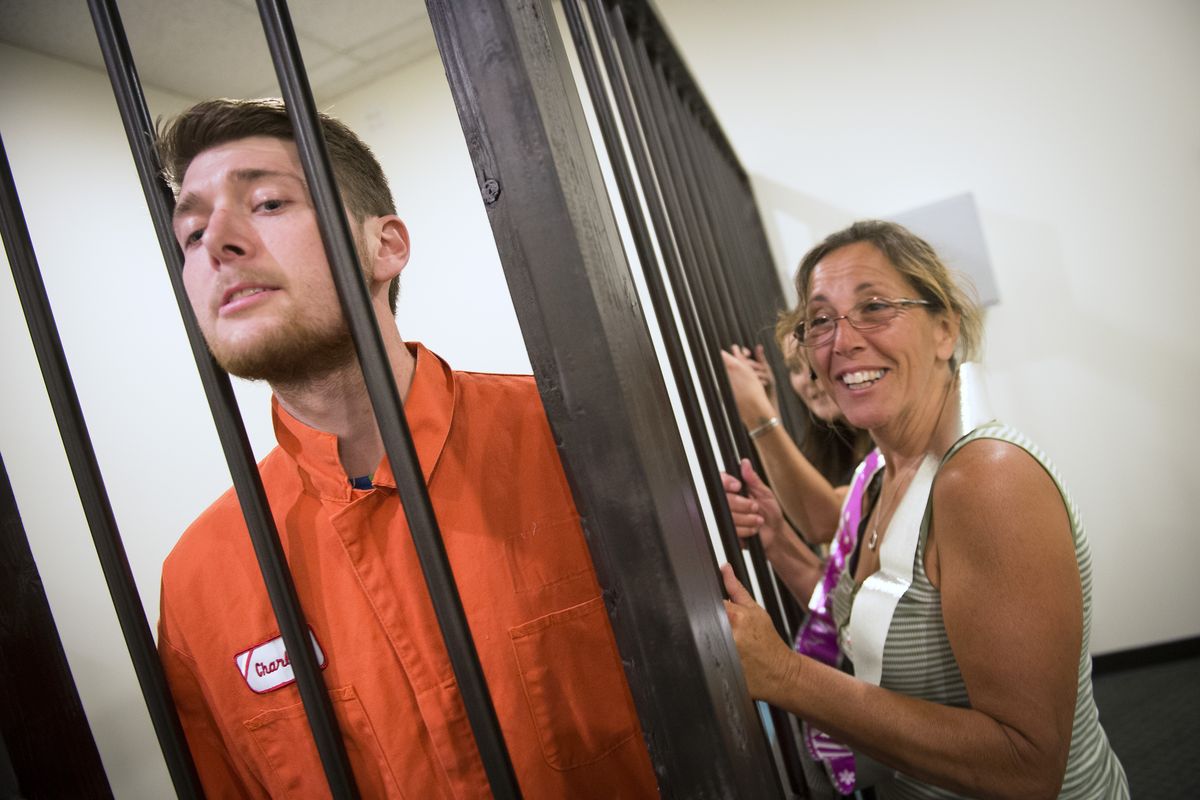 Lauren Williams, right, tries to pry a clue from an inmate played by Escape employee Adam Scott. (Colin Mulvany)
Breaking out of prison can be a real bonding experience. Just ask the owners of Spokane's new entertainment venue, Escape, where you can pay to be locked up, complete with bars and shackles.
Working in a small team, players must scour the room for clues, crack codes and solve puzzles to escape within one hour. The clues can be anywhere, sometimes hidden in plain sight: a poster on the wall, a page in a book, an empty tin can. A game master provides hints along the way, but if the timer hits zero before you've broken out, the "warden" will stop by to foil your attempt.
Escape, which opened last week in a strip mall at 7456 N. Division St., puts patrons in an adventure-movie scenario with seemingly impossible odds of success. It's the first business of its kind in Spokane, although similar "escape rooms" have popped up across the U.S. and Canada past two years. Before that, they were popular in parts of Asia and Europe.
"We're the first ones in the Inland Northwest," Escape co-owner Jerry Jensen said.
Jensen said he was inspired to open Escape while visiting a similar venue with his family in Vancouver, B.C. He brought the idea to his colleague, Kristin Jensen, in December, and the pair officially formed the business in early March.
Jerry Jensen and Kristin Jensen aren't related, but they've worked together for more than a decade. He owns 16 Subway restaurants in Eastern Washington and North Idaho, and she manages seven of them. "I've lived in Spokane my whole life, and I know there's not a lot of entertainment options," Jerry Jensen said. "I really wanted a business that would be fun to do."
So did Bruce Burns, a maintenance supervisor at Rockwood South Hill retirement home. He plans to open Spokane's second escape room venue, Claustropanic, in a commercial building at 1325 E. Francis Ave.
Burns, who also does electrical work on the side, said he became interested in escape rooms several years ago when he heard about a venue in Japan. When Claustropanic opens in August, it will offer three escape rooms made to look like a haunted asylum, a hostage situation and a mysterious crime scene, he said.
Referring to the Jensens' escape room, Burns said, "I think a little competition is good for both of us."
At a time when most people default to their TV and computer screens for entertainment, Jerry Jensen thinks interactive escape rooms will grow in popularity. Escape offers just one prison-themed room for now, but Jerry and Kristin plan to unveil a spookier escape room in time for Halloween. Eventually, they hope to run three rooms simultaneously.
"It's like taking the games you can play on the computer and putting them in real life," he said. "And you can touch them, and feel them and solve problems."
More than 150 escape room venues in 32 states are listed at escaperoomdirectory. com. About a half dozen are in Washington, mostly in and around Seattle.
"Whether this is just a trend or a flash in the pan, who knows," said Brett Atwood, a Washington State University communication professor who studies interactive media. He said it's no surprise people are gravitating toward escape rooms and similar attractions.
"We've seen this real dramatic shift in the way people communicate … even with their own friends, in person," he said. "I think there's a desire to go back to basics and interact physically. People are just wanting to connect and collaborate in person."
Escape rooms are great for birthdays and other celebrations, but they're also useful team-building exercises for companies and sports teams, Jensen said.
Seattle's Puzzle Break is capitalizing on that idea with a portable version of its escape room for corporate events. The company also runs two escape rooms at its venue in the city and one on a Royal Caribbean cruise ship.
Puzzle Break CEO Nate Martin, who previously held high positions at Microsoft and Electronic Arts, and his partner, Lindsay Morse, a University of Puget Sound professor, opened the business in October 2013. They started off making around $10,000 a month, but this year Puzzle Break is on pace to collect more than $600,000, Martin said.
"It's a remarkably different thing," he said. "It's just outside people's comfort zones, so they're a little hesitant, but then they really love it."
Local journalism is essential.
Give directly to The Spokesman-Review's Northwest Passages community forums series -- which helps to offset the costs of several reporter and editor positions at the newspaper -- by using the easy options below. Gifts processed in this system are not tax deductible, but are predominately used to help meet the local financial requirements needed to receive national matching-grant funds.
Subscribe now to get breaking news alerts in your email inbox
Get breaking news delivered to your inbox as it happens.
---