This column reflects the opinion of the writer. Learn about the differences between a news story and an opinion column.
Opinion > Column
Shawn Vestal: Arts entrepreneurs' next project is dressing up downtown
Fri., July 10, 2015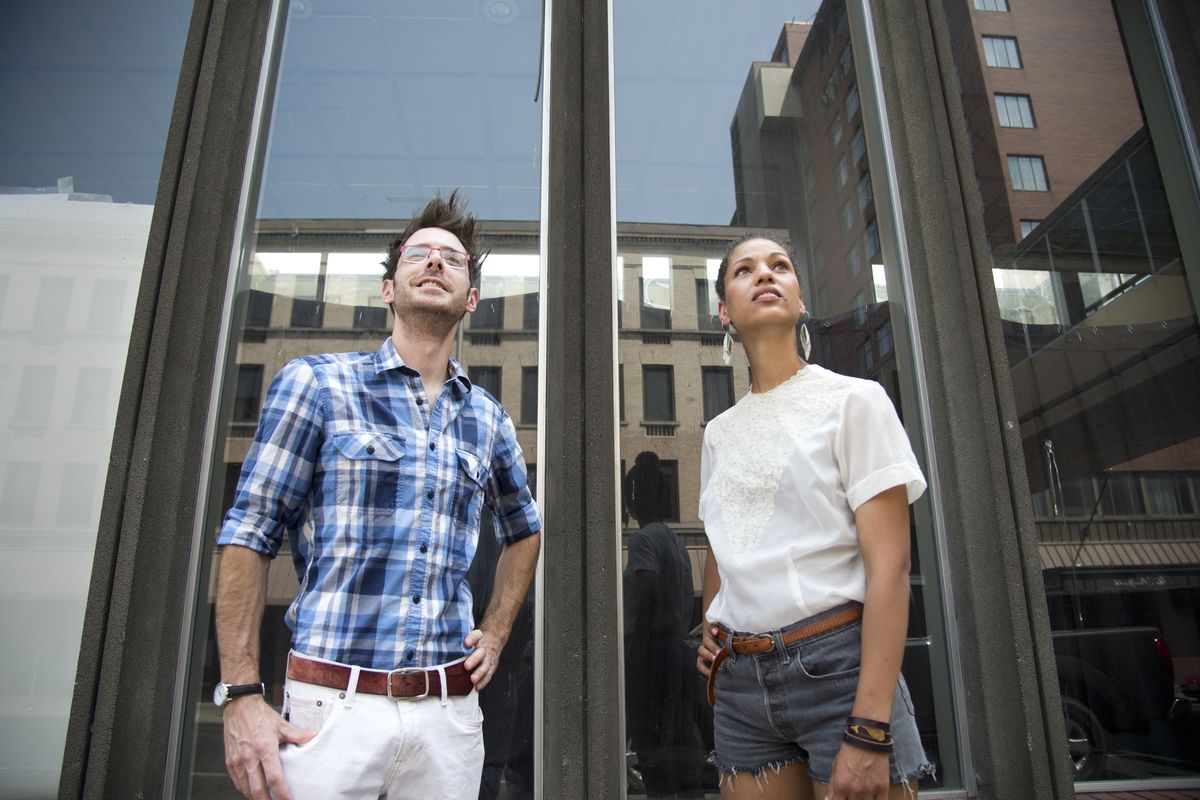 Alan Chatham and Ginger Ewing run Window Dressing, an organization that aims to bring art installations to empty windows and storefronts downtown. They are standing in front of the Ridpath Motor Inn, one of the empty buildings they hope to fill with life. (Jesse Tinsley)
It's been just three weeks since the second Bazaar, the downtown local arts festival that already feels like a community staple.
So naturally, Ginger Ewing, one of the people who work so hard to make that event happen, is taking a little time off.
Sort of.
"This is the first vacation I've taken in seven years," Ewing said this week, "and I have worked every day of it. When I say I'm taking time off, I am. I'm not working the entire day."
Vacation doesn't seem to be part of the plan for Ewing or her husband, Luke Baumgarten. The couple have been busy – like, busy-busy – planting an ever-growing garden of energetic, optimistic artistic vibrancy, and Spokane is reaping the benefits: Terrain, their one-night juried art show, has flourished since it began in 2008; the artists at Bazaar collectively sold more than $60,000 worth of art June 20; and now Ewing is looking to expand her side project, Window Dressing.
Ewing is getting ready to launch a "pop-up" business project, in which property owners would give fledgling creative business people space for several months of low or no rent. The idea is to give them a chance to try something new, with the goal of establishing a long-term business.
More immediate is Window Dressing's new project at the Ridpath Hotel. Ewing, the director of Window Dressing, and assistant director Alan Chatham are taking applications from artists to do installations in and around the hotel. Submissions close Aug. 2. Artists selected will receive a $500 stipend.
Ewing said the goal is to have "site-specific installations" – projects that "really create something entirely new to change the perception of the space."
The installations are scheduled to be unveiled in early September, but the timing is up in the air as developer Ron Wells continues to put together a financing package to renovate the hotel. The Ridpath was open in Spokane for a century before being pieced off in a series of byzantine condominium deals, then closing in 2008 and falling into decrepitude.
"My pitch to (Wells) was just let us in the space and when you need us to get out of the way we'll get out of the way," Ewing said.
Wells is now building two high-end condos on the top floors of the Ridpath and working to consolidate the ownership in the lower floors for the construction of small, inexpensive apartments. He has been working on the plan since 2013, has fought through legal issues and other setbacks, and says he's in the final stages of trying to arrange a financing package built around tax credits for historic preservation and affordable housing. He's hoping that construction on the apartments could begin by the end of this year – but he's also careful to qualify all timelines as tentative, given the hotel's tendency to swallow up the best-laid plans.
"I'd guess we've resolved 950 of 1,000 contingencies," Wells said. "The reality is, it isn't over until it's over."
The goal of Window Dressing is to add vibrancy to empty urban spaces – to use art as a weapon against the malaise and sense of abandonment that unused storefronts present. It has staged several installations in the front windows of the former Terrain space on First Avenue. Most recently, the program put together installations downtown in conjunction with authors whose works were being featured at Get Lit!
In the next six months or so, Ewing and Chatham hope to add a second piece to the Window Dressing picture – the pop-up retail venture. The idea is to break down some of the economic barriers that keep urban storefronts empty, by giving creative people a lower-risk way to step into the market and property owners a lower-risk way to try an untested idea.
The idea is still very much in the developing stages. But Ewing's goal is to have property owners provide free or inexpensive rent for six months or so to let entrepreneurs see if they can make a go. In Newcastle, Australia and Tacoma, similar projects have helped fill in downtown vacancies, and have helped small, local startups gain a foothold.
Tacoma's project, Spaceworks, has shown promise in helping fill downtown vacancies. Since 2010, Ewing said, 27 of the 36 pop-up businesses there have become established.
"These projects have had a huge impact on transforming the downtown core in those cities," Ewing said.
She said the Spokane project will focus on creative businesses – people who make something and are looking for ways to expand their markets, such as Bazaar artists, people with an Etsy shop or farmers market vendors.
It is a fascinating idea, and it would be great to see it take hold here – another symptom of the positive cultural infection that Ewing, Baumgarten and their partners in art have given Spokane.
There was a time not that long ago when Terrain, all by itself, sounded like an ambitious idea – a single night of arts and music, built on the idea of supporting emerging artists and helping them sell their work. And then there was a time when finding a building dedicated to Terrain was an ambitious idea. And when adding Bazaar to the mix was an ambitious idea. Then came Window Dressing, with its street-level installations and soon, hopefully, the pop-up stores.
What in the world is the end game? Will Ewing and company just keep adding new projects until the creative class becomes the ruling class, and they collapse in exhaustion?
"I probably ask myself that every day," Ewing said. "We just love our city, and we really, really want it to succeed, and we're not very good at saying no."
Shawn Vestal can be reached at (509) 459-5431 or
shawnv@ spokesman.com
. Follow him on Twitter at @vestal13.
---
---