News > Spokane
EWU professor dies in climbing accident
Sat., July 11, 2015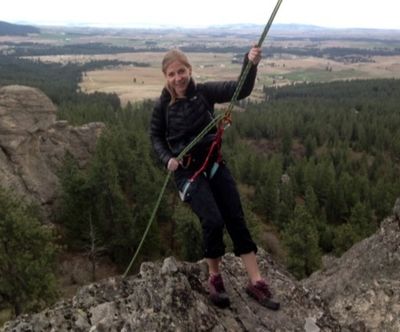 Anna Dvorak didn't like to waste time. By age 28, the former professional mountain biker had a doctorate in geography and a tenure-track job at Eastern Washington University. Her free time was spent outside, hiking, biking or mountaineering.
"She never lived life with fear. She lived life fully," said close friend Teodora Baba. "She loved to do everything fast."
On Tuesday afternoon Dvorak died in a climbing accident in the Sawtooth Recreational Area near Stanley, Idaho.
Dvorak was climbing on the Elephant's Perch rock formation with a partner when she fell around 1:30 p.m. According to a news release from Custer County Search and Rescue, she sustained extensive injuries to her head and face.
Her partner, with the help of another climber, lowered her to a rock ledge, where they began performing first aid. Army Air Guard and Idaho Mountain High Angle Rescue teams were dispatched from Boise. However, because of the remote location, the rescue team wasn't able to arrive until late in the afternoon.
Her partner and the other climber started performing CPR and rescue breathing. However, she died just after 6 p.m.
Dvorak was remembered as a positive and energetic person who loved pushing her physical limits.
"It doesn't matter if you were lost in the dark at 2 a.m.," said Dana Walters, Dvorak's ex-boyfriend. "She was happy and just enjoying the moment."
Summer Hess, a close friend and fellow employee at EWU, was impressed by Dvorak's high energy and focus.
"She was unafraid of setting huge goals, and she was eager to acquire the skills that would enable her to pursue those goals," Hess wrote in an email. "In terms of energy, positivity, and athleticism, she was one of the best climbing partners I've ever had."
From a young age Dvorak was fascinated by climbing, especially in the Cascades, Hess said. When she moved to Spokane in 2013 she immersed herself in mountaineering. Dvorak was a member of the Spokane Mountaineers and led the group's mountain bike committee.
"I would say that the type of climbing that she was doing, which is alpine climbing, is about as raw as it gets," said Brian Hoots, Spokane Mountaineers president. "There is always that element of risk."
Although Hoots didn't know Dvorak well, he remembered her as energetic and passionate. She was always leading, or going on, outdoor trips, he said. In fact, she was scheduled to lead a trip to Mount Rainier on Friday. That trip was canceled, Hoots said.
Despite the tragedy, Hoots pointed to the fact that she died doing something she loved.
"The fear that we all have is that we're all going to drop dead at our desks, versus climbing or hiking or doing something that we love," Hoots said.
This sentiment was echoed by Dvorak's parents in a Facebook message posted to Dvorak's page Thursday morning. They wrote, in part, "Anna passed away July 7, 2015, in the Idaho Mountains doing what she loved the most."
EWU expressed condolences to Dvorak's friends and family in a news release. Dvorak had taught at EWU since September 2013.
Dvorak was born in Panorama City, California, and earned an undergraduate degree from the University of California at Berkeley. She moved to Spokane after accepting an assistant professorship in geography. She had a doctorate in geography from the University of California, Los Angeles. Her dissertation was titled "Geography of Polish-Brazilian Cultural Identity."
"She was into extremes, that's what made her happy," Walters said. "I'm going to miss her a lot."
Local journalism is essential.
Give directly to The Spokesman-Review's Northwest Passages community forums series -- which helps to offset the costs of several reporter and editor positions at the newspaper -- by using the easy options below. Gifts processed in this system are not tax deductible, but are predominately used to help meet the local financial requirements needed to receive national matching-grant funds.
Subscribe now to get breaking news alerts in your email inbox
Get breaking news delivered to your inbox as it happens.
---