Sports
Hockey greats, including Great One, turn out for charity game
Sat., July 11, 2015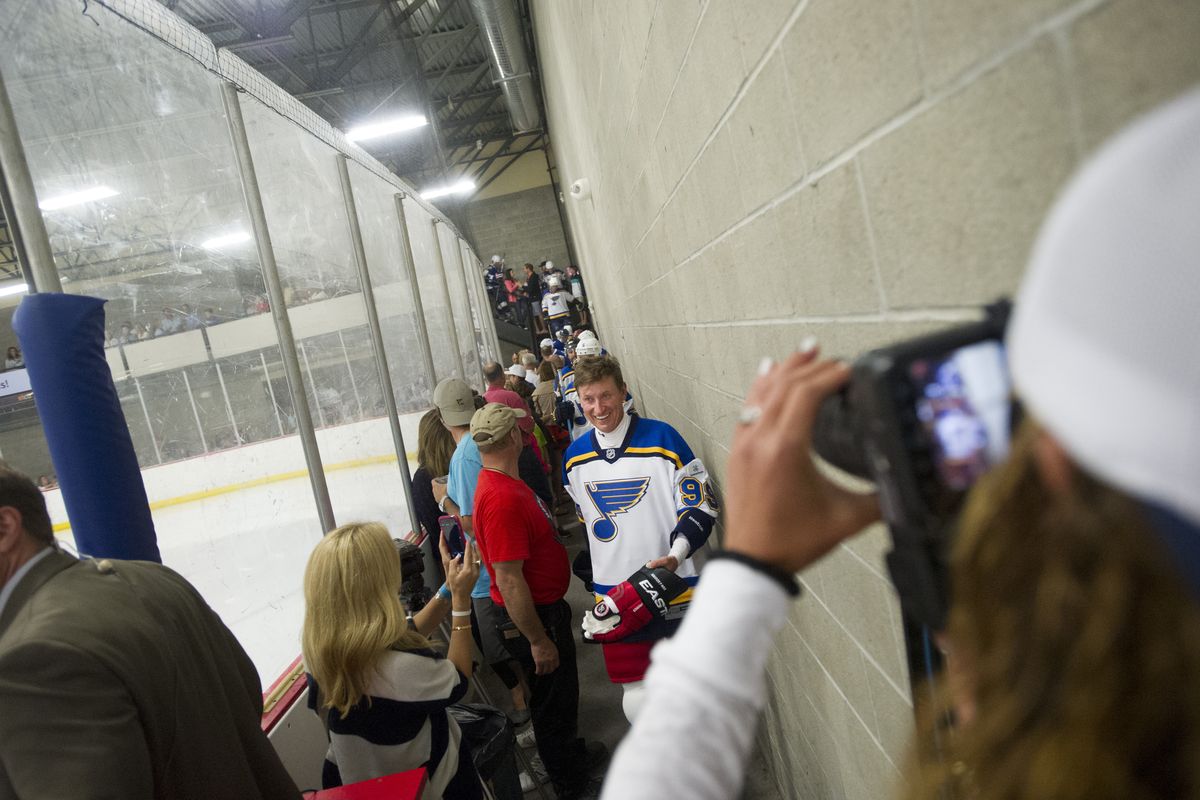 Hockey legend Wayne Gretzky turns out to be quite photogenic while taking part in charity game at Frontier Ice Arena. (Tyler Tjomsland)
Temperatures throughout the area were in the mid-80s to low-90s across the region once again, but Frontier Ice Arena in Coeur d'Alene helped cool off those who gathered to support Hockey Fest 2015 at its signature event on Friday.
The arena was the site of a charity all-star game featuring some of the biggest names in the history of hockey, current and former NHL players and favorites from the Spokane Chiefs.
Last year, Frontier Ice Arena held the inaugural Hockey Fest to raise money to help offset the expenses of hockey at the arena and to make improvements to the facilities at North Idaho's only hockey rink. With the assistance of local business and donors, the event raised over $30,000 last year and event organizers expect to exceed that amount this year. All the proceeds from this year's event go to support youth hockey.
Organizers added the Tyler Johnson Hockey Camp this year, where up to 200 children ages 5 to 12 of any skill level had a chance to work with Johnson and other NHL player-instructors on their on-ice skills.
Johnson, the Liberty Lake native, former Spokane Chief and current star of the NHL's Tampa Bay Lightning began his junior hockey career at the former Kootenai Youth Recreation Organization (KYRO) rink at Frontier, before a heavy snow load crushed the facility in 2008.
Johnson knows first-hand how important events like this are to so many hockey dreams in the area.
"It's important to me just because the Spokane/Post Falls/Coeur d'Alene communities here are like one big family," Johnson said. "We're trying to keep hockey growing – to give every kid in the area an opportunity to play hockey.
"You know, every kid growing up always throws a baseball, throws a football or whatever but everyone can't say they're shooting a hockey puck and we're trying to change that. We want to give everyone an opportunity regardless of their financial situation, and with an event like this we can build towards that."
Johnson's camp was Thursday, ahead of the main event – the NHL Legends Game, featuring all-time greats Wayne Gretzky, Brett Hull and Guy Carbonneau, along with Johnson – who coached this year while he rehabs his injured wrist, Jamie and Jordie Benn from the Dallas Stars and 20 other current and former NHL players – as well as recent Spokane Chiefs players Kailer and Keanu Yamamoto, Mitch Holmberg and Derek Ryan (Shadle Park), who recently signed a two-way contract with the Carolina Hurricanes.
Johnson was effusive with his praise for the legends that gave of themselves to support his cause.
"That's a tremendous honor that those guys help out in the community here," Johnson said. "It says a lot about their character, and about what this community means to them as well. We can't thank them enough for that and it's a tremendous honor for everyone involved to have them be a part of it."
How does a small-town ice rink have the pull to produce a big league exhibition game with some of the brightest names in hockey? Johnson's local connection is certainly the catalyst, but it helps that hockey luminaries Gretzky and Hull have summer homes in the area as well and want to contribute to the efforts of Frontier Arena.
Hull, who's lived in the region for almost eight years, sees hockey growing in the area.
"We've always tried to be a part of the community and to be able to do this and raise money for local charities and for youth hockey is important to us," Hull said.
One of the all-time great scorers in the NHL, Hull didn't play in the event, but he coached the squad wearing the uniforms of the St. Louis Blues, while Johnson coached the Lightning squad.
"You see these guys come out here – Wayne Gretzky, the Babe Ruth of hockey is here and he plays in this game," Hull continued. "It means that much to him, to raise money for our community, and we feel a part of it. It's important that the things we do in this area matter. That's the No. 1 thing."
Ryan was one of the game's goal-scorers – on an assist from Gretzky. Ryan, who was named the Swedish Hockey League MVP for the 2014-15 season, signed a two-way contract with the Carolina Hurricanes earlier this summer.
So how about playing with Gretzky?
"It's surreal," Ryan said. "The first period there I was sitting next to Wayne Gretzky the whole time on the bench and I mean, how do you make small talk with Wayne Gretzky? I got to score a goal off a pass from Wayne Gretzky, which is something I can tell my son when he grows up. It's something you dream of as a child. Living that dream is almost hard to put into words."
Local journalism is essential.
Give directly to The Spokesman-Review's Northwest Passages community forums series -- which helps to offset the costs of several reporter and editor positions at the newspaper -- by using the easy options below. Gifts processed in this system are not tax deductible, but are predominately used to help meet the local financial requirements needed to receive national matching-grant funds.
Subscribe to the sports newsletter
Get the day's top sports headlines and breaking news delivered to your inbox by subscribing here.
---