News > Marijuana
Legal pot survives year of upheaval
Tax, market changes coming for industry
Sat., July 11, 2015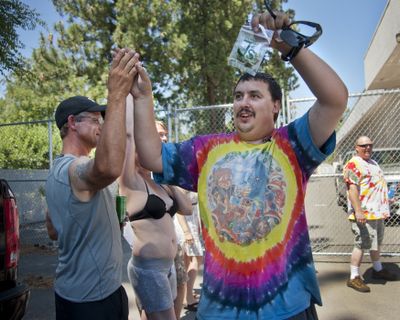 It's been a little more than a year since Mike Boyer held the marijuana he purchased legally, the first person in Spokane County to do so, above his head and shouted, "Go Washington!" to a crowd of cheering onlookers.
Since then, Boyer has lost two jobs, a home and countless other employment opportunities while the legal pot industry continues to boom. He also was arrested in March after allegations of domestic violence in an incident Boyer called "a misunderstanding."
Still, Boyer said he has no regrets.
"Those jobs are just jobs," he said this week. "That stuff happens in life."
Boyer's purchase kickstarted an industry in Spokane County that produced $5.5 million in tax revenue last year. The number of shops selling recreational marijuana in the county has jumped from one on July 8, 2014, to 14 a year later. A gram of weed on that day cost at least $20; today some strains cost half that amount around town, and purchases aren't limited to bud: Baked goods, syrups and even fizzy sodas are available at most stores.
Farmers, sellers and customers have lots of reasons to be optimistic as Washington's experiment selling state-sanctioned recreational marijuana enters its second year. But moratoriums persist in several local jurisdictions, several advocacy groups are warning that the consequences of using the drug are lost on a generation of teenagers, and a major outdoor harvest expected in the fall has the potential to doom some sellers who are already operating at the thinnest of profit margins.
Boyer, whose face was broadcast nationwide as Washington consumers gained access to a legal market for the first time, felt personally the roller coaster ride of the new industry. Now seeking steady employment in cannabis, he prefers to look on the bright side.
"I've had a good time with that. A whole lot of opportunities opened up for me," he said.
A tax break for producers
Kevin Oliver straddles two roles.
He's the executive director of Washington's chapter of the National Organization for the Reform of Marijuana Laws. He's also co-owner, with his wife, of Washington's Finest Cannabis, a company that grows and processes marijuana sold in stores around the state.
The position gives him a dual perspective on the fledgling industry and the recent reforms to the recreational market passed by the Washington Legislature. Those laws took away the 25 percent state tax charged to producers and processors, replacing it with a 37 percent tax at the retail level.
A less stringent taxing structure helps producers like Oliver make money but means fewer dollars are going to the educational and health programs at the state level that helped push approval of decriminalization in the first place.
"This law, it takes away from some of the more socially conscious and socially progressive portions of the bill," Oliver said.
The taxing structure also benefits small farms that are not producing the plant yield necessary to break even, Oliver said. Despite sales each month totaling tens of thousands of dollars for some producers and processors, the taxing structure makes it difficult to pay laborers and recoup investments that could have reached into millions of dollars for large farmers.
"I think everybody thought they'd be selling pot at $15 to $20 a gram at the producer level," Oliver said, noting that some farmers are getting just $1 to $3 a gram.
A 25 percent tax break, then, may be only worth a couple of dozen pennies. But that may be important cash when outdoor-grown marijuana hits the market this fall, Oliver said.
Relief may come in the form of increased growing capacity when medical licenses are issued by the state. Producers will be able to apply for more canopy space for strains that specifically cater to medical marijuana patients and sell in more places, Oliver said.
"In the long run, when we have all these access points, and the moratoriums are all lifted, I think on paper it's going to work great," Oliver said. "But there's a lot of growing pains we have to get through before we get there."
Retail shows no signs of slowing
Justin Peterson doubled down on his investment in the marijuana industry, opening two stores under the Cinder name in Spokane Valley and on Division Street.
The gamble resulted in the county's first pot franchise, and the two stores took in a combined $805,000 last month.
Cinder isn't the only store seeing increased revenue month after month. Since January, Spokane County's 14 pot shops have all posted sales figures greater than the month before. Spokane Green Leaf, the only shop that's posted a full 12 months of revenue starting with selling Boyer his weed a year ago, sold $3.3 million worth of marijuana through June.
Though the market continues to grow, Peterson said eventually sales will hit a ceiling. He also said the current number of stores represent a healthy market in Spokane County, but adding more could "dilute" the market and drive down profit margins.
"You kind of have to get a certain amount of income a month, just to make any money," he said.
Peterson's stores are not hurting for a variety of products or a willing workforce, he said. Cinder is constantly stocking new products, such as sodas and dried fruit infused with marijuana. And when Peterson posts a job listing, he said he receives hundreds of resumes from folks wanting to work in the industry. But he said many of those workers may have the wrong idea about what a job at his store entails.
"Some people misconstrue what the job is. They think it's just hanging around the shop all day, smoking weed and just talking about weed," he said. "This is a retail job."
State law prohibits employees or customers from using marijuana products inside shops. Recent revisions to the law relax restrictions about where shops like Cinder can locate; previously, stores had to set up shop more than 1,000 feet from parks, transit centers and libraries. The Legislature gave local governments the authority to reduce that buffer zone to just 100 feet, though stores must remain at least 1,000 feet from schools.
Peterson anticipates a modest increase in his business as the medicinal marijuana market comes under state control. He said he supports the move to regulate the medical market, because it ensures the right people will have access to cannabis for health reasons.
"You have some people looking for cheap weed, with a made-up condition," he said. "That needs to go away."
What's changing for the customer
While the recreational market continues to grow, Boyer said he still sees room for improvement to the customer.
"There's a lot of wasteful packaging," he said. "After a month or so, you get a huge pile of jars. A lot of the packaging isn't recyclable; that's a waste."
Boyer also criticized the lack of marijuana tourism and the ability to use the drug at certain businesses. Spokane Valley moved earlier this year to place a moratorium on medicinal marijuana shops and "smoking lounges" after the Spokane County Sheriff's Office reported teenagers driving while high.
There are efforts underway to make the process for adults to buy legal marijuana easier. Spokane Green Leaf now accepts debit card purchases, and U.S. Sen. Patty Murray joined a group of lawmakers from Oregon and Colorado introducing a bill in the Senate this week that would make it easier for banks to provide loans and other services to legal marijuana businesses.
Boyer hopes to be part of the industry as it continues to grow. After the story of his firing by temp agencies went viral last July, he found multiple internships with medical shops in the industry.
He said his legal troubles blocked him from attaining full-time marijuana employment. The mother of his child alleges he attacked her in a parking lot while exchanging custody of the child. Boyer says he was attacked first and that the case will be settled soon.
Boyer remains optimistic he'll find a full-time job in the industry and believes his short-lived celebrity last summer has opened doors for him.
"It's been a pretty good ride," he said.
Local journalism is essential.
Give directly to The Spokesman-Review's Northwest Passages community forums series -- which helps to offset the costs of several reporter and editor positions at the newspaper -- by using the easy options below. Gifts processed in this system are not tax deductible, but are predominately used to help meet the local financial requirements needed to receive national matching-grant funds.
Subscribe to the Coronavirus newsletter
Get the day's latest Coronavirus news delivered to your inbox by subscribing to our newsletter.
---