Sports
MLB notes: Royals' Mike Moustakas, Cardinals' Carlos Martinez win final fan vote
Sat., July 11, 2015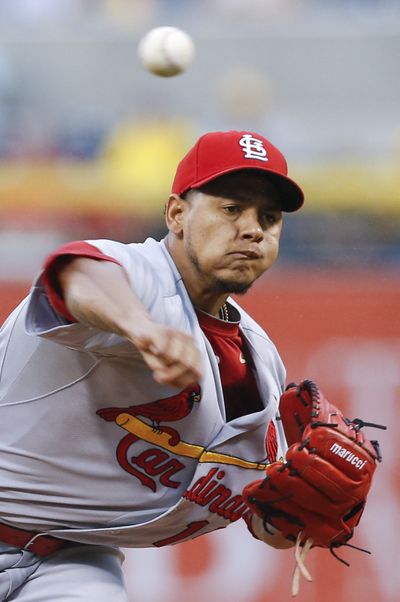 NEW YORK – Kansas City Royals third baseman Mike Moustakas and St. Louis Cardinals right-hander Carlos Martinez are going to the All-Star Game as winners of the final fan vote.
Martinez surged ahead of Reds pitcher Johnny Cueto in voting that ended Friday afternoon to become the sixth Cardinals player to make the N.L. roster for Tuesday's game in Cincinnati.
A first-time All-Star, Martinez might've gotten a voting boost from his outing Thursday night, pitching 7 1/3 scoreless innings against the N.L. Central-rival Pirates. The 23-year-old Martinez is 10-3 with 2.52 ERA this season.
"When I saw names like Cueto and Kershaw and Tulowitzki, I really didn't feel like I had a very good chance to win," Martinez said ahead of the Cardinals' game at Pittsburgh. "That's why I'm so thankful to all the fans and all their help."
Dodgers ace Clayton Kershaw, Colorado shortstop Troy Tulowitzki and Mets closer Jeurys Familia were also in contention.
Moustakas, 26, becomes the seventh Royals player set to participate in the All-Star Game. Also a first time All-Star, Moustakas was hitting .301 with seven homers and 31 RBIs for the A.L. Central leaders.
He beat out Minnesota's Brian Dozier, Tigers outfielder Yoenis Cespedes and Red Sox shortstop Xander Bogaerts for the last American League spot. Yankees outfielder Brett Gardner was in the final five, but he replaced Moustakas' injured teammate Alex Gordon on the roster Wednesday.
"The best fans in baseball. They proved that in the voting and again with the second voting. They've been with me the whole way," Moustakas said in Kansas City. "It's an exciting time to be a Royal."
Moustakas had been away from the team for the previous four games to be with his ailing mother, missing out on much of the campaigning for the final spot.
"When I'm hanging out with my mom, all that other stuff doesn't really matter," he said. "It really puts everything else in perspective."
Marlins to recall ex-Coug Conley
The Miami Marlins will recall left-handed pitcher Adam Conley from Triple-A New Orleans to make his first major league start today against Cincinnati. Conley, a former WSU player who worked in relief for the Marlins earlier this season, will take Mat Latos' turn in rotation. Jordany Valdespin was designated for assignment.
Clearing the bases
RHP Neftali Feliz told the Rangers he would not accept an outright assignment to the minor leagues, making him a free agent. … The Nationals placed CF Denard Span on the 15-day disabled list. … The Cubs do not expect RHP Jason Hammel to miss a turn in the rotation because of a hamstring problem. Hammel, 5-4 with a 2.86 ERA in 17 starts, left a game Wednesday because of tightness in his hamstring.
Local journalism is essential.
Give directly to The Spokesman-Review's Northwest Passages community forums series -- which helps to offset the costs of several reporter and editor positions at the newspaper -- by using the easy options below. Gifts processed in this system are not tax deductible, but are predominately used to help meet the local financial requirements needed to receive national matching-grant funds.
Subscribe to the sports newsletter
Get the day's top sports headlines and breaking news delivered to your inbox by subscribing here.
---