Sports
U.S. beats Haiti 1-0 in Gold Cup, clinches group title
Sat., July 11, 2015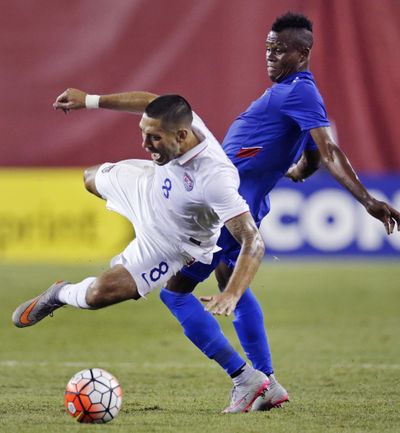 FOXBOROUGH, Mass. – Gyasi Zardes didn't wait long to make an impact for the United States in its Gold Cup match against Haiti on Friday night.
The 23-year-old forward entered at the start of the second half for Jozy Altidore, who is still recovering from a hamstring injury. Less than two minutes later, the forward with the blond-streaked Mohawk turned a pass from Greg Garza into a perfect setup for Clint Dempsey's goal, sending the Americans to a 1-0 win that clinched their group title.
"Gyasi has the special talent to take people on," U.S. coach Jurgen Klinsmann said, calling Zardes curious and eager to learn. "He has a lot of talent and a lot of potential. We just want to tell him every day, 'One step at a time.' … It's a real joy to work with him."
Dempsey scored in the 47th minute and Brad Guzan made a pair of point-blank saves in the second half for the defending champions, who improved to 2-0 in the opening round and clinched a spot in a July 18 quarterfinal in Baltimore.
The Americans have won six in a row, are 30-1-2 in Gold Cup group play and have reached the knockout stage of all 13 Gold Cup tournaments. They have one game remaining in the group stage, against Panama on Monday in Kansas City, Kansas.
"It's a nice feeling, knowing that we are already in. But we are not slowing down," Klinsmann said. "We know we have an influence on who's going through. … So we will not take our foot off the pedal."
On the goal, Zardes said he made eye contact with Garza, then gave the defender a head nod before Garcia lofted the ball toward the penalty area. Zardas ran onto the ball and cut a pass backward, knowing that one of the forwards would be cutting toward the goal. It turned out to be Dempsey, who scored with a right-footed shot from about 12 yards.
Dempsey has scored in the last four games he's played for the U.S. national team, one shy of the record Altidore set two years ago. Dempsey's 44 international goals are 13 shy of Landon Donovan's American record.
Haiti, which is 0-1-1, will play Honduras on Monday.
Local journalism is essential.
Give directly to The Spokesman-Review's Northwest Passages community forums series -- which helps to offset the costs of several reporter and editor positions at the newspaper -- by using the easy options below. Gifts processed in this system are not tax deductible, but are predominately used to help meet the local financial requirements needed to receive national matching-grant funds.
Subscribe to the sports newsletter
Get the day's top sports headlines and breaking news delivered to your inbox by subscribing here.
---