Sports > Outdoors
Drought puts Western fisheries in hot water
Near-lethal conditions found in 54 rivers
Sun., July 12, 2015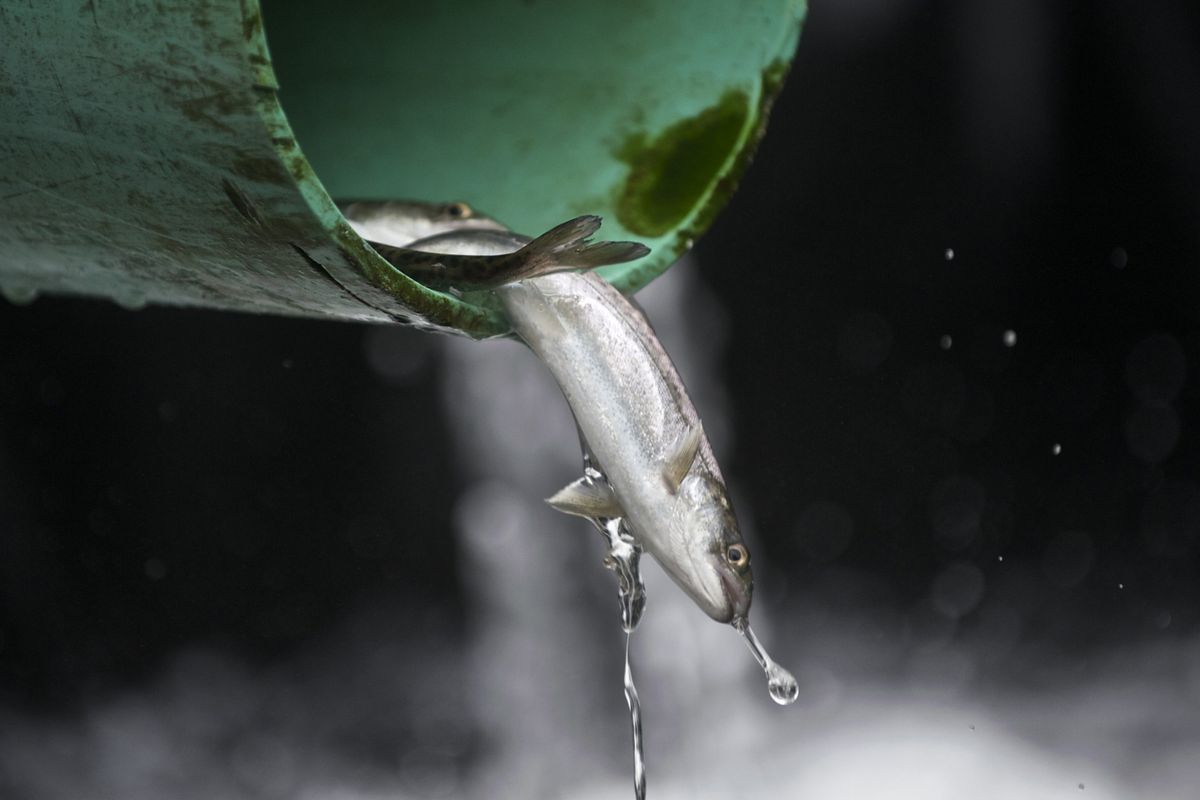 Hatchery fish are being released early in hopes they'll survive. (Associated Press)
Drought and record hot weather are producing lethal conditions for salmon and trout in rivers across the West.
A recent survey released Wednesday of the lower reaches of 54 rivers in Oregon, California and Washington by the Wild Fish Conservancy showed nearly three-quarters had temperatures higher than 70 degrees, considered potentially deadly for salmon and trout.
Fish are doing better in some Idaho and Montana waters, although Montana has enacted restricted hours for fishing on the Bitterroot, Blackfoot and Clark Fork rivers. Fishing is prohibited from 2 p.m. to 11 p.m. until water temperatures decrease from highs over 72 degrees.
Low river flows from the record-low winter snowpack, which normally feeds rivers through the summer, combined with record hot weather have created the concern for fisheries, said U.S. Fish and Wildlife Service supervisory fisheries biologist Rich Johnson.
"It's unprecedented, I'd say," Johnson said.
The Spokane River will be flowing out of Lake Coeur d'Alene at Post Falls at the minimum low flow of 500 cubic feet per second (cfs) this week, well below the median flow of about 2,000 cfs for this time of year.
But cool water from the aquifer flows into the Spokane River at certain points starting in Spokane Valley, offering refuge for trout. The flow at Spokane this week will be around 800 cfs, still below the record low-flow of 1,190 cfs in 1994 and far below the median of 3,000 cfs.
Washington Department of Fish and Wildlife biologists have been monitoring Spokane River temperatures and flows with an eye out especially for the native redband rainbow trout.
"We have no pending action, but we're watching it every day," said Madonna Luers, department spokeswoman.
"Basically, the fish have places they go to find cooler water. The problem could come if fishermen exploited those fish where they are concentrated."
Idaho Fish and Game officials also are watching the Coeur d'Alene and other area streams, but have no current plans for angling restrictions.
"We're certainly concerned and watching the drought conditions," said Andy Dux, Panhandle Region fisheries manager. He said trout tend to become less active and seek micro habitats of cooler water.
"We ask anglers to take a common sense approach. If you're releasing fish, don't play them long; keep them in the water and release them as quickly as you can."
The entire West Coast saw a record low snowpack last winter, leading to low rivers this summer. All three states had record high temperatures for June, with Oregon breaking the record by 3 degrees, said Kathie Dello of the Oregon Climate Center.
The three-month outlook from the National Oceanic and Atmospheric Administration is for continued warmer and drier-than-normal weather made worse by the ocean-warming condition known as El Nino, she added.
"This is the worst-case scenario playing out right now, a warm winter and then a warm and dry summer," she said.
Salmon fishermen are enjoying great fishing success on sockeye and summer chinook in portions of the Columbia River, notably the upper Columbia. The unusually warm Okanogan River is posing a thermal barrier that's causing fish to stack up between Wells Dam and Chief Joseph Dam, which has no fish passage.
Jeff Korth, regional fisheries manager for central Washington, said he's worried that concentrated sockeyes will start dying if the Columbia River temperatures hang in the range of 70 degrees too long.
Oregon's Willamette River saw scores of dead salmon in June.
This week, biologists examined about 50 dead sockeye salmon in the mouth of the Deschutes River. Oregon fisheries biologist Rod French said they appeared to have been infected with a gill rot disease associated with warm water, and had probably left the warm waters of the Columbia River in search of cooler water.
California is considering emergency fishing closures on several rivers so that fish weakened by the warm water do not die from being played by an angler, even if they are released. They include the lower Merced, the American and the Klamath.
In Washington, two federal fish hatcheries in the Columbia Gorge released 6 million juvenile salmon two weeks early in the Columbia River, in hopes they would have a better chance of reaching the ocean before temperatures got even warmer, said Johnson.
Contingency plans to protect hatchery fish include pumping water from deep wells and trucking returning salmon to hatchery facilities.
Fishing on a section of the Sol Duc River was curtailed to protect returning chinook. The spring chinook season on the Grande Ronde River was closed early due to low river flows.
"It's just a perfect storm of bad weather conditions for salmon," Johnson said. "Pray for rain and snow."
River flows are so low, the Washington Department of Fish and Wildlife is sending crews to clear impromptu dams people build with rocks to create river pools, so the salmon can swim upstream to spawn, said department drought coordinator Teresa Scott.
Rivers are at levels normally not expected until September, and no one knows if they will drop even further.
"This is such a huge magnitude compared to previous droughts," she said. "Records available from before don't come close to preparing us for what we are encountering this year."
"Certainly we've had significant droughts in the past, such as the late '70s," said Bruce McIntosh, Oregon deputy fisheries chief. "But the challenge this year has been not only are there drought conditions, we're having August temperatures in June. That combination we really have not seen before."
Liz Hamilton of the Northwest Sportfishing Association, said closures are not needed. When temperatures get too warm, fish go off the bite, and anglers quit fishing anyway, she said.
"It was 2001 or 2002 and the Columbia got really hot in the fall," she recalled. "There were fish everywhere. You had a better chance of one jumping in the boat than of biting. If people are not catching, they are not spreading the word to go, and less and less people go."
However, state biologists and many fishing groups are asking anglers to self-regulate and follow Montana's lead by fishing drought-affected trout streams only in the morning hours when water temperatures are cooler.
Outdoors editor Rich Landers contributed to this story.
Local journalism is essential.
Give directly to The Spokesman-Review's Northwest Passages community forums series -- which helps to offset the costs of several reporter and editor positions at the newspaper -- by using the easy options below. Gifts processed in this system are not tax deductible, but are predominately used to help meet the local financial requirements needed to receive national matching-grant funds.
Subscribe to the sports newsletter
Get the day's top sports headlines and breaking news delivered to your inbox by subscribing here.
---