Sports > Seattle Mariners
Hisashi Iwakuma flashes dominant form in Mariners' victory over Angels
Sun., July 12, 2015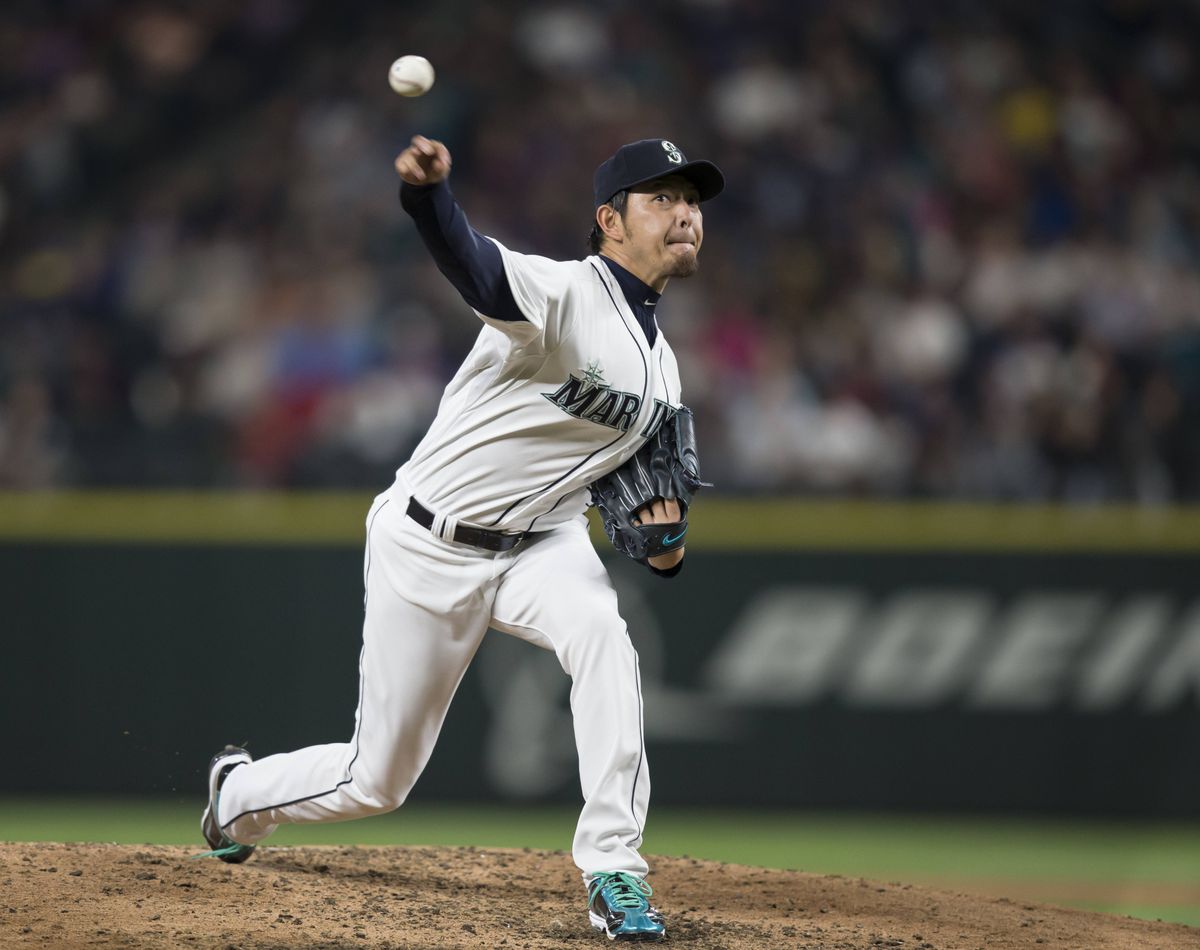 M's starter Hisashi Iwakuma recorded six strikeouts in eight innings in 5-0 win. (Associated Press)
SEATTLE – Well, now, how might an in-form Hisashi Iwakuma affect the chances for the Mariners to mount a charge after the All-Star break?
That's worth pondering today after Iwakuma weathered a shaky first inning Saturday night before settling into dominant form in a 5-0 victory over the Los Angeles Angels at Safeco Field.
"It's been a tough year so far," he said, "but I need to make up for what I've lost. The last couple of starts, I wasn't able to contribute. From here on, I'd like to contribute."
This was Iwakuma at his best, too.
"That as close as I've seen him to his 2013 form," catcher Mike Zunino said. "Keeping the ball down. Having the sinker. Having the split to go with it. He threw the slider, the curveball. Everything was great today."
Iwakuma (1-1) gave up two singles in the first inning before escaping from a bases-loaded jam with no outs. He permitted just two base-runners, on a walk and a single, over the next seven innings.
Mark Lowe closed out the victory by pitching a scoreless ninth.
Iwakuma's victory was his first of the season, although it came in just his fifth start. He spent more than two months on the disabled list because of a strained right latissimus dorsi muscle in his back.
"I think his stuff picked up a little as the game went on," Angels manager Mike Scioscia said. "He had that good (sinker) going down into our right-handed swings as the game progressed."
The Mariners also had an encouraging night at the plate against Angels left-hander C.J. Wilson, a long-time nemesis.
Wilson (7-7) entered the game at 16-8 with a 3.33 ERA against the Mariners in 60 career appearances, including 23 starts. That includes just three earned runs over 28 innings in his four previous starts against the Mariners.
"I thought we had very professional at-bats when we needed them," manager Lloyd McClendon said. "Tonight, the offense showed what they're capable of (doing) when their approach is good."
Once Wilson departed, the Mariners jumped relievers Mike Morin and Jose Alvarez for two two-out insurance runs.
Alvarez replaced Morin and surrendered a bloop single to Logan Morrison for the game's final run.
Local journalism is essential.
Give directly to The Spokesman-Review's Northwest Passages community forums series -- which helps to offset the costs of several reporter and editor positions at the newspaper -- by using the easy options below. Gifts processed in this system are not tax deductible, but are predominately used to help meet the local financial requirements needed to receive national matching-grant funds.
Subscribe to the sports newsletter
Get the day's top sports headlines and breaking news delivered to your inbox by subscribing here.
---