News > Spokane
Then and Now: C.F. Bruschi's Brush Cycle
Mon., July 13, 2015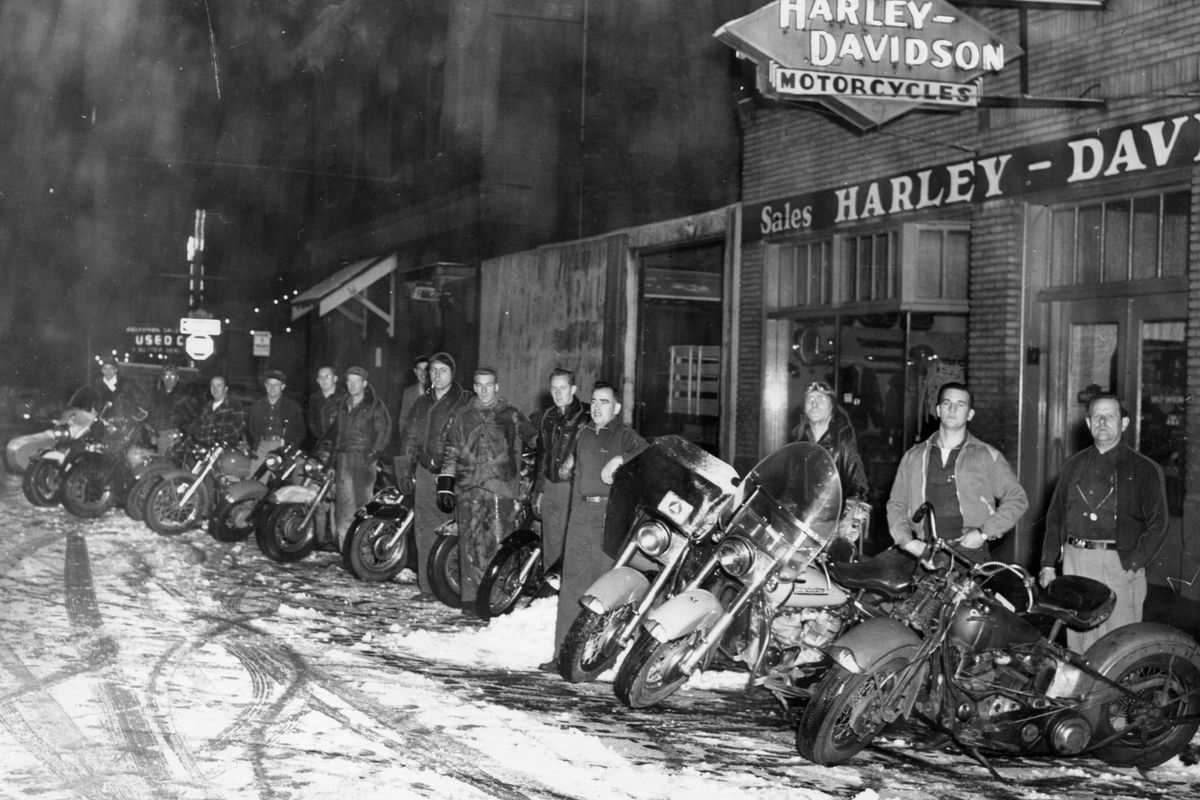 1954: The Civil Defense motorcycle group, with 85 members, trained to serve as messengers in case of disaster. George Faulders was the group chief. They are shown in front of the local Harley-Davidson dealership, Brush Cycle.
Spokane has always loved motorcycles. Local biker history is filled with characters like C.F. Bruschi, who founded Brush Cycle in 1921.
Bruschi held a world record for riding 1,000 miles in 24 hours on a Harley with a sidecar in 1917. Bruschi organized the Spokane Motorcycle Club's endurance run in 1938. Only the hardiest riders took on the November race from the dealership to Deer Park, up Mount Spokane through 3 feet of snow, down to Newman Lake and back to the dealers.
Bruschi sold his Harley-Davidson dealership to George Faulders and Floyd Stranahan in 1952. Faulders had worked for Bruschi since 1926. During the Cold War, when the threat of nuclear war was front-page news, Faulders organized members of the Spokane Motorcycle Club into a Civil Defense unit to serve as messengers in case of emergency.
Veteran rider Arthur Hitchcock told The Spokesman-Review in 1953 that if a bomb were dropped it might be "necessary to get through to a neighboring town or some other location to seek assistance. With the highways knocked out, how is anyone going to get through? There is one answer: a motorcycle."
Faulders serviced police motorcycles for many years. Upon Faulders' retirement in 1961, Chief Clifford Payne put him in a paddy wagon, took him to City Hall and gave him an honorary police chief's badge and thanked him for 35 years of work on their motorcycles. Bruschi died in 1975. Faulders died in 1971.
Dan Hite started working for Faulders in 1957. "I owe him a lot," he said. Faulders helped Hite get factory training with Harley-Davidson and win a 1959 national championship hill climb race in Lewiston. "I don't know anyone who didn't love and respect him. He was everyone's friend," Hite said.
– Jesse Tinsley
Local journalism is essential.
Give directly to The Spokesman-Review's Northwest Passages community forums series -- which helps to offset the costs of several reporter and editor positions at the newspaper -- by using the easy options below. Gifts processed in this system are not tax deductible, but are predominately used to help meet the local financial requirements needed to receive national matching-grant funds.
Subscribe now to get breaking news alerts in your email inbox
Get breaking news delivered to your inbox as it happens.
---